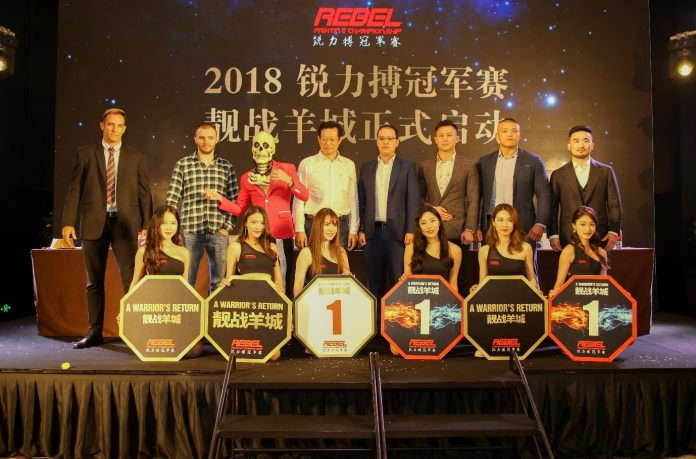 At a press conference on 12th April, the Singapore originated REBEL Fighting Championship (REBEL FC) announced its signature "REBEL FC 8 – A Warrior's Return" Chinese Mixed Martial Arts (MMA) event in Guangzhou. Happening on Saturday, 26th May 2018, at the Tianhe Sports Centre in Guangzhou, "A Warrior's Return" will feature three blockbuster bouts pitting three of the best fighters in China against three high-level international fighters. "REBEL FC 8 – A Warrior's Return" will be staged slightly more than a month after "REBEL FC 7 – Fight for Honour", which will be hosted in Shanghai on 29th April 2018. This underlines REBEL FC's serious intent in developing MMA for the long run in China.
"When talking about the origins of Chinese martial arts and MMA, Guangdong has a long tradition of martial arts and is home to many martial arts masters. The famous Chinese martial artist, Bruce Lee, whose roots were from Guangdong, is regarded in martial arts circles worldwide as the 'Father of MMA' There are many MMA enthusiasts in China, and we hope to promote the spirit of MMA in China as a tribute to Chinese martial arts," said REBEL FC CEO, Justin Leong.
The complete lineup of REBEL FC 8 – A Warrior's Return's top billed fighters was also released at the press conference. Australian Chris Morris, was his usual eccentric, but charming self. Brazilian Marcelo Tenorio was smart and spiffy in his well-pressed suit and Ukrainian Konstantin Linnik was decked out in sporty chequered shirt and jeans. Their Chinese opponents – Wu Cheng Jie, Liu Wen Bo and Wang Sai respectively – were all sharp looking in their tailored suits.
INTERNATIONAL-CLASS FIGHTS
Aside from REBEL FC Fight Night's three main bouts, there will be also eight more international quality bouts on 26 May 2018. They can be seen below in the full fight card.
---
FULL FIGHT CARD
1. International Fight 1
Bantamweight (61kg) Division:
Wang Daoyuan (China) VS Niu Kang Kang (China)
2. International Fight 2
Bantamweight (61kg) Division:
Chen Rui (China) VS Yad Singh (India)
3. International Fight 3
Lightweight (70kg) Division:
Bao Yinna (China) VS Arben Escayo (Philippines)
4. Main Fight
Featherweight (66kg) Division:
Wu Chengjie (China) VS Chris Morris (Australia)
5. International Fight 4
Featherweight (66kg) Division:
Tang Kai (China) VS Andre Hohlov (Poland)
6. International Fight 5
Featherweight (66kg) Division:
Wang Ya Yong (China) VS Nikolay Kondratiuk (Ukraine)
7. International Fight 6
Middleweight (84kg) Division:
Daniel Gaucho Periera (Brazil) VS Muhammad Abdullah (USA)
8. International Fight 7
Bantamweight (61kg) Division:
Renato Riberio (Brazil) VS Taras Grytskiv (Ukraine)
9. International Fight 8
Middleweight (84kg) Division:
Cheick Kone (Ivory Coast) VS Antonio Dos Santos Jr (Brazil)
10. Co-Main Event
Middleweight (84kg) Division:
Wang Sai (China) VS Konstantin Linnik (Ukraine)
11. Main Event
Light Heavyweight (93kg) Division:
Liu Wenbo (China) VS Marcelo Tenorio (Brazil)
---
REBEL FC 8 – A Warrior's Return
Tianhe Sports Centre, Guangzhou
Saturday, 26th May 2018
www.REBELfightingchampionship.com