2020年3月初春的羊城处处春意盎然、花团锦簇,抗击疫情一线医护人员坚定、勇敢、大无畏的身影是这个春天万紫千红画卷中最美的一幅。值此妇女节到来之际,广州南丰朗豪酒店为工作在暨南大学附属第一医院一群勇敢的粉色女英雄们送上爱心能量包,送去一份特殊时期的节日祝福。
International Women's Day is coming, Langham Place, Guangzhou delivered healthy energy kit to Women Doctors and nurses in The First Affiliated Hospital of Jinan University (TFAHJU) to celebrate Women's Day during the special period.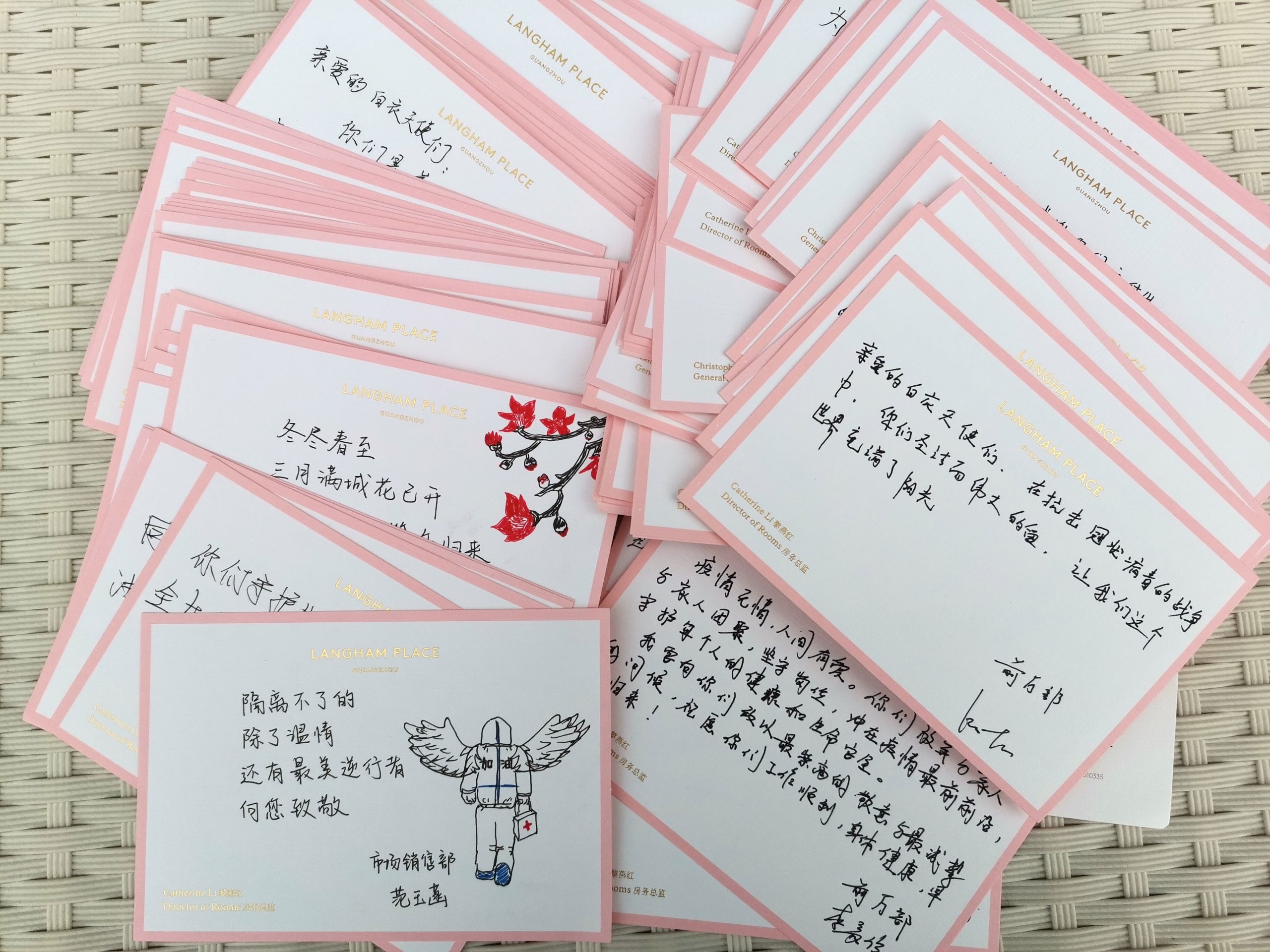 在这个全国共同抗击疫情的关键时刻,酒店管理团队和业主南丰集团一直心系在一线勇敢抗疫的医护人员。经过层层把关和严格的防疫消毒措施,200 份爱心能量包由酒店餐饮部同事新鲜制作并打包完成,确保健康安心。酒店厨师团队精心搭配组合了中式点心莲蓉酥、核桃酥和老婆饼,西式点心马芬蛋糕和香蕉蛋糕,以及巧克力威化饼、果汁和新鲜水果,为医护人员提供丰富健康的营养补给。
At this critical moment of battling with the outbreak all around China, the hotel management team and the owner Nanfung Group are taking a keen concern on all doctors and nurses, fighting in front of epidemic valiantly. Strictly follow the anti-epidemic measures to ensure the food hygiene and health, 200 energy kits were freshly made and packed by colleagues from hotel food and beverage department. Hotel chefs' team carefully selected the food combination for a balanced nutrition. The energy kit includes Chinese snacks and western-style pastry, as well as juice and fresh fruit.
医院工会常务副主席沈洁薇向我们介绍,医院从除夕之夜先后为武汉派送了 89 名逆行者,有一线专家、护理人员共三批进驻到武汉汉口医院和中南医院等重症病区收治病人,一往无前投入到疫情防控攻坚战中。三八节到来之际,早餐能量包被安排派送到了隔离观察病区、ICU、发热门诊、呼吸科、临床医学检测中心等抗疫一线科室的医护人员手中,她们匆匆而来,争分夺秒,粉色玫瑰在他们手中格外的鲜艳夺目。
TFAHJU has assigned 89 experts, doctors and nurses to severe front line i.e. Wuhan Hankou Hospital and Zhongnan Hospital etc. to devote themselves to supporting the front line of the anti-epidemic battle since Chinese New Year's Eve, introduced by Vice Chairman Ms. Shen Jiewei. The energy kit has been delivered to Isolation Observation Ward, ICU, Fever Clinic, Respiratory Department, and Clinical Medical Testing Center and so on.
大医精诚,大爱无垠。每个早餐能量包中,酒店还贴心的准备了一支朗廷专属粉色玫瑰花和一封来自酒店不同部门不同岗位员工写给医护人员的亲笔信,一句句暖心的祝福和美好期待承载着酒店全体员工对抗疫医护人员最崇高的敬意,以及对他们义无反顾舍己救人最深切的谢意和最诚挚的爱意。
In each of the energy kit, there has a hand-written card for medical workers by hotel staffs. The heart-warming blessing came from different departments and different positions in the hotel, which carried the deepest respect, appreciation and love to all fearless sheros.
积极参与酒店的社区服务活动,随时随地为客人提供安心安全的产品和服务,是酒店企业社会责任项目的重要计划之一。酒店为社区贡献的微小行动转化为力量,与所有抗疫一线的工作人员共同战斗。酒店将继续坚持严控管理,保障疫情期间的各项安全,共同抗疫,共克时艰。
Actively participating in hotel community service activities and providing guests with safe and secure products and services is one of the important plans for hotel corporate social responsibility projects. One small acts of our social responsibility to the community, more big calls to our joint response to challenges. Hotel will continue to strictly control in order to ensure safety during the epidemic.
---
广州南丰朗豪酒店
Langham Place, Guangzhou
广州市海珠区新港东路 638 号
638 Xingang East Road, Haizhu District, Guangzhou
Tel: +8620 8916 3388
Email: lpcan.info@langhamhotels.com