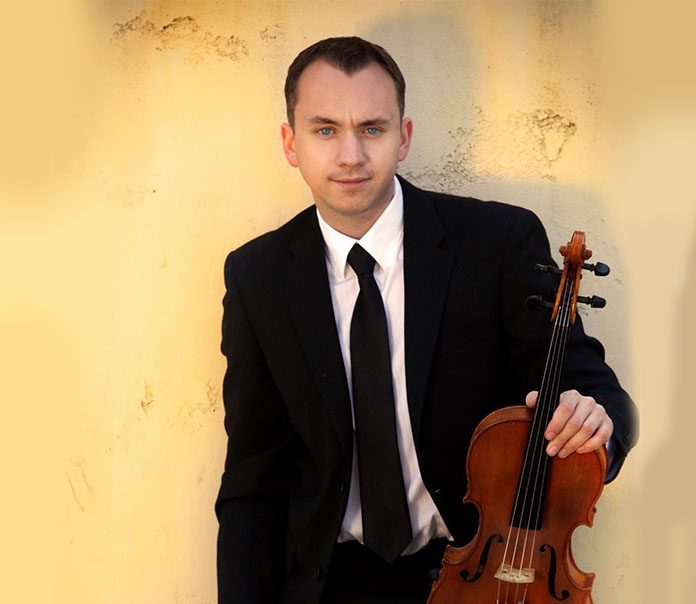 请问您的音乐背景是什么?又是什么启发您成为一名音乐家?Could you tell us a bit about your background in music and what inspired you to become a musician?
我受过古典音乐的训练,十二岁就开始演奏音乐。我第一个乐器是小提琴,后来我开始在乐队和管弦乐队里表演钢琴。当我大约十八岁时,我去学习音乐,完成我在音乐创作上的硕士学位。最近我一为主题公园和各种艺术家和歌手撰写音乐。我同时也是一名音乐家,会在一些地区表演。
I started playing music at the age of twelve and I was classically trained. My first instrument was the viola and then I started playing piano in bands and orchestras. I started composing music when I was about eighteen and went on to study music, doing my Master's degree in music composition. More recently I have been composing music for theme parks and for various artists and singers. I also work as a musician and perform a little bit on the side too.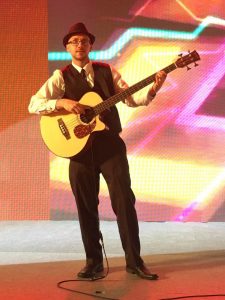 您最近在作曲和表演方面都做了些什么?What are you up to these days in terms of composing and performing? 
我最新的项目在中国西安的一个叫做"Lewa冒险公园"的主题公园的音乐。我为一个现场跳水表演做了一个背景音乐。同时,我也在上海为"Time Alley"编写音乐。这实际上是吸引人们漫步,让人们觉得他们进入一个科学实验室和穿过一个时间机器,让你回到20世纪20年代的上海,并且我的音乐都是精挑细选的。
My latest project was music for a theme park called "Lewa Adventure Park" in Xi'an, China. I did the background music for a live dive show. I also composed music for "Time Alley" in Shanghai. This is essentially a walk-through attraction where people feel like they are going into a scientific laboratory and through a time machine. It takes you back into 1920s Shanghai and my music was featured.
将传统和中国乐器与当代流行音乐和嘻哈音乐/陷阱声音相结合的方式引起了我的注意,使您的音乐非常独特。你是怎么想出混合两者的想法?The way you mix traditional Chinese instruments with contemporary pop and hip-hop/trap sounds is what caught my attention as it makes your music quite unique. How did you come up with the idea to mix the two?
我一直在学习二胡,中国两弦琴和古筝,并研究这两种声音,我觉得如果把这些传统的声音与当代西方的声音结合起来会是很酷的事情。有一个"Blue Sky Action"的混音比赛,是重新混合"Above and Beyond"这首歌 。我利用那首歌尝试着结合那些古典音乐。
I have been studying a bit of the erhu, the Chinese two string violin and the guzheng. I was experimenting with the sounds of both of those and thought it would be cool to create something new that combines these traditional sounds with contemporary Western sounds. There was a remix competition to do a remix of an "Above and Beyond" song called "Blue Sky Action". I used that song as an opportunity to try experimenting with those kinds of sounds.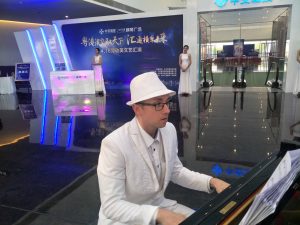 除了乐器之外,中国还有其他方面影响了您的音乐吗?Aside from instrumentally, are there any other ways that living in China has influenced your music? 
在中国说中文和学习中文的感受影响了我。教授音乐和听他们演奏的音乐同样给了我一个新的写作灵感。
Speaking Chinese and learning Chinese along with the general feel for what it's like in China has influenced me. Teaching music and being around the music they play has also given me a new perspective on writing music.
您能告诉我们您的音乐生涯中的亮点是什么吗?Could you tell me a highlight of your music career?
亮点可能是我之前提到的一些项目,就像为主题公园制作音乐一样。我也为苹果I-phone做了一些铃声。现在我正在为电子游戏和电影制作音乐。
The highlight has probably been some of the projects I mentioned before like making music for theme parks. I also made some ringtones for Apple I-phone. Now I am getting into making music for video games and films.
如果您可以与任何艺术家合作 一首歌曲,您会选择谁,为什么?If you could collaborate with any artist for one track, who would you choose and why?
这很难回答!我们可以等下再回到这个问题上吗?
That is a very tough question! Can we come back to that one?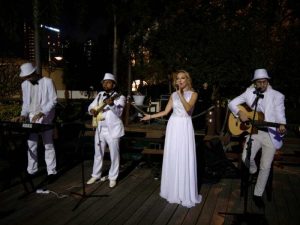 您未来音乐的重点会是什么?What is your focus musically for the future?
我同样想将更多的管弦乐与电子音乐相结合。将不同类型的中国乐器和世界乐器与电子声音混合,在音乐调色板中优化所有不同类型的音乐,创造独特,新颖的音乐。
I want to do more that combines the orchestra with electronic music as well. I want to mix different types of Chinese and world instruments with electronic sounds, optimising all the different types of musical colours in the musical palette to create something unique, new and different.
请问您对于和谁合作的有任何想法吗?Any thoughts on who you would collaborate with?
我认为 是Danny Elfman。他为Tim Burton电影做了很多音乐,比如圣诞节之前的噩梦。我也喜欢他在80年代的音乐,当时他和 Oingo Boingo合作。
I think it would have to be Danny Elfman. He does a lot of the music for Tim Burton movies, like Nightmare Before Christmas. I also like his music back in the 80s when he was playing with Oingo Boingo.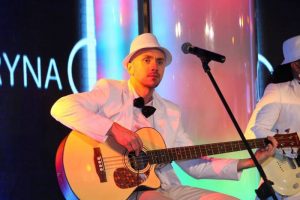 如何让我们的读者了解更多并聆听??How can our readers find out more and have a listen?
他们可以查看我的网站。我还会在Soundcloud上播放更多的音乐,希望中国的听众能在iTunes、QQ音乐上听到我们的音乐。如果您想聘参加活动或与你合作,可以通过Wechat或电子邮件与我取得联系。
They can check out my website. I will also be putting more music up on Soundcloud and hope to have my music on Itunes and QQ music for listeners in China. If you want to hire me for music composing, song writing, to play gigs or collaborate you can get in touch with me on Wechat or by email.
网站Website: http://www.rosscasey.com/
电子邮件 Email: music@rosscasey.com
Ross Casey "蓝天行动"混音样本: Sample of Ross Casey's Blue Sky Action Remix: