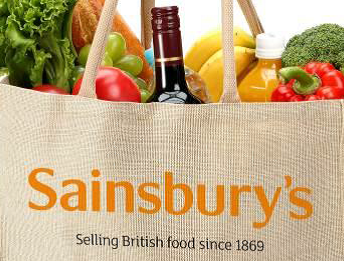 Hong Kong residents with a craving for good honest British eats, this is a great news – Sainsbury's quality UK groceries have finally arrived in Hong Kong, at Market Place by Jasons.
Over 200 Sainsbury's top quality daily essentials and indulgent products are now exclusively available at Market Place by Jasons and other Dairy Farm stores in Hong Kong. From classically British biscuits, coffee and jams, to 100% fruit juices and frozen vegetables, to family-friendly snacks, cereal and lots more, shoppers will be able to enjoy a wide assortment of authentic British foodstuff. Every product is stringently quality-tested in the UK and free from genetically modified ingredients.
"We've put our ear to the ground Hong Kong, and the consensus is clear – shoppers want more choices of good quality food and trustworthy groceries sourced from around the globe."
Michael Han, General Manager, Upscale Stores and E-Commerce, Market Place by Jasons Hong Kong explains, "by introducing Sainsbury's to Hong Kong for the very first time, we are fulfilling the Market Place by Jasons promise to help shoppers' discover new products that support a healthy, happy lifestyle."
Chef Burney, founder of Invisible Kitchen is collaborating with Market Place by Jasons to create mouthwatering (and surprisingly easy!) recipes featuring Sainsbury's best-of-British ingredients alongside premium favourites from Market Place by Jasons.
Inspired by the ingredient-driven, rustic style that defines modern British cuisine, each recipe was tailor-made in a cooking demonstration by Chef Burney and sampled by guests at the official Sainsbury's launch on 12 May at Market Place by Jasons.
Now, Market Place by Jasons is sharing the chef's delectable recipes with everyone in Hong Kong. Read on to discover them for yourself!
---
Cheeseboard Bites
Three savoury biscuits are perfectly paired to three classic British cheeses, then topped with a sweet and tangy apricot conserve to create balance and texture in every bite.
Ingredients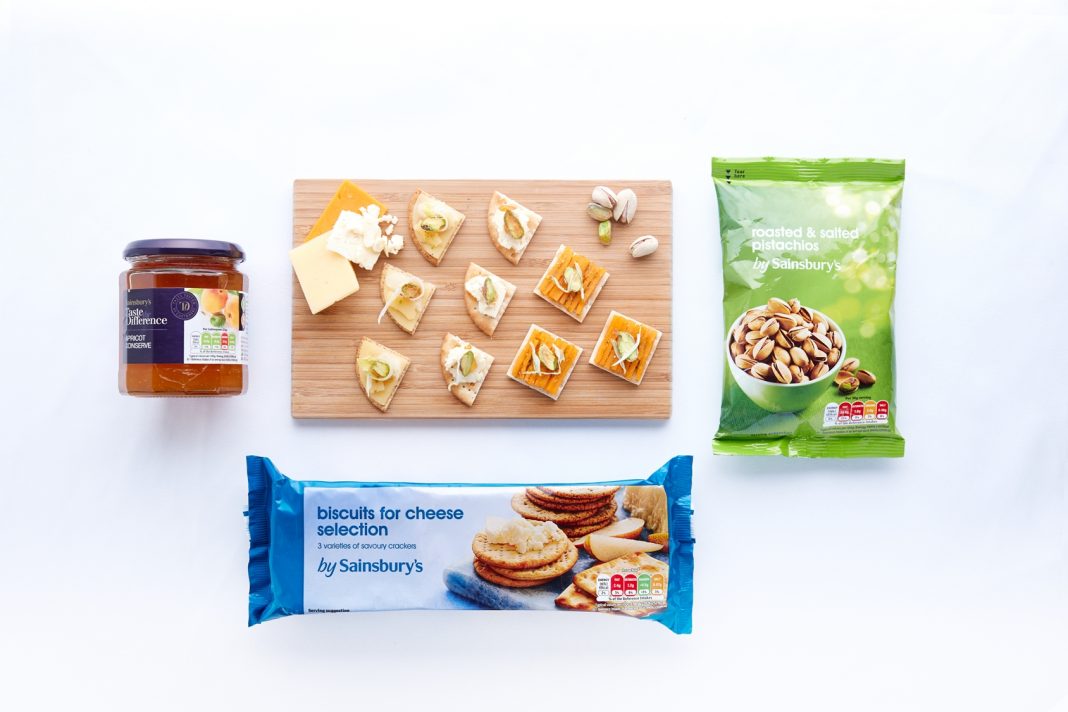  1 pack Sainsbury's Biscuits for Cheese
 2 tablespoons Sainsbury's Taste The Difference Apricot Conserve
 Selection of British cheeses: Sainsbury's Mature British Cheddar (from the award-winning Taw Valley Creamery), Wensleydale, Red Leicester, etc. (sliced to same size as cracker)
 Sainsbury's Roasted & Salted Pistachios
 Celery cut into match sticks
Instructions
1 Put a few spoons of apricot conserve into a Ziploc bag, with the corner snipped off. Squeeze a dollop onto the biscuit
2 Top with 1-2 slices of cheese, and another little squeeze of conserve
3 Garnish with half a pistachio, and a small celery stick
---
Mackerel & Red Cabbage Tart
Five layers of filo are hand-laid to create a crisp, crunchy base for a dollop of cool crème fraiche, a helping of home-pickled red cabbage, and assertive mackerel – sustainably and responsibly ocean-caught – to bring it all together.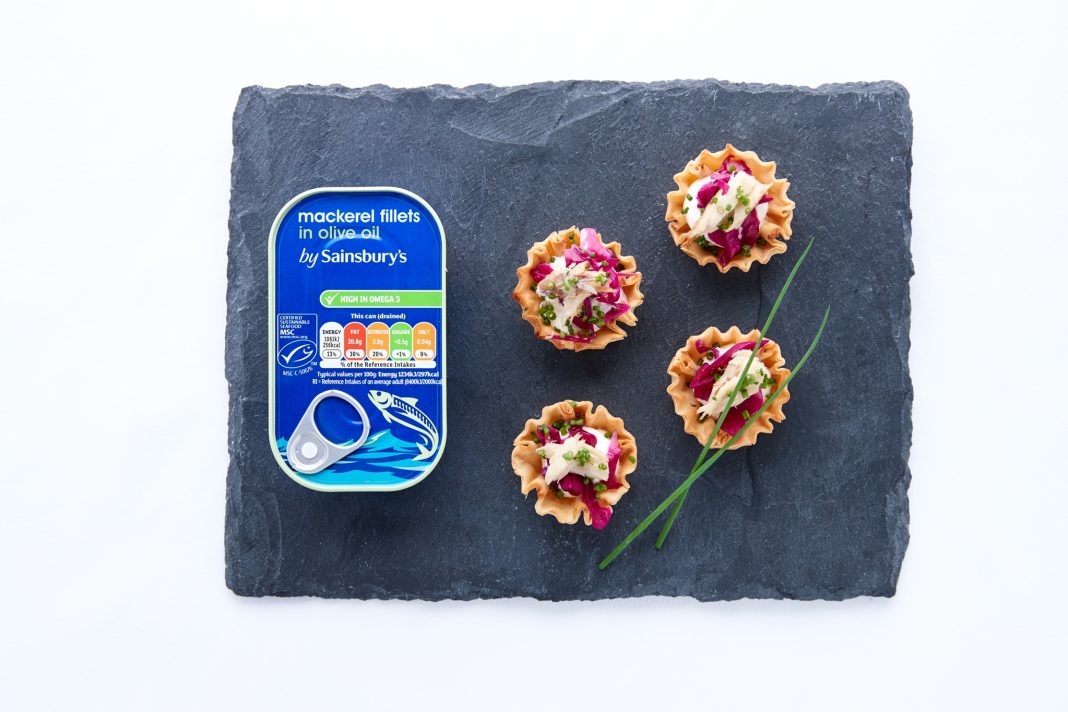 Ingredients
For Mackerel & Red Cabbage Tart
 1 pack filo pastry sheets or mini ready-made filo baskets
 1 tin Sainsbury's Mackerel Fillets in Olive Oil (Marine Stewardship Council (MSC) Certified)
 4 tablespoons Crème fraiche (or sour cream)
 Small bunch and finely chopped chives
 1 piece red cabbage, finely sliced
For Red Cabbage
 1 piece star anise
 400ml red wine
 275ml malt vinegar
 140ml white vinegar
 pieces bay leaves
 8 pieces whole cloves
 pieces black peppercorns
 1 piece cinnamon stick
 2 tablespoons chili flakes
 300g caster sugar
Instructions
Pickled cabbage
1 Halve the cabbage, cut away the main stalk and finely slice. In a bowl, mix together with ¼ cup coarse salt. Put the salted cabbage into a colander and rest over a bowl. Cover and leave for 2-4 hours, then soak the cabbage in a bowl of clean water for 5-10 minutes and drain
2 Put all the pickling ingredients in a sauce pan and reduce by half
3 Pack cabbage into a jar, cover with the pickling liquid
Filo tart
1 Using a circle cutter, cut circles from the filo sheets, a few cm bigger than the bottom of your pudding mould. Layer 4-5 circles together and gently press into your mould
2 Cook in a moderate oven until golden brown and crispy, around 15 minutes
3 Once they are set, remove from the mould and put back in the oven for 5 minutes to dry
Mackerel & Red Cabbage Tart
1 Pipe a little crème fraiche to half fill the filo tart
2 Place cabbage on top of the crème fraiche, cutting into smaller pieces if needed
3 Carefully place small mackerel pieces on top, using 2 per tart
4 Garnish with chopped chives and serve immediately
---
Tomato Pasta Pot
A warm yet refreshing dish for the summer, with zesty tomato, garlic and onion sauce, finished with oven-dried tomatoes for a burst of colour, flavour and freshness.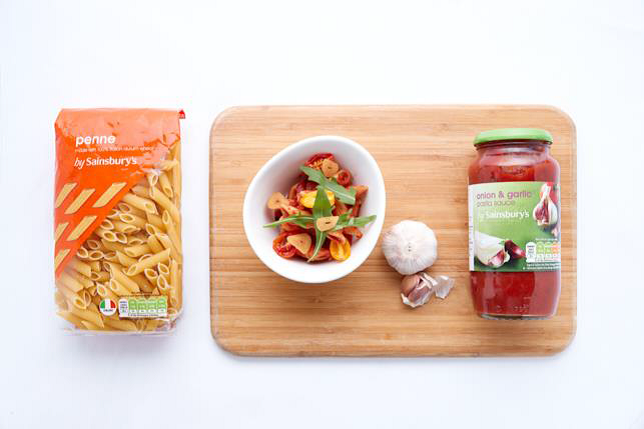 Ingredients
 1 jar Sainsbury's Onion & Garlic Pasta Sauce
 1 pack (500g) Sainsbury's Penne Rigate
 A few pieces of cherry tomatoes
 A few pieces of rocket leaves
 2 cloves, sliced garlic
Instructions
1 Over a low heat, fry the sliced garlic until light golden brown, around 10-15 minutes, then drain on kitchen paper
2 Slice tomatoes and bake on low heat for 3 hours, until starting to dry
3 Heat the sauce
4 Cook pasta, drain and gently mix into the warm sauce
5 Serve immediately, garnishing with the rocket, garlic and tomatoes
---
Wimbledon Sandwich
A true taste of British summer – rich Demerara shortbread sandwiches thick clotted cream, organic strawberry conserve and sweet-and-fresh seasonal strawberries.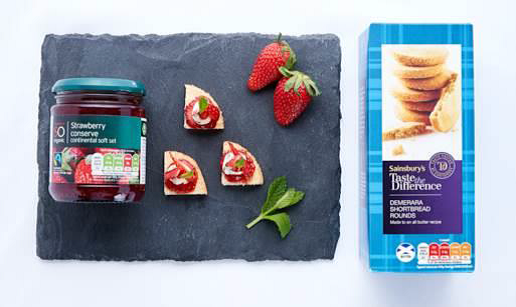 Ingredients
 1 pack Sainsbury's Taste The Difference Demerara Shortbread Rounds
 2 tablespoons Sainsbury's SO Organic Strawberry Conserve
 4 tablespoons clotted cream
 A few leaves of mint
 4 thinly sliced strawberries
Instructions
1. Cut shortbread into halves or quarters, using a serrated knife
2. Pipe a little strawberry jam onto the biscuit, followed by some clotted cream
3. Garnish with 2 pieces sliced strawberry and a bit of mint leaf
---
Summer Cooler
Crisp and fragrant pressed apple juice combines with dry ginger ale and fresh lime for a sweet, sour and spicy summer drink that's boldly refreshing.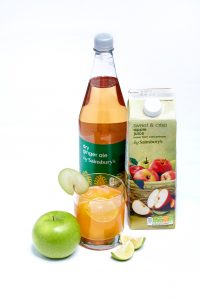 Ingredients
 1 litre Sainsbury's Dry Ginger Ale (ice cold)
 1 litre Sainsbury's 100% Pressed Apple Juice, Not From Concentrate (ice cold)
 100g Caster sugar
 8 pieces of fresh lime
 A few slices of fresh apple for decoration
Instructions
1 Juice 4 limes into a small sauce pan, add the same quantity
of caster sugar, then gently heat to make a syrup. Transfer to a squeeze bottle and cool in the fridge
2 Slice the other 4 limes into wedges
3 Pour the apple juice to half a glass. Top with ginger ale and add a squeeze of lime syrup to taste
4 Garnish with ice cubes, apple slices and lime wedges
Shop Sainsbury's now at Market Place by Jasons, ThreeSixty, Jasons ▪ Food & Living, and selected Wellcome supermarkets.