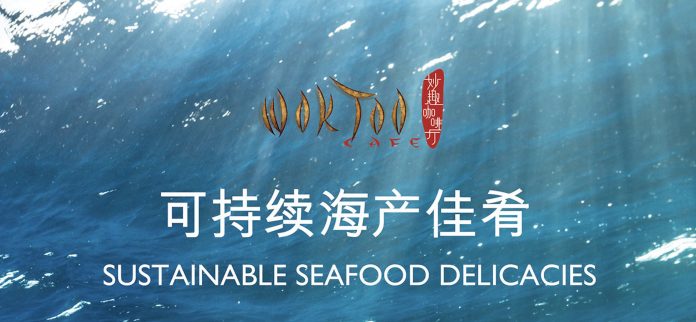 广州,2018年8月7日——2018年8月9日至19日,广州香格里拉大酒店于荣获米其林餐盘奖的夏宫中餐厅及妙趣咖啡厅推出多款可持续海产佳肴,令宾客在享用美味的同时,亲身参与一场餐桌上的公益活动。
From 9 August to 19 August, 2018, Shangri-La Hotel, Guangzhou presents three exclusive menus at its WOK TOO Café and MICHELIN Plate award-winning Summer Palace and WOK TOO Café, as an initiative for encouraging sustainable consumption on dining tables.
值今年世界海洋日之际,香格里拉酒店集团宣布中国大陆和香港的53家酒店已全部获得海洋管理委员会(Marine Stewardship Council 简称MSC)的海产品产销监管链认证。香格里拉成为亚洲第一家实施可持续海产品认证的酒店集团,该举措是其实践可持续采购战略、保护海产品未来供应的重要组成部分,将对生态环境产生积极影响。此次推出的可持续海产系列佳肴,正是广州香格里拉大酒店对集团"共筑海洋未来"号召的响应。
On the occasion of the World Oceans Day, Shangri-La Hotels and Resorts announced it had received full Marine Stewardship Council (MSC) Seafood Chain of Custody certification (CoC) for all its 53 properties across Mainland China and Hong Kong in July 2018. As the first hotel group in Asia the Shangri-La group initiated the certification programme as part of its sustainable sourcing strategy and commitment to protect future seafood supplies and make a positive impact on the environment. The initiative launched by Shangri-La Hotel, Guangzhou is a proactive support to this profound collaboration.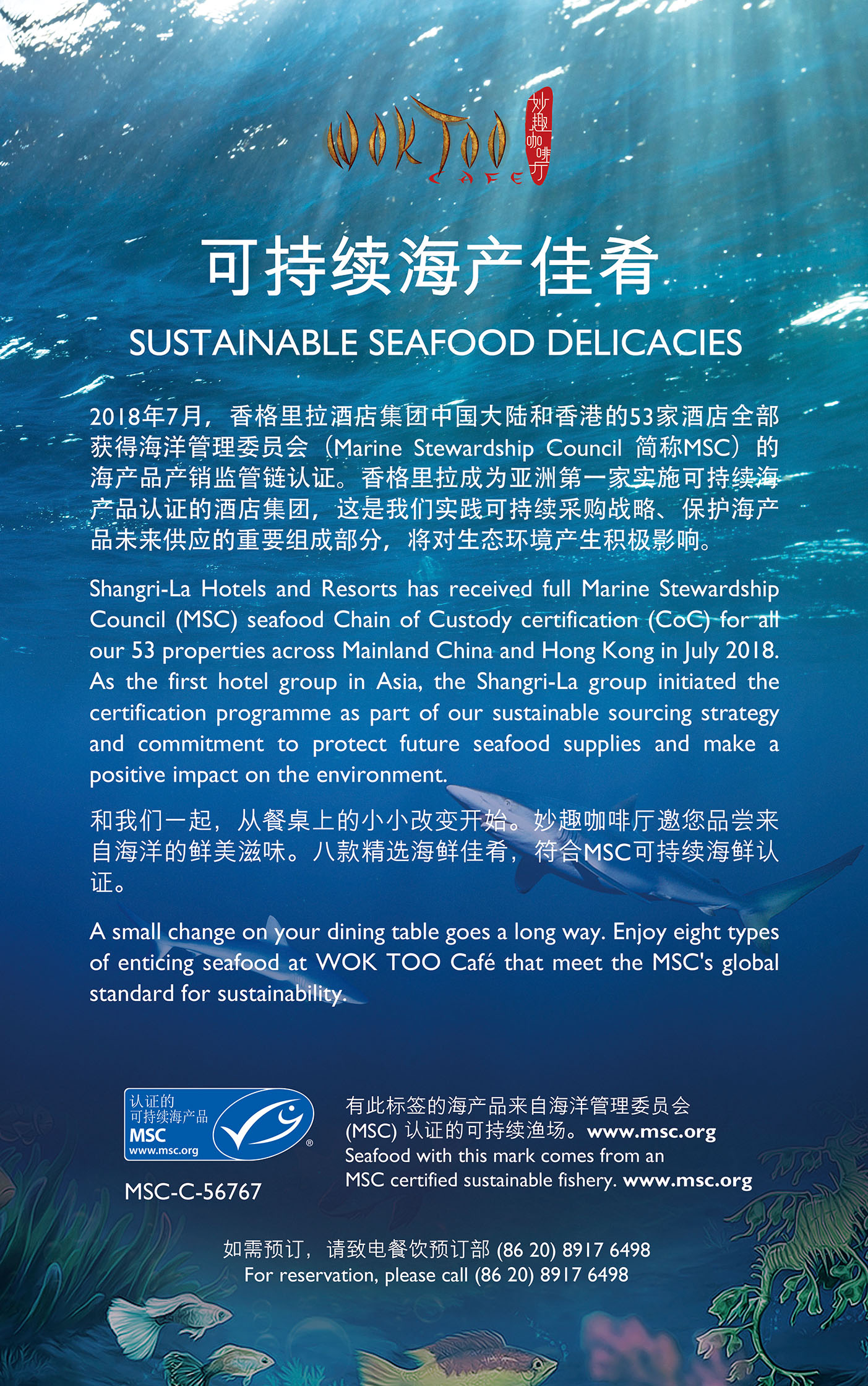 MSC是唯一在全球范围内推动可持续渔业(野生捕捞)标准的应用及生态标签项目的非盈利组织。MSC的可持续渔业标准的开发符合联合国粮农组织(FAO)以及国际可持续标准联盟(ISEAL)的最佳实践要求。MSC也是唯一被全球可持续水产品倡议(GSSI)认可的海产品认证项目。通过菜单上标识的可信赖蓝色MSC生态标签,用餐的客人可以找到那些源自MSC认证渔场和供应商的海鲜之选。该标签代表此产品是通过负责任的捕捞方式获取,来自合法经营的渔场并全程可追溯,以降低捕捞对于海洋环境的影响,并保护受威胁物种、濒危物种及幼鱼。
The MSC runs the only wild-capture fisheries certification and ecolabelling programme that meets best practice requirements set by both the United Nations' Food and Agriculture Organization (UN FAO) and ISEAL, the global membership association for sustainability standards. The MSC is also the only global seafood certification programme to be recognised as credible by the Global Sustainable Seafood Initiative (GSSI). Guests can identify these culinary offerings by the trusted MSC ecolabel printed alongside the dish description, which indicates the seafood is from MSC-certified fisheries and suppliers. MSC certification means the seafood was sustainably fished – it is fully traceable from a legal fishery, which has proven minimal impacts on the marine environment and other species, including threatened or endangered species and juvenile fish.
自2012年推行"可持续海产品计划",在所有餐厅和宴会服务中停止供应鱼翅,到2014年启动"自然天成"可持续餐饮计划。香格里拉集团在生态保护领域保持了领先地位,与MSC的认证合作项目,进一步加强了以 "自然天成"计划为代表的可持续发展承诺。中国是世界最大的海产品消费国,占全球海产品消费总量的三分之一,而广东则是中国海产品供给及消费大省。为满足海产品消费而进行的过度捕捞正在威胁着海洋的未来,作为香格里拉酒店集团华南区旗舰店,广州香格里拉大酒店以在华南区倡导可持续及健康的消费选择为己任,精选包含加拿大雪蟹、大西洋鳕鱼、加拿大波士顿龙虾、阿拉斯加粉鲑鱼、大西洋扇贝等源自MSC认证可持续渔场和供应商的优质海产品食材,为宾客呈现兼具美味和可持续性的选择。
From the 'Sustainable Seafood Policy' launched in 2012 to cease shark's fin supply from restaurants and banquet services in its affiliated hotels, to the "Rooted in Nature" culinary sustainability project introduced in 2014, Shangri-La group has been the forerunner in the field of ecology protection. The partnership with the MSC is the next milestone in Shangri-La group's journey in sustainable development. China is the world's largest seafood consumer, whose population accounts for one-third of all fish consumption and Guangdong contributes significantly to this amount. As Shangri-La's flagship hotel in South China, Shangri-La Hotel, Guangzhou takes a leading role in advocating for sustainable consumption in Southern China and sourced refined Canadian snow crab, Atlantic cod, Boston lobster, Alaska pink salmon, and Atlantic scallop from MSC-certified fisheries and suppliers.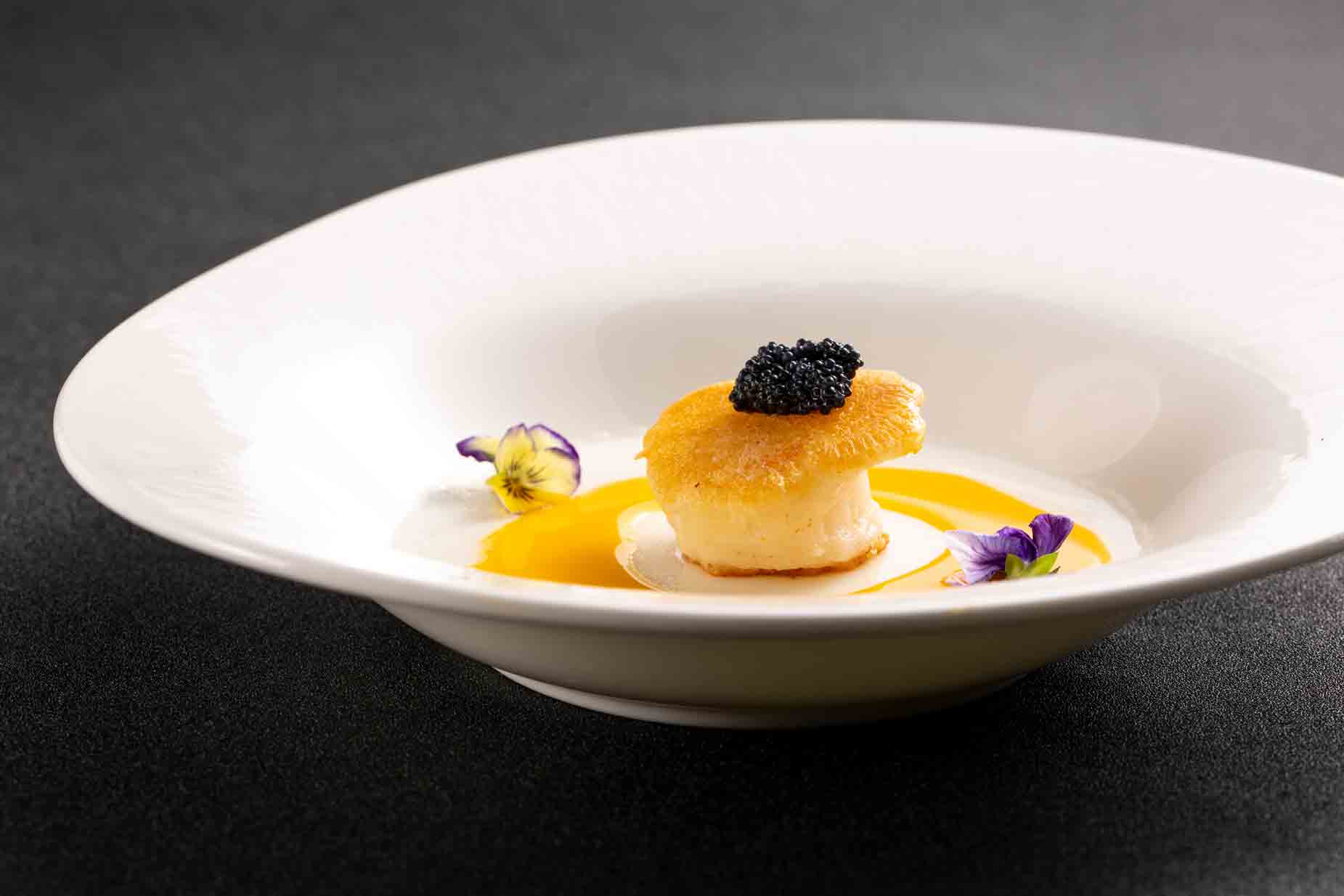 爱好粤菜及中国地方特色菜肴的食客,可在闻名遐迩的夏宫品尝由来自香港的中餐行政总厨陈国雄师傅精心烹制的虾汤白玉龙虾羹、鱼子酱芙蓉蒸带子、秘制烤深海银鳕鱼配黑醋汁、盐巴比目魚脆米牛肋骨及雪蟹肉樱花虾米炒香苗等佳肴,提供精选八道式套餐或零点两种选择;青睐自助餐的宾客们则可于供应环球美食并以丰富海鲜及甜品备受好评的妙趣咖啡厅,享用八款特色十足的可持续海鲜佳肴,无论是选用饱满加拿大雪蟹脚的冰镇海鲜、田园风味的香煎大西洋扇贝、荟萃三种北欧海域鱼类的斯堪的纳维亚奶油浓鱼汤、还是西域风情十足的普罗旺斯香料脆皮、俄罗斯狭鳕鱼柳及挪威黑线鳕鱼脆皮啤酒煎饼,充满地方特色的潮式蒸鱼、酸甜脆皮鱼,都能满足不同人群的挑剔胃口。
Guests who favour Cantonese and Chinese regional cuisines can relish in sustainable dishes presented by Chinese Executive Chef Mr. Chan Kwok Hung from Hong Kong. Highlights including Lobster and Bean Curd Soup, Steamed Scallop with Egg White and Caviar, Grilled Cod Fish with Black Vinegar, Slow Cooked Beef Short Ribs served with Crispy Rice and Halibut Cube, and Wok-fried Snow Crab Meat. Both eight-course set menu and a la carte are available. For buffet-enthusiasts, WOK TOO Café, highly acclaimed for sumptuous seafood and desserts, offers eight types of sustainable seafood. From Chilled Canadian Snow Crab Legs, Pan Seared Atlantic Scallop, Creamy Scandinavian Fish Soup, to Provencal Herbs Crusted, Russian Walleye Pollock Fillet, and Crispy Beer-Battered made from Norwegian Haddock, as well as Steamed Australian Toothfish Fillet in Teochoew style and Crispy Sweet & Sour Icelandic Redfish, tempting delic acies are sure to satisfy even the heartiest appetites.
夏宫中餐厅 | Summer Palace
八道式套餐人民币798元每位 | Eight-course Set: RMB798/person
零点人民币98元起 | A La Carte from RMB98
午餐 Lunch:11:30 – 14:30
晚餐Dinner:17:30 – 22:30
妙趣咖啡厅 | WOK TOO Café
自助午餐12:00 – 14:30 | Lunch Buffet: 12:00 – 14:30
周一至周五 人民币238元每位 | Mon. to Fri. RMB238/person
周六至周日 人民币368元每位 | Sat. to Sun. RMB368/person
自助晚餐17:30 – 21:30 | Dinner Buffet: 17:30 – 21:30
周日至周四 人民币418元每位 | Sun. to Thur. RMB418/person
周五至周六 人民币468元每位 | Fri. to Sat. RMB468/person
以上价格需加收10%服务费及在上述价格与服务费总额上计征的增值税。如需了解详情或预订,请致电餐饮预订中心(86 20)8917 6498或电邮至fbreservation.slpg@shangri-la.com。
The prices above are subject to 10% service charge and value-added tax. For more information or reservation, please contact Food and Beverage Reservation by dialling (86 20) 8917 6498 or sending email to fbreservation.slpg@shangri-la.com.
总部设在香港的香格里拉酒店集团是全球知名酒店管理公司,目前拥有和管理遍布22个国家和76个目的地的100多家香格里拉酒店、嘉里酒店、今旅酒店和盛贸饭店。立足亚洲,经过40多年的潜心经营,"发自内心的待客之道"已经成为香格里拉酒店集团的品牌标志,享誉亚太、中东、欧洲、北美和环印度洋地区。此外,集团还有众多新酒店项目正在筹措中,主要分布在澳大利亚、中国大陆、柬埔寨、印度尼西亚、马来西亚和沙特阿拉伯。如需进一步信息或客房预订,请登陆香格里拉集团网站www.shangri-la.com。
Hong Kong-based Shangri-La Hotels and Resorts, one of the world's premier hotel owners and operators, currently manages over 100 hotels in 22 countries and 76 destinations under the Shangri-La, Kerry, Hotel Jen and Traders brands. Prominently positioned in Asia, the group has established its hallmark of "hospitality from the heart" over four decades in Asia Pacific, the Middle East, Europe, North America and the Indian Ocean. The group has a substantial development pipeline with upcoming projects in Australia, Bahrain, mainland China, Cambodia, Indonesia, Malaysia and Saudi Arabia. For more information, please visit www.shangri-la.com.