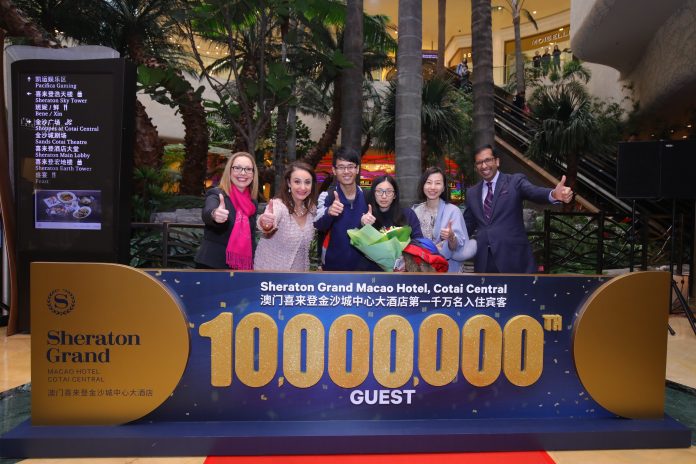 以超越期望的体验为酒店第一千万位宾客创造难忘回忆
A lavish welcome and experiences that 'go beyond' the ordinary created the vacation of a lifetime for lucky guests
澳门喜来登金沙城中心大酒店欢庆宾客人数破千万,特别为第一千万位宾客准备了一系列难忘惊喜,将在入住期间为其提供10项超越期望的非凡体验。澳门喜来登大酒店是澳门最大的酒店,共有4001间豪华客房与套房,坐落于充满活力的路氹金光大道核心地段。2012年开业以来,一直是高品味旅客的热门住宿选择,包括商务人士、休閒游客、度假家庭及寻求浪漫时光的情侣等。
Sheraton Grand Macao Hotel, Cotai Central celebrated the arrival of its 10 millionth guest with a once-in-a-lifetime surprise: a fabulous 24 hours of 10 grand experiences that "Go Beyond" the ordinary. The largest hotel in Macao, ideally located in the heart of the vibrant Cotai Strip, Sheraton Grand Macao Hotel has been welcoming guests since it opened in 2012. With 4,001 luxury guest rooms and suites, Sheraton Grand Macao Hotel, Cotai Central has been a popular destination for discerning travelers of all types, including business and leisure travelers, vacationing families and couples looking for a romantic getaway.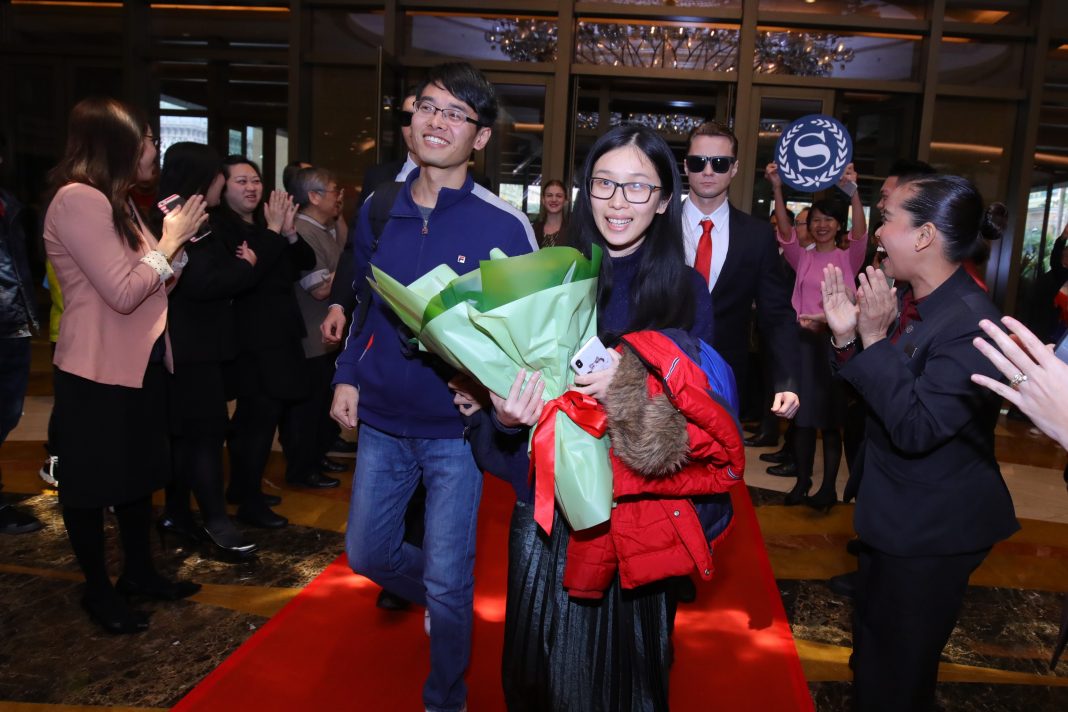 澳门喜来登金沙城中心大酒店与澳门金沙城中心瑞吉酒店董事总经理麦俪珍女士说道:"今天,我们对迎来了的第一千万位宾客感到十分兴奋。2015年7月,我们的宾客总数突破了500万,那是我们酒店一个重要的里程碑。而在不到三年的时间裡,这一数字又翻了一倍,这绝对是一项特别的成就。这不但对我们酒店有纪念价值,也证明澳门作为国际旅游及休闲中心是非常受到旅客的欢迎。同时我要借此机会,向澳门喜来登大酒店的所有员工表示衷心感谢,他们每一天都努力工作,致力为我们的宾客送上充满热情的服务。"
"We are excited to welcome our 10 millionth guest today," said Janet McNab, Managing Director of Sheraton Grand Macao Hotel and The St. Regis Macao. "In July 2015 we celebrated a significant milestone when we received our 5 millionth guest, and we are pleased to see that this number has doubled in less than three years, which is a truly remarkable achievement. Not only is this occasion a milestone for the hotel, but also a testament to Macao's development as a popular tourism destination regionally and internationally. I would also like to take this opportunity to express my heartfelt gratitude to all Sheraton Grand Macao's associates who work hard every day to offer the warmest hospitality to our guests."
澳门喜来登大酒店的第一千万位客人严先生及刘小姐从杭州飞抵澳门,抵达后即由澳门喜来登大酒店客户服务专员欢迎并由劳斯莱斯豪华轿车接载到酒店。酒店为他们铺设了红毯,由酒店的高级管理层及各部门的员工列队欢迎,金沙表演团队的舞蹈演员更身穿酒店员工制服为他们送上精彩舞蹈。为了庆祝这个里程碑,酒店特意为两位宾客安排了10项超越期望的体验,包括免费升级至总统套房,澳门私人游览服务,由班妮意大利餐厅行政副主厨Luca Pecorari精心准备的晚餐,大型表演《西游记》贵宾门票,炫逸水疗中心90分钟双人按摩,以及定制的迎宾用品等。而两位客人在下次来澳时更可再次免费入住澳门喜来登大酒店的总统套房!
The 10 millionth guest, Mr. Yan and Ms. Liu, arrived from Hangzhou and were surprised at the airport in a chauffeur-driven Rolls Royce which brought them to the Sheraton Grand Macao Hotel. The lucky couple stepped out onto a red carpet where they were welcomed by the hotel's senior associates and undercover dancers dressed as hotel associates played by the Sands Entertainment Team. In honor of this special visit, the hotel extended 10 'Go Beyond' experiences to the guests, including a free upgrade to a Presidential Suite, a private tour of Macao, a dinner at Bene tailor-made by Chef Luca Pecorari, VIP tickets to the Monkey King theatrical performance, 90-minute massage for two at Shine Spa, as well as personalized welcome amenities. As a departing gift, they have been offered another complimentary stay in the Presidential Suite for their next visit to Macao.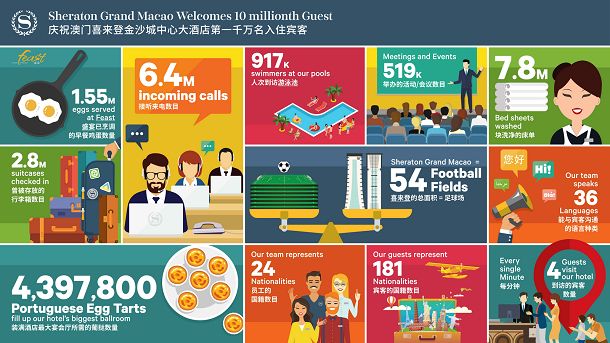 除喜迎第一千万位客人外,澳门喜来登金沙城中心大酒店自2012年9月开业至今还创下了多项非一般的记录,其中包括:
• 盛宴餐厅在早餐时段已为客人烹调了155万枚鸡蛋
• 已经举办了51万9000场次的会议与活动
• 国际化的酒店团队,员工分别来自24个国家,能以36种不同语言和宾客沟通
• 已处理超过280万个行李箱,并从没有遗失宾客的任何一件行李
In addition to the 10 millionth guest, Sheraton Grand Macao Hotel has notched up the following impressive stats since opening in September 2012:
• 1.55 million eggs served for breakfast at Feast
• 519,000 events and conferences
• A truly international staff of hotel associates representing 24 different countries and speaking 36 languages
• Hotel associates have carefully handled more than 2.8 million pieces of luggage, and have never lost a piece!
---
澳门喜来登金沙城中心大酒店
Sheraton Grand Macao Hotel, Cotai Central
澳门路氹连贯公路
Estrada do Istmo. s/n, Cotai, Macau
https://www.sheratongrandmacao.com/
Tel:+853-2880 2000