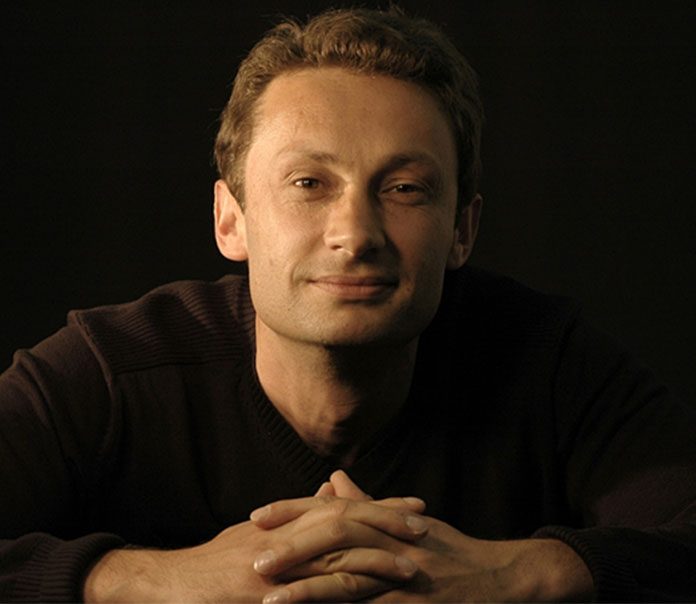 Frédéric Ciriez is a French writer and author of two novels published by Éditions Verticales The Neon Lights Under the Sea in 2008, and Mélo in 2013 which won the Franz Hessel Prize.
Frédéric Ciriez is also an expert on 'la S.A.P.E.' (Société des Ambianceurs et Personnes Elégantes – The Society of Ambiance-Makers and Elegant People) and its practitioners ('sapeur').
Delta Bridges (DB) interviewed Frédéric Ciriez who was born in Paimpol, 1971. The interview began with DB querying about Mr. Ciriez's event concept, Frédéric Ciriez explained how he had several encounters with the subject of La Sape, "I first heard of the concept when I was 22 years old, when I was still studying. My professor at Bretagne, in the west of France at that time was a sociologist who specialised in La Sape. I'd never heard of this concept up until this point and I believe this is when my intellectual basis changed". Mr. Ciriez then spoke of his professor being the only member of the La Sape movement within that region and that he stood out from the rest of the Bretagne population through his choice of dress code. This individuality also contributed to the uniqueness of Frédéric Ciriez initial La Sape educational encounter.
Frédéric Ciriez revealed that when he was living in Paris he met a Congolese man who embodied the elegance of style and manner of La Sape, "When I was writing Mélo in 2013, the guy who lived next to me, was Congolese. During the day, this Congolese man was a garbage collector by profession and at night, he transformed into a Dandy". A Dandy by definition is a colonial predecessor by means of resistance and through this, are in stark contrast with their environment. Mr. Ciriez continued, "Once I personally spoke to this 'Congolese Dandy, I soon realised that these sapeurs were very modest people. This aroused my interest. After our conversation, I went to see these 'sapeurs' in their historic quarter of Paris".
Mr. Ciriez then delved further into the concept of La Sape regarding its difficult literature and literate language. In his book Mélo, he replaces the word sapeur with first person narratives so "I" in place of "sapeur". He then goes on to explain that sapeurs demand admiration from others, so essentially, sapeurs are narcissistic.
Frédéric Ciriez then spoke about his third encounter with the concept of La Sape, "The third encounter was my transition to writing my opinion on the matter, which was difficult, because I could not use standard writing style and language. It was necessary that the language was the same as that of a 'Sape'. The language of a Sape is admittedly very pretentious and provocative. In fact, I tried to gradually adapt that language. At the beginning of Mélo, the 'sapeur' is talking like a French person usually would. Near the beginning aspects of the 'sapeur' are not yet recognisable. Gradually, the sapeur is metamorphosised and his language is transformed. This was my third encounter with the topic of a "Sape". Like this, I have become a literate "sapeur", a verbal "sapeur".
Mr. Ciriez states that his book is understandably well received by Congolese people. Another proud moment for Frédéric Ciriez is that the part about the "Sape" was eventually adapted for theatrical release and that black comedians were lead roles. "In France, it is still uncommon to have a black leading role, so I feel I have contributed to breaking down racial inequality walls". Mr. Ciriez also told DB that he felt this is of utmost importance, specifically to the Congolese and the 'sapeurs'. Additionally, the theatrical spectacle will be shown next year in one of the famous theaters on Champs Elysée.
DB's quired Frédéric Ciriez about his future work developments in relation to his writing or promotional targets for the concept of La Sape. Mr. Ciriez stated that his new work will concentrate on a different angle with a plot focus on two female readers who exist within a naturist environment, more specifically a naturist island that is separate from the rest of the world. A synopsis of this new work is that Frédéric Ciriez wants to tell the story about an average day for these two women and how they are coping in a "Baroque" environment. Mr. Ciriez explains this notion of Baoque to be a mixture of forms, decorations, ornaments, and ultimately a combination of forms and different natural wonders.
DB then finally asked where might a "sapeur" be found in Paris. Straight away he stated, "At the Château Rouge of course, because their boutique of reference is located there". He then proceeded to inform DB about a sapeur's cultivable ways, "Not all of them but most are cultivable. The truth is a sapeur likes to be confident and the centre of attention, but I mean this in a positive way. They crave to be noticed".
The topic and culture of La Sape is new in most countries, not least of all China. This culture of traditional cosmopolitan and escapism to an orbit of own parochial culture through high culture and the absorption of values could be useful for Southern China's recent economic development. Frédéric Ciriez concluded that Chinese men could become a "sapeur" and Chinese women "sapeuses". This concept could arguably bring a true taste of Western society to China.