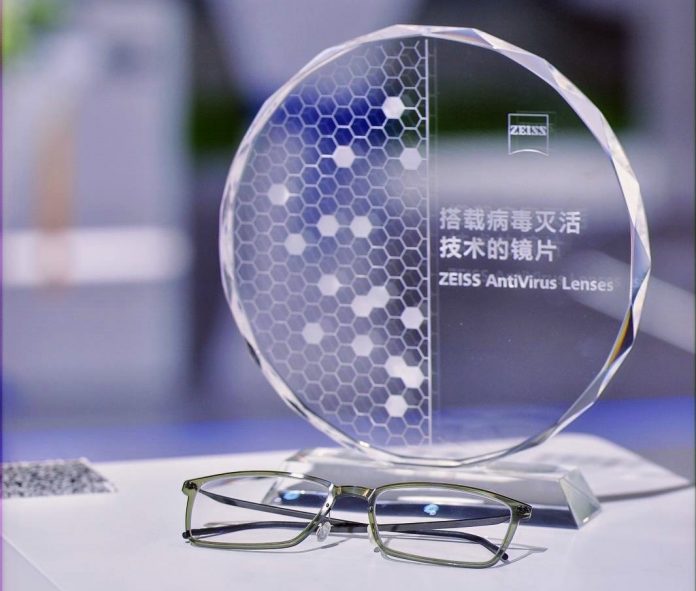 11月5日-10日,在上海举办的第三届中国国际进口博览会上,蔡司光学展出了最新产品蔡司钻立方防卫膜(ZEISS Duravision Antivirus Coating),这是病毒灭活技术首次应用于大众消费者使用的光学镜片膜层上。搭载了病毒灭活技术的镜片与普通镜片的外观别无二致,却能有效灭活99.9%的病毒细菌,在当前全球抗疫的背景下,这款镜片的问世对于公共卫生防疫与个人健康防护具有重大意义。
At the third China International Import Expo held in Shanghai on November 5-10, ZEISS exhibited its latest product ZEISS Duravision Antivirus Coating, which is the first antivirus technology applied to the optical lens membrane used by public consumers. The lens equipped with virus inactivation technology has the same appearance as ordinary lenses, but it can effectively inactivate 99.9% of viruses and bacteria. Under the current global anti-epidemic background, the appearance of this lens product is of great significance for public health prevention and personal health protection.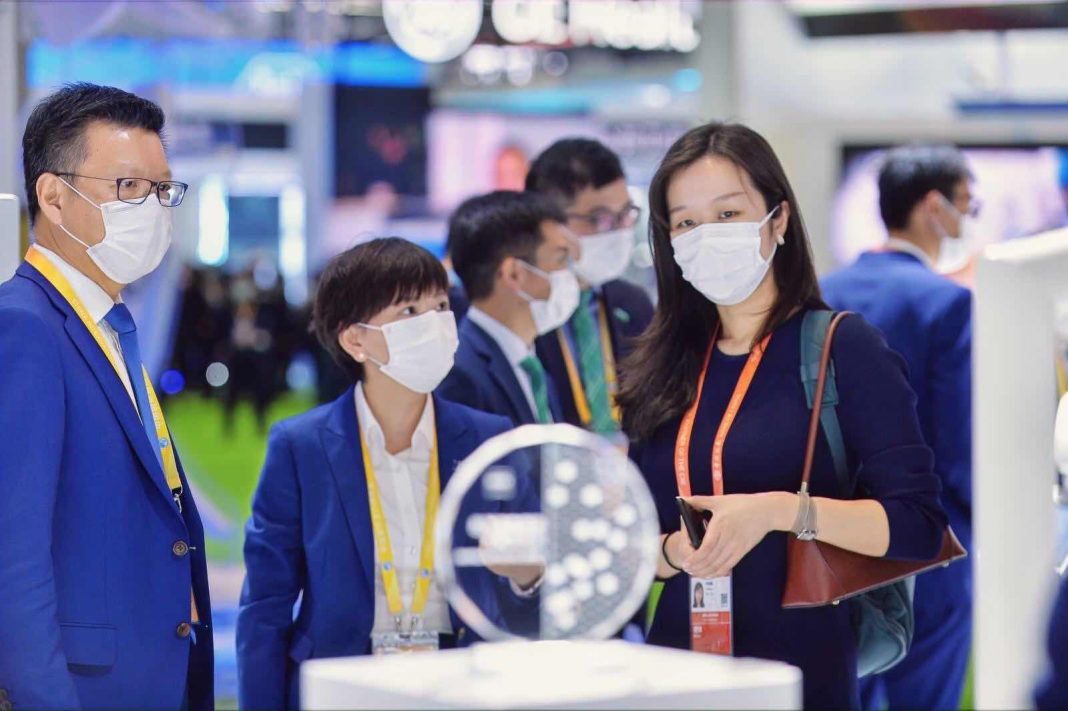 蔡司钻立方防卫膜的病毒灭活技术是基于银离子(Ag+)可以直接或间接作用微生物、使其丧失活性的特性而发展的创新技术。通过特殊真空镀膜工艺,使得银在高温下沉积到镜片表面,与其他镀膜材料充分融合。这样的膜层被证明可以有效杀灭依附在表面的细菌病毒。
The ZEISS Duravision Antivirus Coating is an innovative technology based on the characteristics of Ag+ that can directly or indirectly affect microorganisms and make them inactive. Through a special vacuum coating process, silver is deposited on the lens surface at high temperature and fully integrated with other coating materials. Such membranes have been shown to be effective in killing bacteria and viruses that attach to surfaces.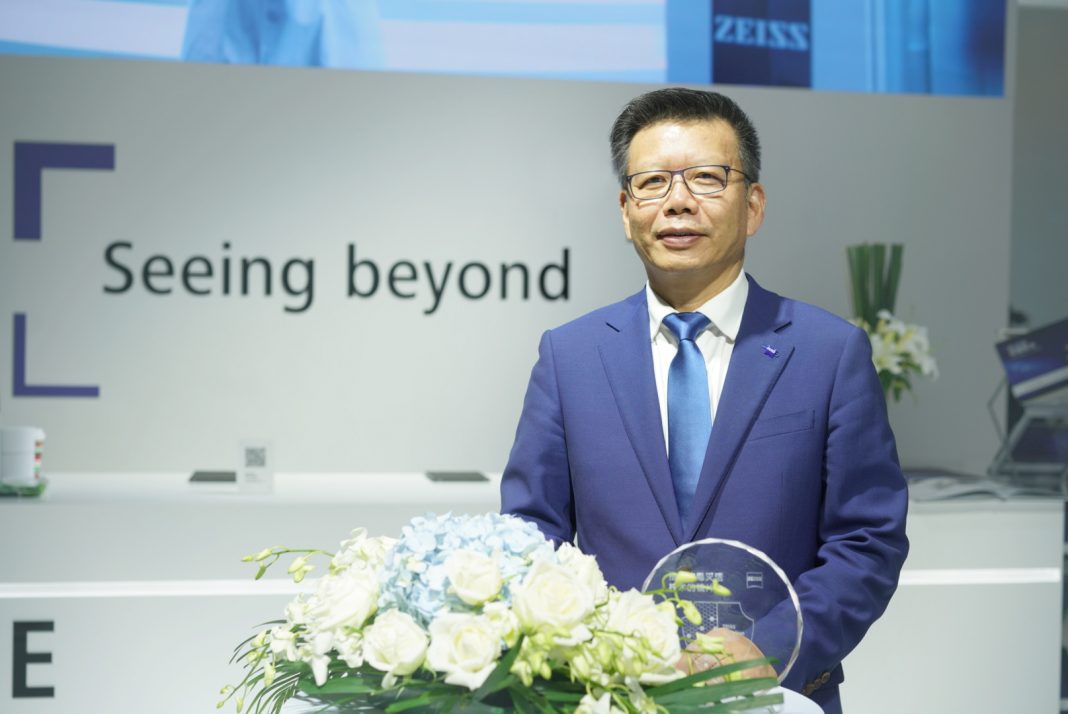 此次进博会是蔡司钻立方防卫膜在全球范围内首次亮相。为了让越来越多的大众了解到蔡司光学研发的这款革新产品,蔡司光学与三角铃公关合作展开推广,由三角铃公关运用自身媒体关系的优势,邀请国内数家知名权威媒体参观蔡司光学的展位,近距离感受蔡司防卫镜片,并且对蔡司光学中国区董事长、总裁彭伟进行专访,通过媒体的传播向公众分享蔡司新产品的科技原理以及研发初心,加深公众对于新产品的了解。
The ZEISS Duravision Antivirus Coating world launch took place at this CIIE. In order to showcase this innovative product to the public, Zeiss cooperated with SJL to run its promotion. SJL took advantage of its media relations, invited several well-known domestic authoritative media to visit the Zeiss booth, and get a better understanding of the ZEISS Duravision Antivirus Coating. SJL conducted media to have an exclusive interview with Peng Wei, chairman and President of Zeiss China. Mr.Peng shared Zeiss technology principle and the impetus of developing this new product, and through this media broadcast, to deepen the public understanding of this new innovation.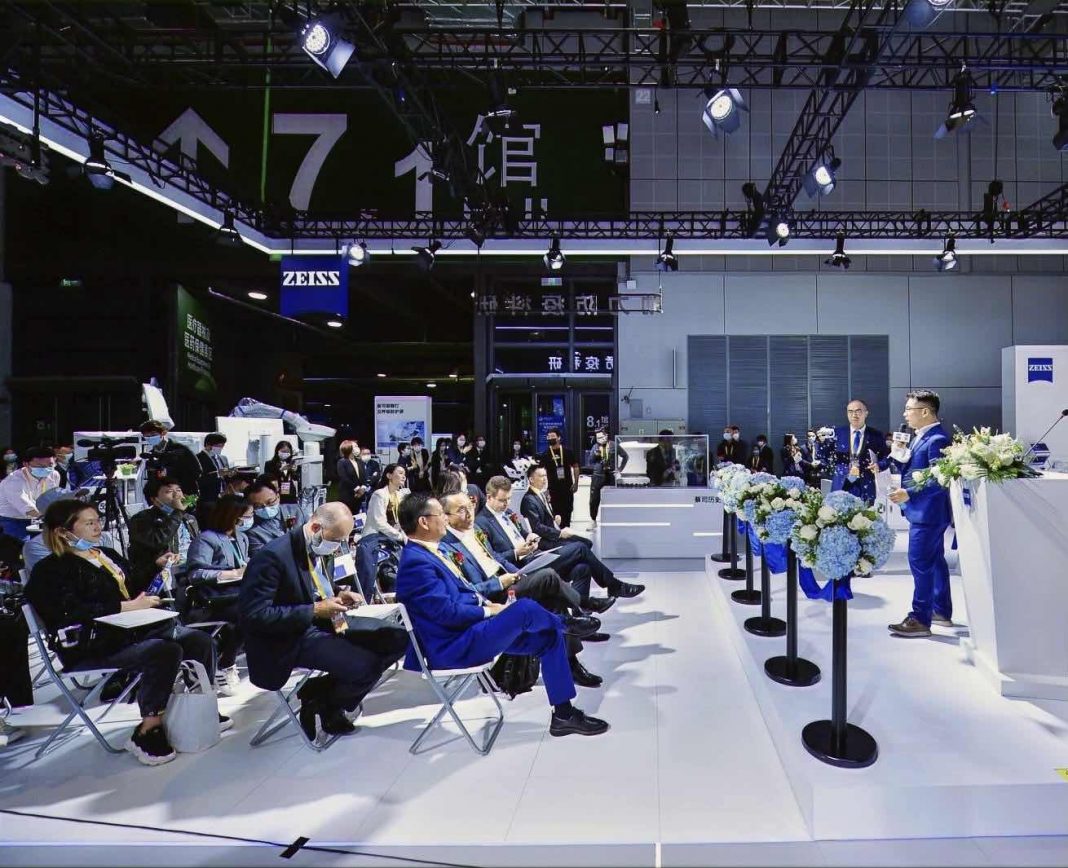 三角铃公关传播长期致力于媒体活动策划、媒体关系维护、品牌塑造。服务对象包括:各地政府、国内外知名企业、奢华酒店、国际学校等,帮助客户在大湾区媒体圈建立良好的关系,树立品牌形象,并达到提升影响力与知名度的目的。
SJL PR Agency has long been committed to media event planning, media relations maintenance, and brand building. Our customers include local governments, renowned enterprises, luxury hotels and international schools etc., to help customers establish good relations in the media circle of the Greater Bay Area, establish a brand image, and achieve the purpose of enhancing influence and popularity.
---
联系我们
Contact us
​
梁婷婷 Tracy Leung
13726293740
tracy@sanjiaoling.com