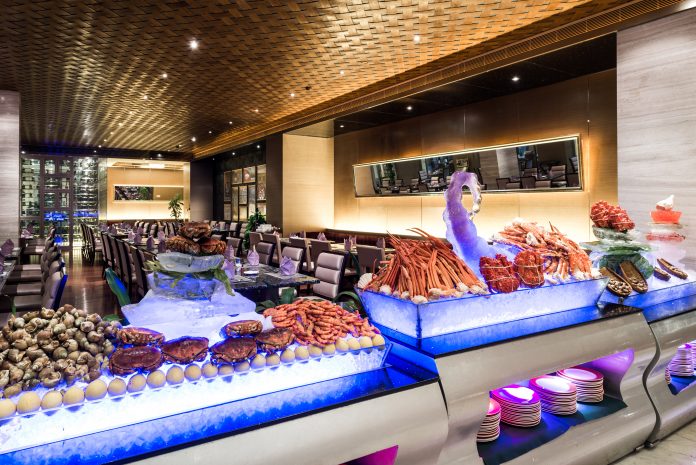 莱斯西餐厅
L'Escale Western Restaurant
周末海鲜汇–消费有礼
Seafood Buffet with Lottery
逢周五、周六自助晚餐,海鲜主题不重样,让您足不出户就能畅享异国各地的美味海鲜。
Take your palette on a journey with delicious global cuisine! L'Escale Western Restaurant dinner buffet proudly offers seafood counter stocked full of the freshest seasonal delights on every Friday and Saturday.
活动期自助晚餐价格:
Promotion Dinner Buffet Price:
成人:¥358/位
Adult: ¥ 358/Person
儿童:¥188/位
Child: ¥ 188/Person
玩骰子,赢自助餐券:
Play at dice, win a prize:
活动期间,每2位自助晚餐的顾客,凭消费小票可参与当晚的骰子抽奖活动一次,
奖品为自助午餐劵一张。
Every couple guests dinning at dinner buffet may easily win a lunch buffet coupon by presenting your consumption receipt to play lucky draw.
周五、周六团购及餐劵不能使用,团队不参与该活动。
Online coupon and group reservation is excluded.
雅高A佳会员卡可正常使用。
Accor advantage plus membership card is applicable to the promotion.
2017年4月 – 6月份 April to June
樱香阁日本料理
Sakura Japanese Restaurant
樱花美食节
Cherry Blossom Feast
初夏樱花祭,以樱花取材搭配生猛海鲜,配合当季时蔬做成料理,不添加过度的调味和装饰,"以刀功为主,烹煮为辅"来突出食材本身的美味。
Chef Tony presents the Japanese seafood cuisine with inspiration from Sakura ingredient by not only from the attention to excellent cooking method, but also the superb cutting up skills to highlight the delicate flavor.
日本料理品尝食物顺序,第一步:点一杯酒水;第二步:搭配餐前小食;第三步:品尝鲜美刺身。
Order your favorite drink with delicate starters; savor the tasty sashimi to satisfy your appetite.
樱花牛蒡手卷 Sakura Burdock Hand Roll ¥ 28 / Roll 个
樱花土瓶针 Sakura Seafood Soup ¥ 38
樱花牛蒡沙律 Sakura Burdock with Vegetable Salad ¥ 48
樱花烤生蚝 Sakura Oyster with Garlic ¥ 58
清酒煮文蛤 Boiled Venus Clam with Sake ¥ 68
樱花火焰寿司卷 Sakura Fired California Roll ¥ 68
樱花川式牛柳 Sakura Spicy Beef ¥ 168
京都牛炭火烧 BBQ Snow Beef ¥ 238
2017年4月 – 6月份 April to June