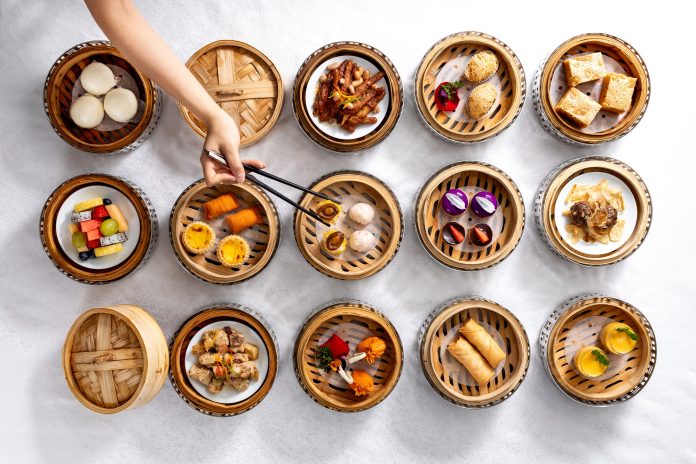 新年伊始,米其林一星粤菜食府愉粤轩延续一盅两件的早茶时光至下午,推出"粤韵"茗点搭配香槟的周末下午茶。用精致的传统粤式点心配香槟,独具摩登韵味,东西交融口感碰撞,让食客们充满惊喜,享受一场时髦的粤式下午茶。
Extending the Yum Cha period from morning to afternoon, Yu Yue Heen at Four Seasons Hotel Guangzhou creates the ultimate dining experience for gourmands with a sumptuous set of signature Cantonese dim sum specially paired with French premium champagne. Have a fun-filled gathering with the family by enjoying a chic afternoon tea at weekends.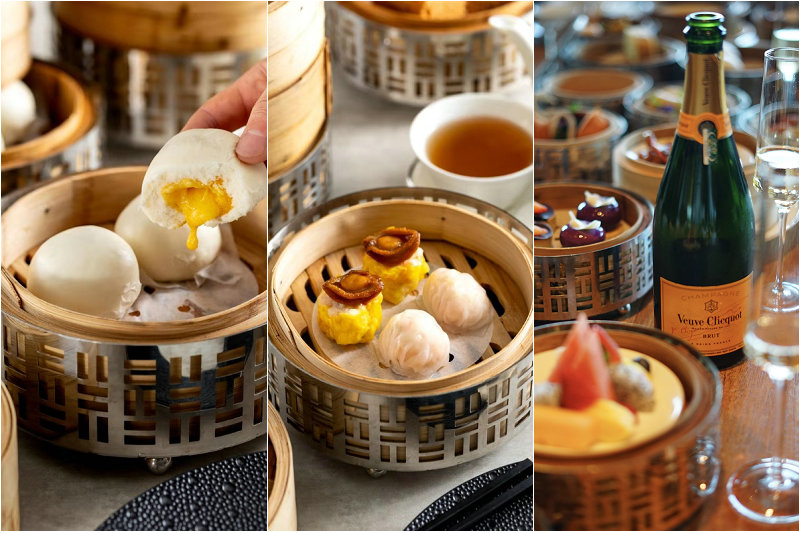 下午茶套餐包含十余款愉粤轩经典招牌点心和凯歌皇牌香槟,用香槟代替茶来配点心,充满想象力的同时也给了粤式点心别样的体验。口感厚实的至尊鲍鱼烧卖、爽脆鲜香的四季笋粒鲜虾饺、浆爆流沙奶黄包及别致可爱造型松子烧鹅酥等,每一款都是由酒店具有二十余年点心制作经验的点心师傅精心准备,呈献传统滋味。两只优雅的"天鹅",称得上是整份点心颜值的焦点。手工制作的千层酥皮,松子烧鹅酥经过油炸呈现出迷人的层次和闪着油光的金色,精美得舍不得下口。奶黄包一向都是广东人早茶必点的一道点心,愉粤轩改良了配方制作出浆爆流沙奶黄包,使奶黄充满流沙感。特别是刚出笼时,缓缓撕开表皮,金灿灿的奶黄倾泻而出,蛋香四溢。香脆的千层酥皮包裹着饱满甘甜的栗子蓉,特色千层栗子酥娇小玲珑但工艺繁复,口感酥脆与软糯并存。
The well-experienced dim sum chef curates a classic selection of savoury dim sum for the afternoon tea set. Instead of traditional Chinese tea, Yu Yue Heen offers guests a creative choice to pair it with champagne. Michelin-starred Chef Mai selects several best-selling items for this weekend afternoon tea. Baked Goose Pastries, lovely swan-shaped pastries with pine nuts and roasted goose as filling, have earned quite a lot of positive comments. Another popular must-try item is Steamed Creamy Crusted Buns, a favorite among the Cantonese. The recipe upgraded by Chef Mai has a much creamier texture and a more heavenly aroma. Soft inside but crispy outside, Deep-fried Chestnut Pastry is one to delight your taste buds.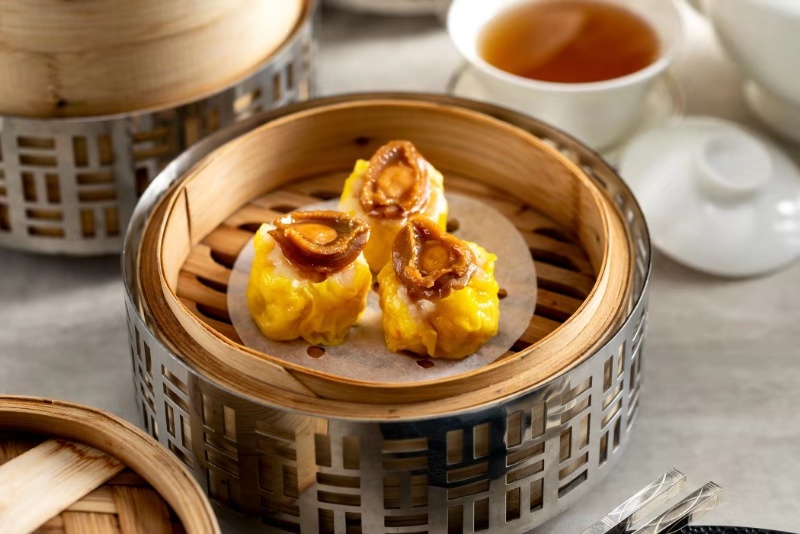 另外更加入了由西点行政总厨的两份西式巧克力甜品:黑莓白巧克力及黑巧克力脆馅饼,打造中西合璧美点。搭配的凯歌皇牌香槟同样极有来头,出产自法国巴黎北部香槟区,是全球历史悠久的香槟酒庄之一。口感香醇馥郁,搭配味道浓郁的广式点心别具一番风味。
More than Chinese-style pastry, Yu Yue Heen adds two more Western-style chocolate desserts, Blackberry White Chocolate and Dark Chocolate Tart With Crunchy, prepared by Executive Pastry Chef Mai. Worth mentioning is the Veuve Clicquot Yellow Label Champagne from Champagne, north of Paris, France. Pairing it with traditional dim sum brings out its delicate flavor.
地道粤式茶点,还可以佐以各式精选茗茶,或者香浓咖啡,打造别样动人的周末午后。人民币288*元每位起,含精选点心及精选茗茶、咖啡或凯歌皇牌香槟。需加收15%服务费(已含相关税),含十余款精选点心及馥郁凯歌皇牌香槟。
A leisurely weekend afternoon is waiting for you with local dim sum choices and Chinese tea, coffee or Champagne. Priced from CNY 288* per person, including dim sum and drinks. Subject to 15% service charge (applicable government tax included).
---
愉粤轩
Yu Yue Heen
广州四季酒店71楼
71/F, Four Seasons Hotel Guangzhou
Tel: +8620 – 8883 3371