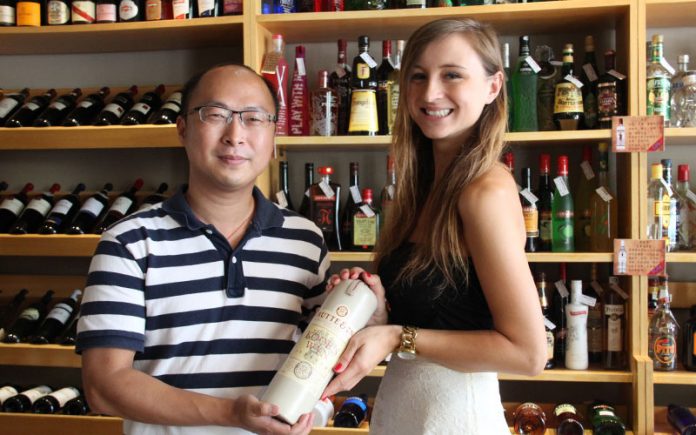 Tim Wu-珠海达利安酒屋的店长-Owner, Dalyan Winehouse, Zhuhai.
"每一位莅临达利安酒屋的客人,都能够在温馨的氛围慢慢品赏来自世界各地的佳酿。"
"The great selection of wines and liquors from all over the world and the familiar atmosphere have made our winehouse into something special"
位于市中心吉大,达利安酒屋一排排原木酒架上摆放着琳琅满目来自世界各地的酒,还有传统茶叶茶。除了饮品,达利安酒屋还进口来自法国诺曼底的黄金生蚝,肉质肥厚,海水味强,价格亲民。
Dalyan Winehouse is a new wine and liquor store in Jida, Zhuhai, which offers a wide variety of international wines and liquors as well as Chinese tea, snacks and fresh oyster from the Normandy, France.
DB: Why did you choose to open a wine house in Zhuhai and when did it open?
Tim Wu: After working over 10 years in the wine industry, I had this idea to provide our retailers and customers the chance to try alcoholic drinks from all over the world. That's why I opened this wine house this year in January. But it's more than a wine house. It also has a bar, where our clients can have a cocktail or where bar keepers can learn how to improve their skills.
DB: Did you have any difficulties at the beginning?
Tim Wu: No, I didn't have big problems while opening this store. It's just that we are quite new and not too many people know of us until now.
DB: What kind of wine or liquor do you sell and do your customers have any favorite drinks?
Tim Wu: The range of alcohol the wine house offers is too wide to include everything. In general, we have many kinds of wine, whiskeys, brandies… In total, we have over 400 types of alcohol here and our customers mostly like to drink whiskey or one of our tasty cocktails. Furthermore, I sell traditional Chinese tea, some snacks and original oysters from the Normandy in France.
DB: And where do you get your international alcohol from?
Tim Wu: There are many Chinese agencies who sell international wines and liquors. But I only buy from those who can provide the top quality.
DB: Do international customers join your wine house as well?
Tim Wu: Most of my customers are Chinese who like to have a taste of alcohol from abroad. But we also have some Japanese customers, because we do offer various Japanese alcohols, too.
DB: So tell us, what differs you from other wine houses in Zhuhai?
Tim Wu: On one hand, we provide only products of a high-quality standard. On the other hand, I sell them at a reasonable and competitive price than other stores. But not only has the value-for-money attracted people to enter our wine house, also the familiarity that exists in our store has created a harmonic atmosphere. Customers can have a look at our wide selection and later try some wines and liquors at our bar. In addition, we are known for our fresh oysters, which we serve with lemon and Tabasco sauce.
——————————–
Introduction of Dalyan
走进达利安酒屋,焕然一新的LOFT风格装修,店里五彩缤纷的各国美酒让爱酒之人流连忘返。白兰地、威士忌、中国白酒、伏特加、金酒、龙舌兰、朗姆、力娇、日本清酒、红酒、啤酒……琳琅满目。其中威士忌就有200多种,基酒类有500多种,还有品酒器皿、调酒用具等。
店主从事酒类批发多年,供应珠三角专业的鸡尾酒吧及清吧,以货真价实得到广大客户信赖。达利安酒屋以体验店的模式推广着饮酒文化,店内设有舒适的品酒区,从下午6点至凌晨1点有专业的调酒师为您调制美酒或交流。
作为珠海唯一一家一站式进口酒类超市,达利安酒屋还提供配送服务,想小酌几杯的客户可打配送电话:0756-3362692或3361228.
Any wine lover will be infatuated with this loft-style winehouse. A large and wide variety of alcohol is offered for sale here, including brandy, whiskey, Chinese liquor, vodka, gin, tequila, rum, liqueurs, sake, wine, and beer. Dalyan offers more than 500 brands of alcohol, including over 200 different whiskeys.
Tim, the owner of Dalyan, has rich experience in the wholesale liquor business. He guarantees that he sells only genuine liquor. By doing this, Tim earns the trust of bars from all of the Pearl River Delta. Everyday from 6pm to 1am, one can enjoy special liquor from professional bartenders in Dalyan.
As the only one-stop imported liquor in the market, Dalyan offers delivery service to customers. Please call 0756-3362692 or 3361228 for orders.