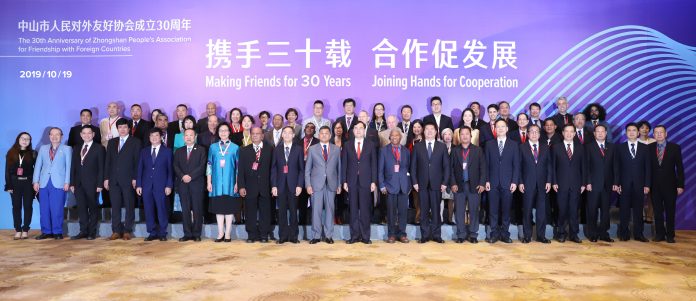 2019年10月18至20日,三角铃协助中山市人民对外友好协会(简称"中山市友协")举办了中山市人民对外友好协会成立30周年。是次活动得到了广东省人民对外友好协会、中山公共外交协会、中山市外事局、中山市商务局的鼎力支持。来自世界各地的对华友好组织和机构、社会团体及各界人士出席了是次的活动,共同庆祝中山市友协成立纪念日,为其在过去三十年积极推动中山参与国际合作的努力予以肯定。
From October 18th to 20th, San Jiao Ling (SJL) assisted Zhongshan People's Association for Friendship with Foreign Countries (ZPAFFC) in holding the 30th Anniversary Celebration. This event was supported firmly by Guangdong People's Association for Friendship with Foreign Countries, Zhongshan Public Diplomacy Association, Zhongshan Foreign Affair Bureau and Zhongshan Bureau of Commerce. Members from foreign organizations, institutions, various social organizations, and people from all walks of life attended the event, celebrating the anniversary and giving recognition to the efforts made by ZPAFFC in the past 30 years.
作为一家专业的公关公司,三角铃一直匠心独运,注重细节,希望为活动策划与执行注入创新元素。由于考虑到中山市友协一直致力为中山与世界各国人民架设一座沟通的桥梁,于是三角铃便设计了一条桥梁,放置于迎宾背景板前,以供宾客合影留念。此外,在会场外也摆放了30字形的亚克力装置,以供宾客把许愿球投入装置内,有中山市友协过去三十年硕果累累之意。
As a professional PR agency, SJL always exercises its inventive mind and pays attention to details, hoping to fuel event planning and execution with innovative ideas. Considering the fact that ZPAFFC has always aimed to build a bridge of communication between Zhongshan and people from countries all around the world, therefore, SJL designed an exclusive and exquisite bridge that was put in front of the event backdrop of which guests were able to take photos. Moreover, SJL also placed a 30-shaped acrylic installation for the wishing ball session, at which guests could put the wishing balls into the installation, symbolizing the innumerable great achievements of ZPAFFC in the last three decades.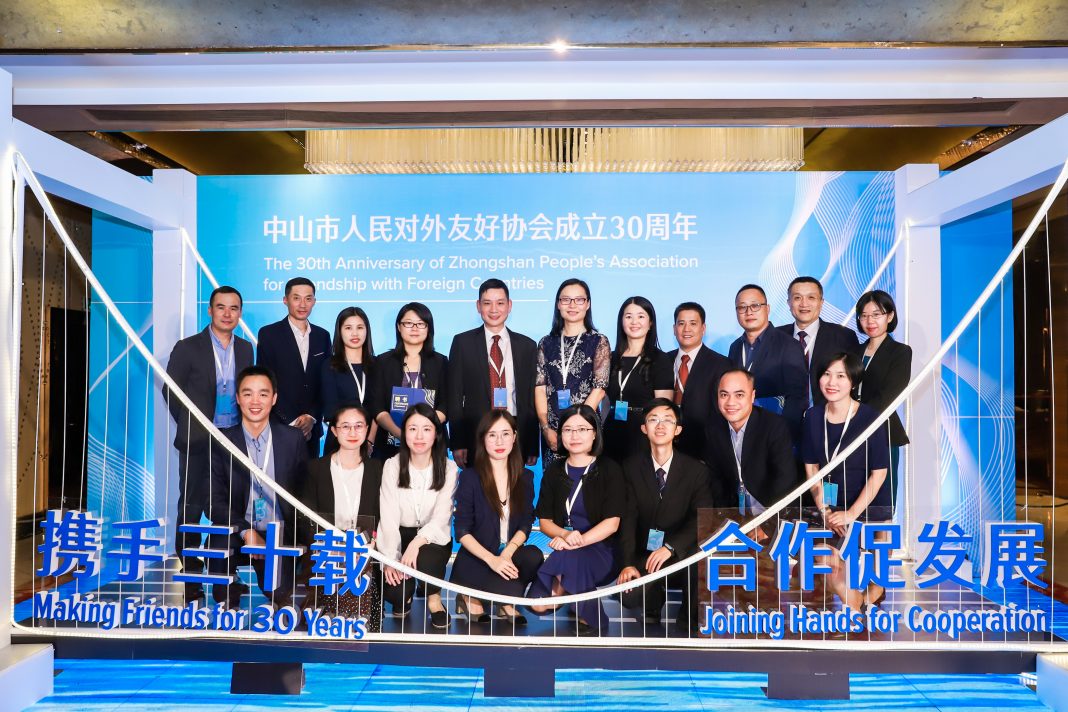 活动的首天,三角铃安排了一行人前往位于火炬开发区的明峰医疗器械、明阳智能等企业参观,了解高新科技企业如何在创新之城中山扎根、发展;随后,一行人参观了国家"十三五"重大工程深中通道,向宾客介绍深中通道如何连接珠江三角洲核心区域并为大湾区的融合发展奠下坚实的基础。
On the first day of the event, SJL arranged a tour to the Torch Development Zone in Zhongshan, visiting MinFound Medical System Co., Ltd. And Mingyang Intelligence at which founders introduced how hi-tech enterprises had taken root and had developed in Zhongshan. Thereafter, guests visited the Shenzhen-Zhongshan Bridge, a national project stated in the "13th Five-Year Plan". With a detailed introduction and explanation, it showcased how the infrastructure would connect the Pearl River Delta Region and facilitate the development of the Greater Bay Area (GBA).
其后,宾客出席了中山投资环境推介会。会议上,中山市商务局代表和中山国家健康产业基地代表分别介绍了中山的投资环境以及中山健康产业的详细情况。最后,宾客出席了欢迎晚宴,三角铃协助了中山市友协进行颁奖仪式,为一众海外特邀理事以及理事单位颁发证书,并安排了精彩的合唱及魔术表演,晚宴在一片欢声笑语中圆满结束。
After several site visits, guests attended a conference titled Zhongshan Investment Environment Conference. Representatives from Zhongshan Bureau of Commerce and Zhongshan National Health Technology Park detailed respectively a broad picture of Zhongshan's investment environment and health industry. Moreover, guests attended a welcome banquet at which SJL assisted ZPAFFC in holding an award ceremony, awarding its overseas council members. To make the welcome banquet more vividly entertaining and enjoyable, SJL specially invited a harmony vocal group and a seasoned magician to take the stage for splendid performances.

为了让宾客全面透彻地了解中山的文化、传统产业,三角铃在活动的第二天还安排了咀香园食品厂、古镇星光联盟的参观活动,以让宾客了解百年老字号咀香园如何继承传统理念之余,又融入新时代元素。同时,古镇星光联盟集采购、休闲、娱乐、体验于一体的商业模式更是让宾客们大开眼界。
For guests to comprehend thoroughly Zhongshan's cultural and traditional industries, SJL also scheduled several site visits on the second day of the event, namely Juxiangyuan Food Factory and Guzhen Starlight Alliance. When visiting the time-honored food factory, guests were amazed by the fact that this century-old brand had managed to inherit traditional concepts and allow modern elements to blend in. At Guzhen Starlight Alliance, guests applauded the new business model of integrating commerce, leisure, and entertainment into one single site.
三角铃作为一家扎根大湾区的国际化公关策划公司,为客户提供符合国际标准、度身定制的高品质策划案,是我们不变的初心和理念。我们一直致力参与大湾区的建设,一直力臻完美、初心不改。别人谈论大湾区,我们奔走大湾区!
As a professional PR agency based in the GBA, SJL provides our clients with tailor-made and high-quality campaigns that adhere to international standards. This has always been our long-standing philosophy. We are also dedicated to the development of the GBA and to the pursuit of perfectionism. People talk about the GBA; we serve the GBA!