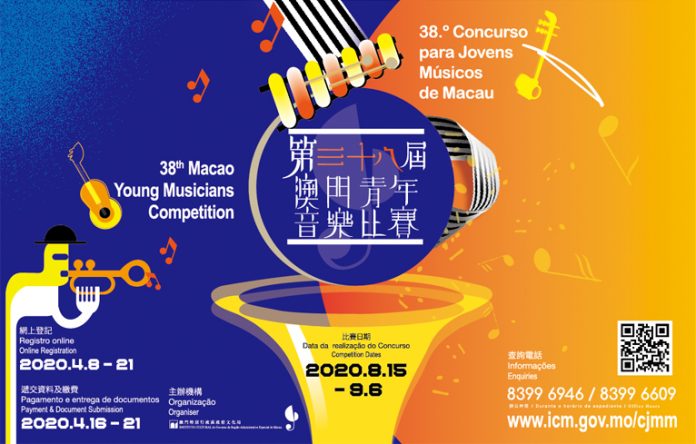 因受新型冠状病毒疫情影响,由澳门特别行政区政府文化局主办的"第三十八届澳门青年音乐比赛"本年将延後至8月15日至9月6日举行,并於4月8日至21日期间接受报名。
Due to the impact of the novel coronavirus pneumonia, the 38th Macao Young Musicians Competition, organized by the Cultural Affairs Bureau (IC, from the Portuguese acronym), will be postponed to between 15th August and 6th September. Applications will be open from 8th to 21st April. All interested eligible individuals are welcome to participate.
"澳门青年音乐比赛"旨在积极推动本澳古典音乐的发展,提供宝贵的演出平台和学习机会予本地青少年,鼓励参赛者发挥个人音乐潜质,本届青年音乐比赛为中西器乐及声乐组别赛事,包括弦乐、木管、铜管、中乐及声乐。分组赛每组设第一、二、三名、优异奖及良好奬;特别大奖赛独奏组的初、中和高级各设有总冠、亚、季军,高级组总冠军即《文化局大奖》,而各重奏组别第一名则可角逐《最佳表现组合奖》。
The "Macao Young Musicians Competition" aims at promoting the development of classical music in Macao, encouraging young local musicians to explore their musical potential and providing them valuable stage experience and learning opportunities. This edition, dedicated to Chinese and Western instruments and vocal music, features a number of categories including strings, woodwinds, brass, Chinese instruments and vocal. First, Second and Third prizes, Distinction and Merit certificates will be awarded in each category. All First Prize winners of each solo category at elementary, intermediate and advanced levels can compete for the Grand Champion, Grand First Runner-up or Grand Second Runner-up. The Grand Champion of the solo category at advanced level is considered as "Cultural Affairs Bureau Prize". All the First Prize winners in the ensemble categories will have the opportunity to compete for the "Best Ensemble Performance Prize".
比赛参赛资格:1999年(器乐组)及1995年(声乐组)或以後出生,并持有澳门居民身分证人士。
Holders of a Valid Macao SAR Resident Identity Card born in or after 1999 (for instrumental categories) and 1995 (for vocal categories) are welcome to participate in the Competition.
为方便有意报名人士,本届比赛采用先网上登记、後缴费及递交文件的报名方式。报名者可於4月8日上午10时至4月21日晚上6时,透过青年音乐比赛网页(www.icm.gov.mo/cjmm)进行网上登记,并於4月16日至21日上午10时至晚上7时(中午不休息)亲临塔石广场文化局大楼递交所需文件及缴交报名费,每组报名费用为100澳门元;报名者亦可於上述递交文件期间备妥报名所需之文件亲临文化局大楼,工作人员将协助进行网上登记。
For the convenience of applicants, this year the application can be made online first, followed by payment and document submission. Applicants may register online from 10am on 8th April to 6pm on 21st April through the Macao Young Musicians Competition website (www.icm.gov.mo/cjmm), and the supporting documents and an application fee of MOP100 per category must be handed in person at the Cultural Affairs Bureau Building located at Tap Siac Square from 10am to 7pm between 16th and 21st April (open during lunch hour). Applicants may also prepare all required documents and make the online application with the assistance of IC staff at the Cultural Affairs Bureau Building during the document submission period and time indicated above.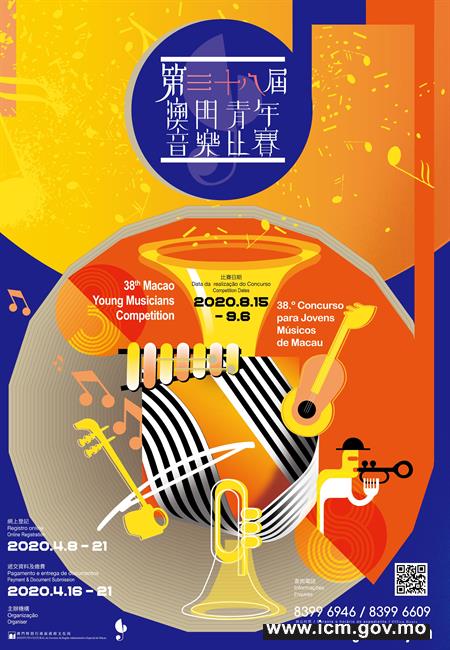 ---
第三十八届澳门青年音乐比赛
The 38th Macao Young Musicians Competition
报名费用/Application fee: MOP 100
青年音乐比赛网
Macao Young Musicians Competition website
www.icm.gov.mo/cjmm
塔石广场文化局大楼
Cultural Affairs Bureau Building, Tap Siac Square
Tel: +853 – 8399 6946 or 8399 6609