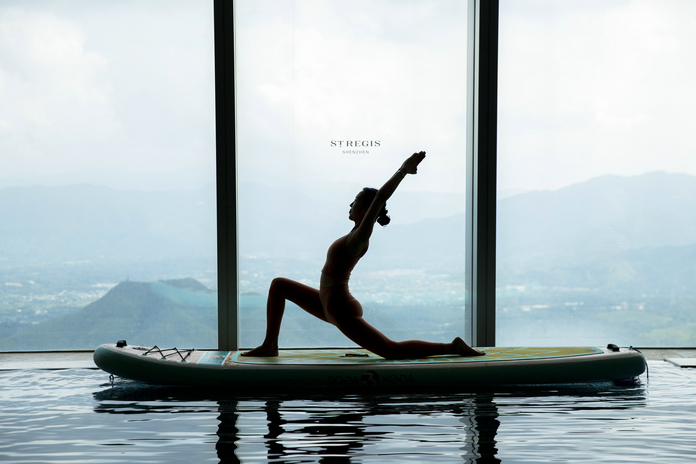 深圳瑞吉酒店全新推出水上桨板瑜伽及普拉提悠享课程,打造时髦健康生活方式,让现代都市人隐匿于云端,无拘而动,由内至外减压释放。
The St. Regis Shenzhen launches paddle board yoga and pilates course to create a fashionable and healthy lifestyle, allowing modern urbanites to "hide in the clouds", move freely, and release pressure from the inside out.
水上桨板瑜伽在深圳瑞吉酒店75层高空泳池活力开课,以静心为基,在桨板上完成不同幅度的拉伸,并通过核心肌群的力量在桨板上保持水面平衡,从而达到身心平衡。相较于地面瑜伽,水上瑜伽耗氧更大,在相同时的运动时间里,水上瑜伽能帮助运动者更快的增进力量和减压释放,为忙碌的都市人节省更多时间。
Guest can enjoy special paddle board yoga course on the 75th floor of The St. Regis Shenzhen. Based on meditation, different stretches are completed on the paddle board, and muscles are trained to maintain balance on the paddle board, all to benefit one's physical and mental health. Compared with practicing yoga on a solid ground, paddle board yoga trainers usually consume more oxygen. In the same exercise time, paddle board yoga can help with increasing strength and release pressure faster, saving more time for busy urbanites.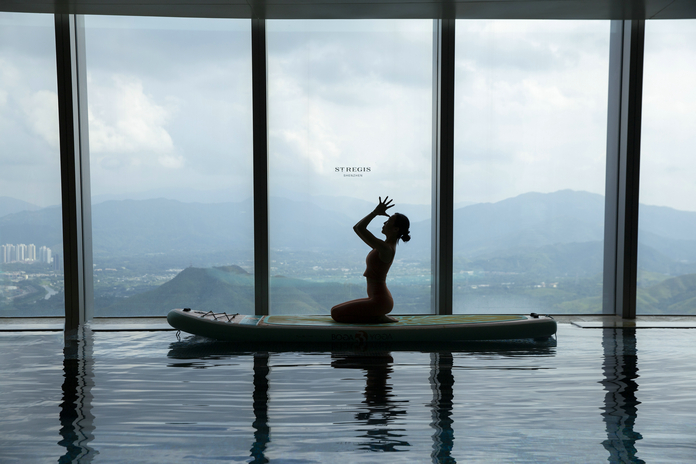 水上桨板瑜伽及普拉提悠享课程人民币999元每节每位,课程时长60分钟,尊享一对一私教课程,根据个人需求量身定制运动计划,预订10节课程额外尊享云端双人下午茶一套,除此之外,还有人民币688元的小团课报名,乐享与好友一起规律运动的轻松愉悦。
Enjoy special paddle board yoga and pilates course at CNY 999 session/person for 60 minutes, with exclusive one-to-one private training. Book 10 courses and enjoy additional one set of afternoon tea for two persons. In addition, group registration at CNY 688 session/person to enjoy relaxation and exercise with friends.
---
深圳瑞吉酒店
The St. Regis Shenzhen
深圳市罗湖区深南东路5016号
No. 5016 Shennan Road East, Luohu District, Shenzhen
Tel: +86 755 – 8308 8888