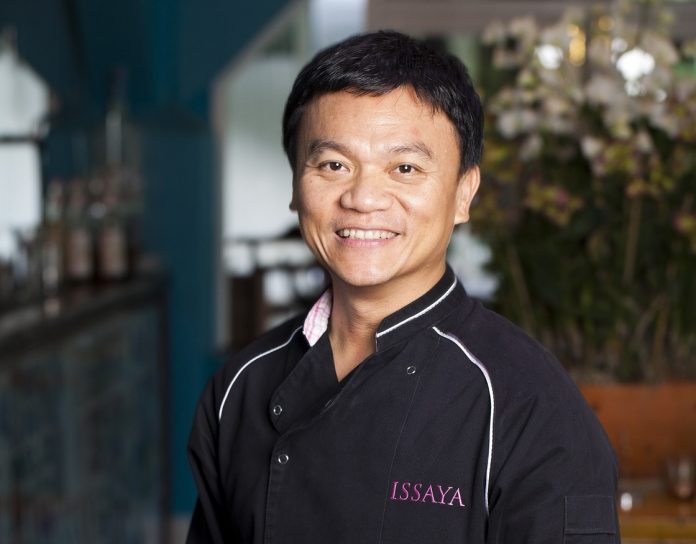 2017年9月19日(广州) – 广州文华东方酒店特别邀请泰国明星主厨 – Ian Kittichai于2017年9月27日至10月1日在太古悦茶居为饕客举行一场难忘的正宗泰国美食体验。
19 September, 2017 (Guangzhou, China) – Mandarin Oriental, Guangzhou is proud to welcome award-winning Celebrity Chef Ian Kittichai for an unforgettable experience of authentic Thai cuisine at The Taikoo Lounge from 27 September to 1 October 2017.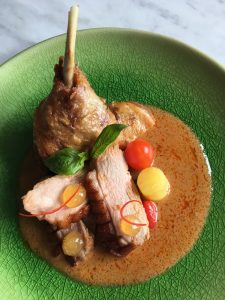 主厨Kittichai主理的餐厅Issaya Siamese Club,在2017年"亚洲50最佳餐厅"评选中荣获第21位之殊荣。同时,他所撰写的烹饪书籍也曾获得"最佳畅销"的称号。 这次, 大厨Kittichai将为广州文华东方酒店展现他餐厅里畅销的经典菜色, 为广州的客人呈现原汁原味的泰国风情并承诺为每一位前来体验的顾客打造一场令人难忘的美食之旅。
Acclaimed for his unique approach to classic Thai flavours, Chef Kittichai's restaurant, Issaya Siamese Club, was ranked 21st in "Asia's 50 Best Restaurants" in 2017.  An Iron Chef and published author of best-selling cookbooks, Chef Kittichai brings the best of his restaurants around the globe to Guangzhou for what promises to be an unforgettable culinary experience only at Mandarin Oriental, Guangzhou.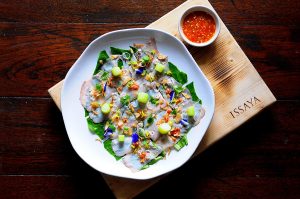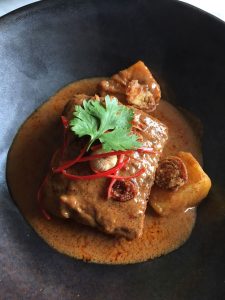 名厨Ian Kittichai运用精湛的烹饪技巧一连五天在太古悦茶居为大家献艺,带来精美的午餐和晚餐套餐,该套餐以泰式咖喱为主题,主打菜式包括:咖喱猪柳配米饭、海鲈鱼柳和咖喱鱼肉慕斯配班兰叶、泰式紫苏和红咖喱汁及马斯曼咖喱牛肉等美食。午餐价格为每位人民币288, 晚餐为每位人民币588, 搭配葡萄酒为每位人民币888。 以上价格皆须外加15%服务费。 欲了解详情或订位,请洽订席专线 + 86 (20)3808 8881。
Diners can expect to experience delicious and authentic Thai set lunch and dinner menus at the Taikoo Lounge. The set menus will feature classic Thai flavours in curry base including, Pork Tenderloin with Panang Curry Sauce; Seabass Fillet with Red Curry Fish Mousse, Betel Leaves, Thai Basil and Red Curry Sauce, and Braised Beef with Massaman Curry Sauce. Lunch is priced at CNY288 per person, and dinner is priced at CNY588 per person. Prices are subject to a 15% service charge. For reservations please call +86 20 3808 8881.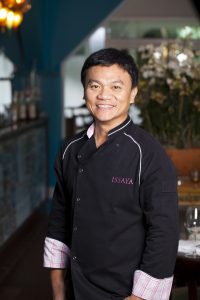 名厨Ian Kittichai 的简介 | About Chef Ian Kittichai
大厨Ian Kittichai刚入行时,已经在法式奢华餐厅Claude's当学徒,随后他在曼谷四季酒店任职副厨。由于经常往来世界各地,他的厨艺吸取各地精华后得到更好的升华。他曾在Georges V in Paris, French Laundry in Napa Valley, El Bulli in Spain, 以及 Four Seasons Chinzan-so in Tokyo 等全球著名餐厅任职,以创新的菜式给客人带来特别的美食体验,得到顾客的一致追捧。
Having spent his years of apprenticeship learning French fine-dining cuisine at the famous Claude's in Sydney, Chef Ian Kittichai started his culinary career at the Four Seasons Hotel Bangkok which subsequently took him to culinary exchanges around the world where he was able to further perfect his talent and craft. At restaurants and hotels such as Georges V in Paris, The French Laundry in Napa Valley, El Bulli in Spain, and top established in Tokyo, Chef Ian was given creative licence to experiment with new culinary creations.
大厨Ian Kittichai在他的家乡是一位大名鼎鼎的厨师,也是首位在五星级酒店任行政总厨的泰籍厨师。曼谷邮报称他为"金牌男子" ,目前他在热门烹饪节目《铁厨(泰国版)》中担任客座厨师和《厨艺大师(泰国版)》中担任主要评委,同时大厨也时常在《铁厨(美国版)》和《铁厨(日本版)》中亮相。
Chef Kittichai is also a celebrity chef in his home country dubbed "The Globe Golden Boy" by The Bangkok Post. He currently stars on Iron Chef Thailand and as the lead judge on MasterChef Thailand. He has appeared on Iron Chef America and Iron Chef Japan numerous times.
大厨Ian Kittichai除曾经参与多家世界各地餐厅的筹备开业之外,大厨在曼谷开设Issaya Siamese Club。从此,该餐厅位列亚洲50家最好餐厅的明星餐厅:2014年排行31,2015年排行39, 2016年迅速上升到排行19,在2017年排行21位。
After opening many restaurants around the world, Chef Ian debuted his flagship Thai restaurant and lounge Issaya Siamese Club in 2011 in Bangkok. Issaya has won many awards, including earning coveted spots on Asia's 50 Best Restaurants, sponsored by S. Pellegrino and Aqua Panna – in 2014 Issaya was listed as entry 31, in 2015 listed as entry 39, in 2016 listed as entry 19 and in 2017 is listed as entry 21.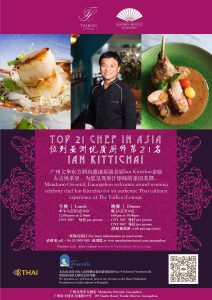 广州文华东方酒店 | About Mandarin Oriental, Guangzhou
广州文华东方酒店位于享负盛名的太古汇之内,太古汇为一个占地358,000平方米的综合发展项目,集奢华购物、甲级写字大楼及令人赞叹的文化中心于一体,酒店提供广州城中宽敞的酒店客房体验。酒店233 间客房和 30 间套房传承了文华东方酒店品牌精致典雅的经典风格。酒店的设计由季裕棠设计师事务所(tonychi and associates) 操刀。设计揉合了传统东方元素和"新中国"的现代特色。酒店的粤菜餐厅江-由辉师傅主理,辉师傅是中国最优秀的厨师之一,以他的创意粤菜而闻名,以及经典烧烤餐厅Ebony、茶廊悦茶居、文华饼店和独具特色的The Loft酒吧等为宾客提供了丰富选择。广州文华东方酒店的水疗中心 为宾客提供一个难得宁静与惬意放松的机会。设施齐全
的健身中心配有25米长的户外温控泳池与配套健身康体设备。一流宽敞的会议与宴会厅配有最新的科技设施,总面积达710平方米的宽阔气派大宴会厅必将成为城中奢华顶级宴会庆典的理想之选。
Located next to TaiKoo Hui Shopping Centre, each of the hotel's 233 spacious guestrooms, 30 suites and 24 serviced apartments reflect the Group's distinctive elegance and style. Diverse dining choices include Jiang by Chef Fei, one of China's most notable chefs known for his creative flair; a classic grill restaurant, Ebony; The Taikoo Lounge; The Mandarin Cake Shop and The Loft. The Spa at Mandarin Oriental, Guangzhou offers city dwellers and visitors a rare opportunity for peace and tranquillity with nine private treatment rooms. Top-tier meeting and function facilities are spacious and equipped with the latest technology, and the hotel's expansive 710-square-metre ballroom is the city's premier celebration and events destination.