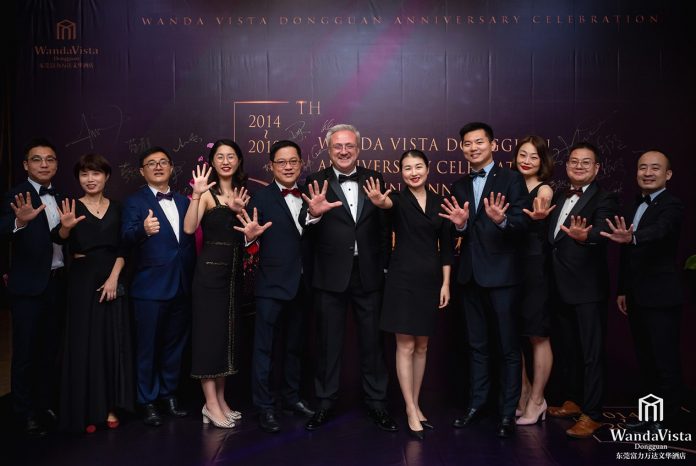 米其林评级是全球美食的最高荣耀,被誉为餐饮界的奥斯卡。2019年9月19日-20日,适逢东莞富力万达文华酒店五周年,特邀请西班牙米其林星厨 Mr. DAVID GUZMAN 及其厨师团队莅临,让宾客在莞邑足不出户可臻享米其林法餐盛宴。晚宴由米其林三星主厨料理,诠释出东莞富力万达文华酒店五载芳华,至臻品质的全新内涵!GUZMAN 星厨团队曾为西班牙皇室及众多世界名流提供专业的餐饮服务。
The Michelin Guide rating is highly praised in the world of cuisine and is well known as the Oscar of gastronomy. On 19th and 20th September, coincides with the 5th anniversary of Wanda Vista Dongguan, the hotel invited Spanish Michelin star chef DAVID GUZMAN and his team to present an Anniversary Celebration Michelin Dinner. The Michelin Three Stars chef, through exquisite cuisine and professional catering services, the principle of striking for top quality held by Wanda Vista Dongguan in the past five years was well interpreted.

米其林,是奢享美食,更是对于美食的仪式感,视觉的极上美学。万达文华周年庆典米其林晚宴灵感来源于法国长桌晚宴,并以中国五行元素为创意,完美诠释万达文华酒店为崇尚品质生活的尊贵宾客,提供融合东方神韵与当地风情精致服务的豪华酒店品牌定位,现场更有小提琴演奏,品美馔,赏天籁,感受美食与音乐双重奏的魅力。韵如是,心境自开。
Michelin not only stands for top quality and luxury food, but also a sense of ritual for food and visual aesthetics. Inspired by the elegant French long table dinner and the Chinese Five Elements, the Anniversary Celebration Michelin Dinner perfectly explained the Wanda Vista quality of living to guests, as a luxury hotel brand that blends oriental charm with local flair. Accompanied by violin performance, the beautiful atmosphere opens up everyone's mind to the charm of Wanda Vista Dongguan.

酒店总经理福纳德表示,自2014年开业以来,东莞富力万达文华酒店始终传承"以礼至善生活"服务理念,以细致入微的酒店服务,营造优雅的旅居感受,将每位宾客的入住时光都打造成历久弥新的美妙回忆。
Hotel general manager, Mr. Fuat said that since its opening in 2014, the hotel has always passed on the service concept of "living the best in life" and creating an elegant living experience with meticulous hospitality. Making very guest's stay a memorable experience.

酒店位于东莞东城中心商务核心区,毗邻万达广场,是商务或休闲旅客理想之选。文韵莞邑,五载芳华,携手同行,未来可期!
Located in Dongguan Dongcheng CBD, adjacent to Wanda Plaza, Wanda Vista Dongguan is ideal for both business and leisure travellers.
---
东莞富力万达文华酒店
Wanda Vista Dongguan
东莞市东城区东纵大道208号
208 Dongzong Road, Dongcheng District, Dongguan
Tel: +86-769-2200-1888