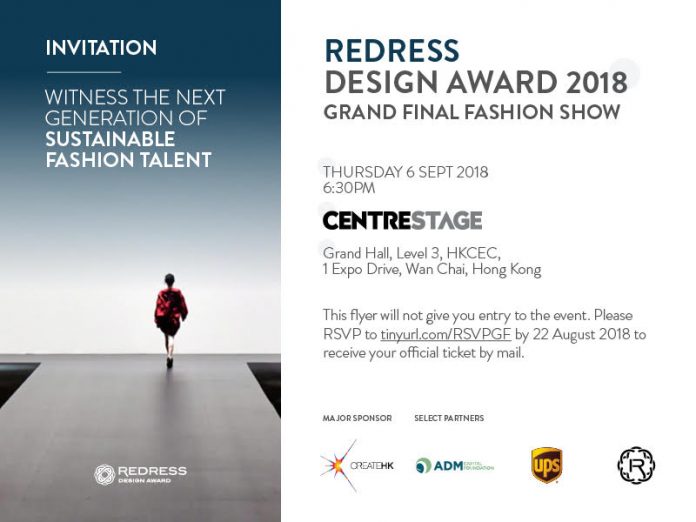 Environmental NGO Redress presents a preview of 11 collections to be shown at the Grand Final of the world's largest sustainable fashion design competition – the Redress Design Award – this 6th September. 'In Between' is a striking photoshoot featuring the work of exceptional emerging sustainable design talent, shortlisted from applications hailing from a record 55 countries earlier this year.

Redress Design Award alumni Angus Tsui was the mastermind behind this year's photoshoot, working with up-and-coming photographer Sam Tso to celebrate the transformative power of the each designer's collections, all created from a variety of textile waste from end-of-roll fabrics, vintage kimonos, home textiles and even damaged umbrellas. The historic cotton-mill-turned-creative hub – The Mills – served as the perfect backdrop, bringing out the contrast between decay and reconstruction, old and the renewed.
Tsui, also Creative Director of his eponymous sustainable fashion brand, remarked, "Six years on since winning the Redress Design Award, I am still working in different ways to apply sustainability and create positive impact in our industry. Having been in the finalists' shoes before, I was determined in my role as stylist to present the finalists' work to new audiences in a way that lets the designs speak for themselves." He added, "I think their work is so thoughtful, especially as they present a myriad of beautiful and viable solutions that can lower the environmental impact and pollution of our industry."
Long-standing Redress Ambassador, Bonnie Chen, formed half of the modeling duo showcasing the waste-reducing designs from this cycle's designers. "I am so happy to part of the journey and to see the contestants grow as sustainable fashion designers." She said, "They are not only preparing themselves for the Redress Design Award Final this September, but also for the inevitable future of the fashion industry."
The finalists now gear up for their whirlwind educational trip to Hong Kong where in between their jam-packed schedule of challenges, fittings and rehearsals, they will retreat to the luxury of brand new Hotel VIC, an exciting new partner for the Redress Design Award. For the all-important Grand Final Fashion Show – in front of a 1,000 strong international audience at CENTRESTAGE – new make-up sponsor Popstar Cosmetics and returning hair sponsor KMS will ensure the models have dazzling runway looks to match the stunning designs.
---
The Grand Final Fashion Show will be livestreamed internationally on Thursday 6 September at 6:30pm (HKT).