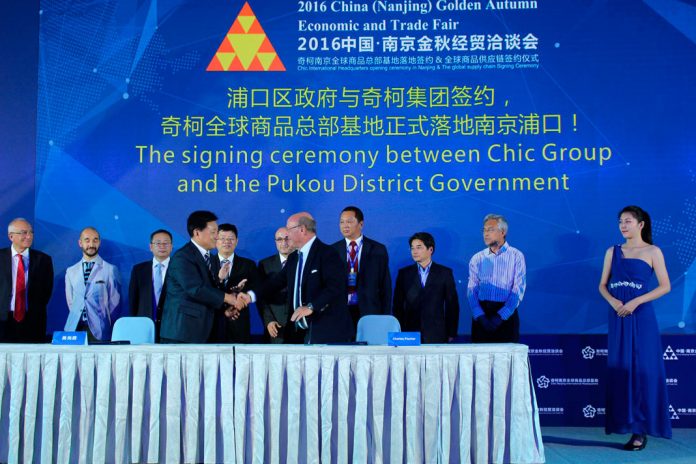 A race-track loops through it—filled with Chinese test driving Aston Martins, Porsches, and BMWs. Theatre performances from Shakespeare take place in a public square at its epicenter. So do wine tastings from Bordeaux and paella seafood cooks offs by chefs from the Spanish Basque Country. A luxury brand boutique hotel rises through this, framed by a gigantic, rising wall of sleek estate apartments.
Welcome to the future vision of integrated shopping and living—with a blend of savvy online characteristics. This revolutionary blueprint for reinventing retail was announced by the Chic Group at their launch last week in Nanjing.
Headquartered in Nanjing with a corporate office in Shanghai and 20 national direct sales centers already in operation across China, the Chic Group is the brainchild of Chinese and European retail and property experts. The Nanjing mall will cover 880,000 square meters and have top managers guiding it to guarantee success. There will be a motor-city inside of it for test-driving cars. The public town square area will have rotating booths and stages for retailers, mainly from Europe, to have free spaces or to enter into revenue sharing models. They will have options to upgrade and enter into national sales channels established by the Chic Group—with 100 planned to be operating nationally by 2020. The aim to keep prices optimally affordable for products created by small and medium enterprises (SMEs). Brand creators from SMEs are encouraged not to be intimated by the existing mega-brands already at work in China. Chic welcomes them to the marketplace and to its online sales portal www.chic86.com that is soon launching an APP.
The Nanjing launch event attracted scores of consul and trade officials from Europe, dozens of regional and international press, as well as throngs of intrigued Chinese investors. On hand to give support speeches were Mr. Claudio Pasqualucci, Trade Commissioner, Consulate General of Italy in Shanghai, and Ms. Katrine Haukenes, Deputy Consul-General of Norway in Shanghai.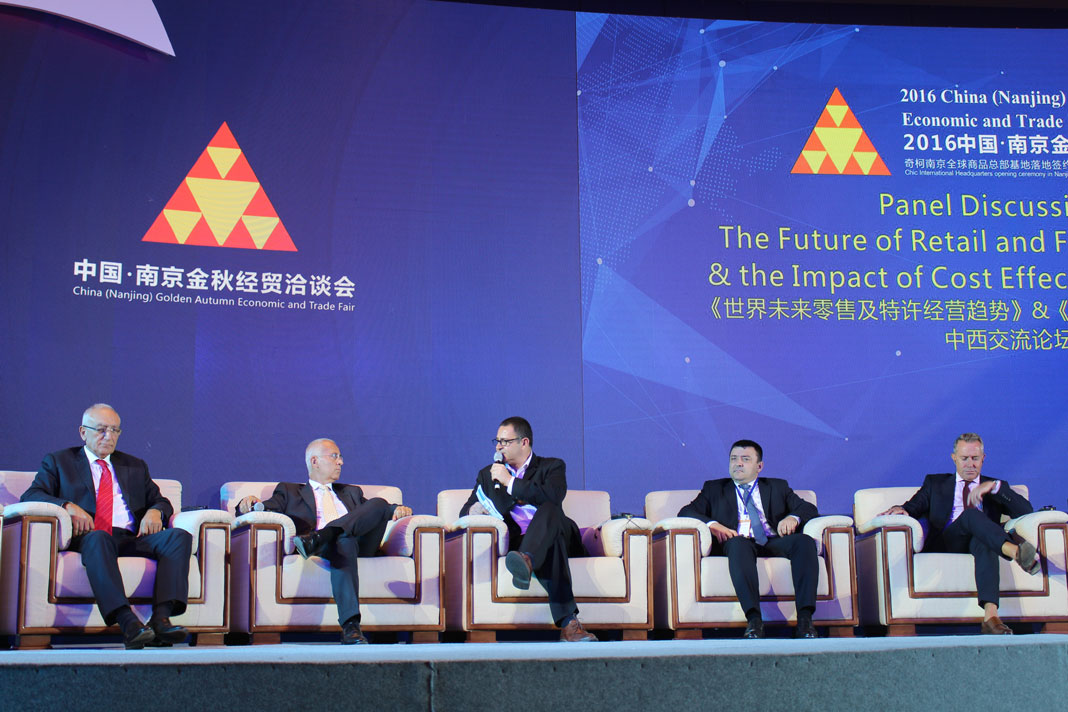 Moreover, a panel featuring luxury brand experts, and consulate representatives from France, Romania, and Mexico was held to discuss advantages of retail positioning in the face of hectic online changes. These included a keynote talk by Chic partner Mr. Antonio Fossati, President of Salone Franchising Milano. Business figures included Mr. Arslan Erdinc, Director of the standing committee of the Turkish Exporters Assembly, Mr. Stanly Shen (沈佳), Director of the China Everbright Group, and Mr. Mike Rowe, Co-Founder and Director of ESTATE. European government figures included Mr. Viorel Beltechi, Counsellor, Economic & Commercial Promotion Office, Embassy of Romania to China, Mr. Alejandro Salas, Trade Commissioner, Promexico, Consulate General of Mexico in Shanghai. The panel was moderated by Mr. Jean-Jacques Verdun, Elected Official Advisor (conseiller consulaire) of the French Consul Generals in China for the period 2014-2020, and owner of the PR company San Jiao Ling.
Mr. Charles Fischer, CEO of the Chic Group, signed a special agreement with the Pukou government district of Nanjing as part of the ceremonies. This approval will see the Chic Group lead the development of their flagship mall in Nanjing and begin their acceleration of opening 100 national direct sales centers in China by 2020. Project Director Mrs. Helen Tu is eager to see construction commence at the Nanjing location next month at a groundbreaking ceremony. The Nanjing project is currently scheduled to be opened by May 2018.