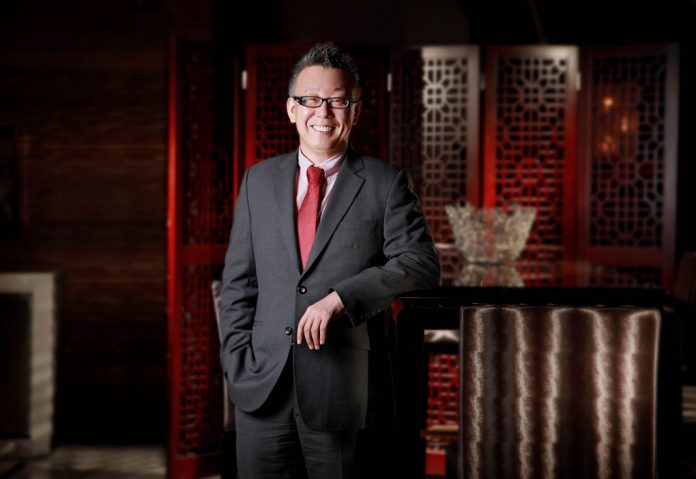 Duke Nam – 喜达屋酒店度假集团华南区副总裁 – Vice President, Operations for South China, Starwood Hotels & Resorts.
Starwood Hotels & Resorts announced it opened 74 new hotels in 2014 – with Starwood's Specialty Select Brands accounting for 35 of these openings (nearly 40%) as well as 100 new deals signed. What's more, Aloft, Element and Four Points by Sheraton will account for nearly half of the company's overall new hotel openings in 2015. Whether it's the tech-minded music lovers at Aloft, uncomplicated business, sports, and beer enthusiasts at Four Points, classic and legendary service at St. Regis, well-being enhanced lifestyle at Westin or the eco-conscious guests at Element, Starwood continues to appeal to all types of travellers around the world looking for incredible brands at an affordable price point.
With the fast development, pace comes with great pressure in human resources. How does Starwood Hotels & Resorts handle this important task of finding the best and most desirable talents in South China? Mr. Duke Nam, Vice President, Operations for South China, Starwood Hotels & Resorts shares with Delta Bridges his insight on Starwood Careers Day.
DB: Compare to other companies within this industry, what are Starwood's advantages on talent development?
Duke Nam: At Starwood, we have the Starwood Career Program. With this program, every single Starwood associate is able to well plan their career path.
We have different career tracks for the associates standing on different levels. With the support from hotel HR, senior management, and even regional office, they get plenty of training and practicing opportunities to gain and improve the job knowledge and skills, to be developed to higher levels, and eventually harvest a wonderful Starwood Journey.
WITH STARWOOD CAREER PROGRAM, EVERY SINGLE STARWOOD ASSOCIATE IS ABLE TO WELL PLAN THEIR CAREER PATH.
DB: Starwood has been keen on the personnel principle such as Diversity and Inclusion, especially, by developing the female leaders within the group. Would you please share with me about the leading women in your hotels?
DN: Yes! Female associates are growing very fast in Starwood hotels. At The St. Regis Shenzhen, for example, more than half of the Executive Committees are ladies in this hotel.
Female associates are as strong and capable as the gentlemen. They well present the hotel with their professional images as well as the special female characteristics. And what's most important, they take good care of our guests and associates with their particular softness and attentiveness, which helps a lot on driving the satisfaction of both guests and internal associates.
In return, Starwood has provided a very good and fair platform for them to develop a substantial career and achieve themselves. That's why more and more female leaders grow at Starwood.
FEMALE ASSOCIATES ARE AS STRONG AND CAPABLE AS THE GENTLEMEN. THEY WELL PRESENT THE HOTEL WITH THEIR PROFESSIONAL IMAGES AS WELL AS THE SPECIAL FEMALE CHARACTERISTICS.
DB: Besides talent acquisition, what do you think about the further purposes for the events like Starwood Careers Day?
DN: By organizing the regional or even divisional events like Starwood Careers Day, we are trying to share with the public about the core values and culture of Starwood. Likewise, we are expecting to hear the voice of the society to help us do better. As one of the leading companies in this industry, Starwood keeps innovating and breaking through, and this is what set us apart.