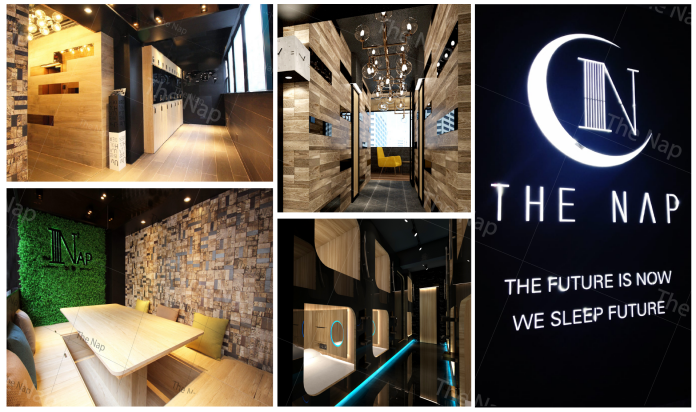 As co-founders of DCIC (Delta Creativity Innovation Contest), DB were delighted to take the opportunity to stay in iNotel's state-of-the-art hotel capsules. iNotel provides automated hotel solutions to minimize check-in time and maximize efficiency for both hotel owners and their guests. In addition to providing one-stop hostel management service, iNotel have four of their own properties under the HK Capsules umbrella.
HK Capsules is divided into two unique branches. The first is the "L'etoile de Mer" branch, where DB were invited to stay for two nights in Causeway Bay, followed by two nights in Tsim Sha Tsui. The second is the "The Nap" branch, which takes the concept of the capsule hotel to a whole new level. With its automated check-in and soundproof pods, it becomes immediately obvious why The Nap's slogan is: "The future is now."
ONE HOTEL, THREE EXPERIENCES….
The three locations we visited may share a theme, but each offers something unique. Located in the buzzing district of Causeway Bay, L'etoile de Mer offers remarkable views of the HK skyline while L'etoile de Mer TST and The Nap are located a short walk from Tsim Sha Tsui promenade. To review HK Capsules as a whole would, therefore, be a disservice to the particular charm and thought that has gone into each experience.
L'etoile de Mer, Causeway Bay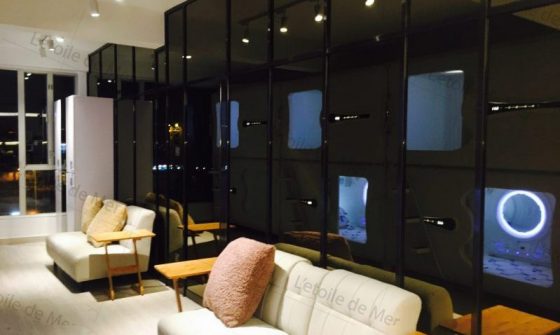 L'etoile de Mer has a homely feel. It is equipped with a kitchen and a luxury bathroom, complete with a deluxe shower and all washroom amenities. After a five-hour flight, I was particularly delighted to spot a massage chair, which turned out to be the perfect way to unwind after a long day of traveling. As promised, the automated check-in was quick and easy. I'm not particularly tech-savvy but I had no problem whatsoever receiving my keycard from the machine and locating my room and locker. Overall, my first impressions were excellent.
The pods themselves are surprisingly spacious. Circulating air con makes wrapping up in the plush duvets a pleasure and the lighting can be adjusted to suit your mood. Having bedside adapters is a must when traveling, so it was great to know that my devices could be charged safely overnight. The pods provide privacy along with the comfort of knowing others are nearby. Should I have needed anything (e.g. the door code which I may or may not have forgotten on one occasion…), the helpful staff were just a phone call away. Ultimately, L'etoile de Mer is the perfect place to retreat to after a busy day in the city.
L'etoile de Mer, Tsim Sha Tsui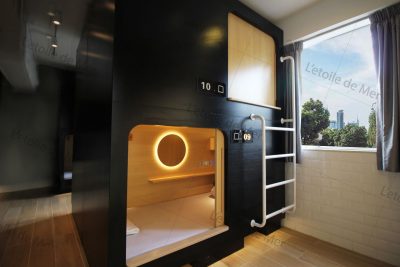 The second L'etoile de Mer has an equally homely feel. My first impressions were similar, only it was here that I began to notice the details. The staff have thought of literally everything. On the website, they advise you "come empty handed" and it was in L'etoile de Mer, Tsim Sha Tsui that I began to understand why. From toothbrushes and hairdryers to hair pins and hair ties, not a single detail was missed. Should you need them, even pyjamas are provided.
The pods also contained the same necessities as the night before. This time, however, the feel was less futuristic and a little homelier. The wooden pods have a slightly rustic charm and are fitted with a small shelf for your belongings. I slept exceptionally well on both nights of my stay. In fact, on the first night, I slept a little too well. The dorms are quiet and without sunlight tearing through the curtains, I was able to have my first lie-in in a while. I would have been disappointed to leave, had I not been excited to experience the most innovative of the three locations: Nap Station.
The Nap, Tsim Sha Tsui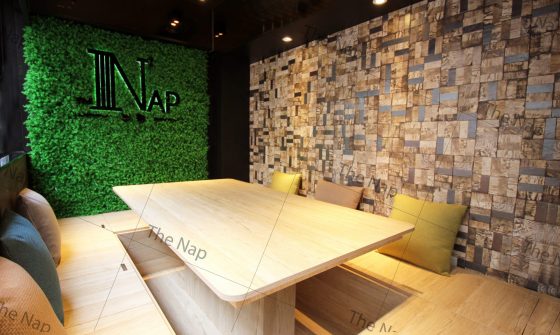 The Nap is a little tricky to find but do not let this put you off. By now, I was becoming something of an iNotel pro. Thanks to the automated kiosk, I was able to check in in under a minute.
The interior design in The Nap is far sleeker and takes a more androgynous approach to décor. The shared living area comprises of wooden tables and surrounding benches. The set up is perfect for a meeting and is where DB conducted our interview with the iNotel founder.
The pods themselves are slightly more spacious than the L'etoile pods. They are also sleeker, sexier and have the added feature of ceiling stars. If you are choosing a pod hostel for the novelty, The Nap is the coolest experience by far.
If you would like to book a night in one of affordable capsule pods, you can do so here.