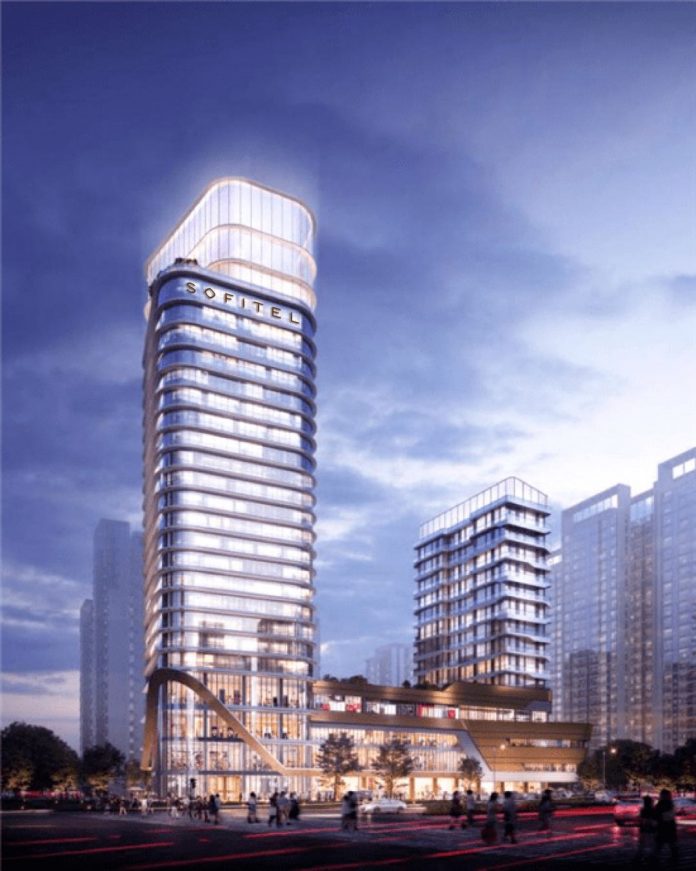 雅高集团宣布索菲特酒店将进驻湖南省名城湘潭市,成为当地首家国际奢华品牌酒店。近日,雅高集团与宁邦集团就湘潭索菲特酒店项目正式签约,成为双方继2020年9月签约张家界索菲特和诺富特酒店项目之后的又一重要里程碑。湘潭索菲特酒店由宁邦集团和力高集团的合资企业——宁邦力高置业有限公司所有。
In a recent release, Accor announces that Sofitel will be the first international luxury hospitality brand to arrive in Xiangtan, a destination city in central China's Hunan Province. The signing of this latest Sofitel Hotel in Xiangtan is another milestone associated with Ningbang Group, which are also the owners of the Sofitel and Novotel Hotels in Hunan's tourist capital, Zhangjiajie, signed just last September. The Sofitel Xiangtan Hotel is owned by Ningbang Ligao Real Estate, a joint venture between Ningbang Group and Redco Group.
湘潭索菲特酒店坐落于中央商务区,毗邻交通、商业和购物中心,并与长沙、株洲、湘潭城市群互联互通,地理位置十分优越。当地政府正在积极进行基础设施升级改造,打造高端的商业环境,扩大交通网络的覆盖,同时聚焦于科技、创新的发展,以及能源的可持续使用。作为城市全新的奢华标杆,湘潭索菲特酒店将致力于为长株潭区域一体化发展做贡献,提升城市品位,成为当地、湖南省及海内外宾客的酒店体验、商务出行和会议活动的全新选择。酒店将配备宽敞的活动和会议中心,以及可迎合本地、外地和国际来宾不同口味的餐饮场所,力求提供优质奢华的酒店体验。
Sofitel Xiangtan's strategic location in the central business district close to transport, commercial and shopping zones as well as its connection to the Changsha-Zhuzhou-Xiangtan tri-city cluster make it a highly desirable address. The city government is upgrading the infrastructure focusing on strengthening the transport network and increasing the use of technology, innovation and sustainability in order to create a cutting-edge business environment. As a new luxury benchmark for the city, Sofitel Xiangtan Hotel will contribute to the accelerated development of the regional integration by enhancing the city's taste, offering a high-end luxury hotel experience, a destination for business travel, a center for events and conferences, and a dining scene that will cater to local, regional and international clientele.
湘潭索菲特酒店也是前往湖南休闲旅游、享受愉悦时光的理想下榻之所。酒店位置便利,设计时尚,方便休闲宾客出行和探索周边。景点更是不胜枚举,如毛主席故居、自然风光优美的韶山和东台山森林公园,等等。
Also a base for tourism in Central Hunan Province, leisure guests will find the Sofitel Xiangtan Hotel a convenient location from which to explore. Attractions include the birthplace of Chairman Mao Zedong and the natural landscapes in Shaoshan and Dongtai Mountain parks, to name a few.
雅高集团大中华区首席执行官罗凯睿表示:"索菲特酒店的法式风情与优雅风范广受中国各地宾客的青睐,索菲特在大中华区主要城市的快速扩张深刻印证了这一点。在中国,索菲特一直是与众不同、富有特色的品牌,雅高集团很高兴能够再次携手宁邦集团,支持湘潭的城市发展,为这座底蕴深厚的目的地注入法式风情。"
Gary Rosen, Chief Executive Officer with Accor Greater China states, "Guests across China embrace the French style and elegance that Sofitel provides and the brand's rapid growth throughout Greater China in key cities is testament to this allure. Sofitel continues to be a differentiated brand in China and Accor is thrilled to have it at the forefront of Xiangtan's development in partnership with Ningbang group, instilling a French touch to the culturally rich city of Xiangtan."
湘潭索菲特酒店将成为高端地产综合体的一部分,这一综合体还包括高端住宅区、豪华商场以及商业空间。湘潭索菲特酒店将提供 300 间客房及套房、4 家餐厅和酒吧、包括Sofitel Fitness健身中心和室内游泳池在内的康体设施,还设有宽敞的宴会厅、会议室以及Club Millésime索菲特俱乐部——这一索菲特品牌的标志性行政酒廊为注重隐私、寻求专属和放松空间的宾客提供了一个现代精致的氛围。
Sofitel Xiangtan will be part of a high-end real estate complex which also includes a premium residential compound as well as luxury shopping and commercial space. The Sofitel Xiangtan Hotel will feature 300 guestrooms and suites, four restaurants and bars, wellness facilities including a Sofitel Fitness and indoor swimming pool, events facilities including a spacious ballroom and meeting rooms as well as a Sofitel Club Millésime, the signature Sofitel executive lounge featuring a contemporary, sophisticated environment for guests who require the utmost in privacy, exclusivity and relaxation.
宁邦集团董事长何金松先生表示:"雅高集团和旗下的索菲特酒店品牌与我们正在湘潭开发的豪华住宅和商业综合体项目相得益彰。索菲特酒店纳入这一综合体,将为湘潭注入国际性的商业能量,助力项目声誉以及社会各界对综合体期望的提升。我们相信,与雅高集团合作开设索菲特酒店,将共同推动湘潭本地居民和宾客享受国际一流的奢华体验。"
"Accor and Sofitel are the perfect hospitality accompaniment to our luxury residential and commercial development in Xiangtan. Adding Sofitel to the high-end zone brings cachet to the development and elevates expectations for this vanguard project. We are confident that working with Accor to add Sofitel Hotel to the development ushers in the international luxury experience to travelers and locals in Xiangtan," comments He Jinsong, Chairman of Ningbang Group.