Collaborating with the famed English bone chinaware, Ali Miller, The Ritz-Carlton, Guangzhou presents a limited classic English Afternoon Tea with traditional British pastries at the Pearl Lounge. Guests can savour the luxury afternoon tea experience served in elegant Ali Miller teaware from now until June 30, 2017.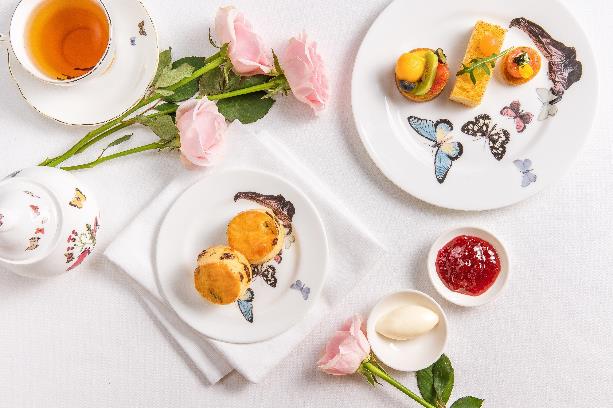 Renowned for homeware perfection since 2009, Ms. Ali Miller expresses herself through art and creativity to recreate the atmosphere of an eccentric British home. She creates beautiful patterns and prints on bone china products where 18-carat gold details are hand-painted on some pieces.
Guests can indulge in savories such as homemade spiced salmon and chives cream cheese; Prague ham finger sandwiches; potato pancakes and shrimp with mayonnaise salad, and three-color tomato carpaccio and black vinegar gel ball with basil puree, served on exquisite three-tiered Ali Miller teaware with four different patterns, namely "Sweet Home," "Alice," "Growing" and "Hampstead Heath". Accompanying delectable sweets includes Charlotte Royale, Rocky Guanaja Chocolate Profiterole and Seasonal Fruit Tart to Exotic Verrine and Raisin Scone, served with Sengana Strawberry Jam and Chantilly Cream.
Guests can also enhance their Afternoon Tea experience with world-renowned tea brand TWG, and indulge in the pleasure of tea-tasting. Tea options include Royal Darjeeling, Earl Grey Gentleman, English Breakfast Tea, Creme Brulee Tea, Silver Moon Tea and Tokyo-Singapore Tea. Latte, mocha and hot chocolate are also available for pairing with the selection of savories.
Price:
RMB 298 for One
RMB 428 for Two
Time:
May to June, 2017
*Above prices are subject to 15% service charge. Advance reservation is required. Terms and conditions apply. For more information or reservation, please call (86 20) 3813 6888 or email restaurant.reservation@ritzcarlton.com.
Editor's Peek