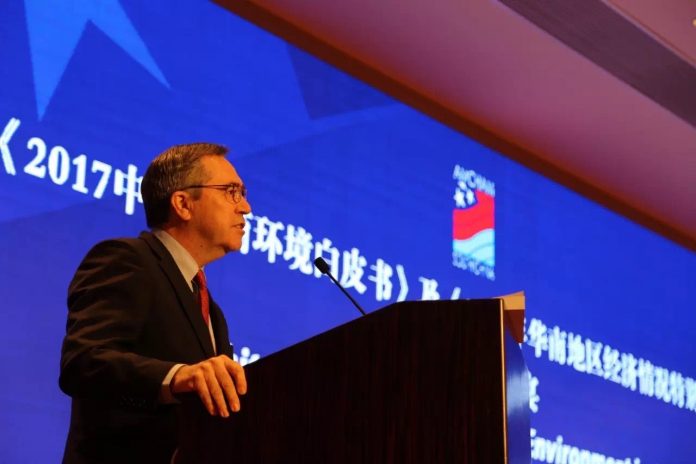 华南美国商会(美商会)今日发布了《2017中国营商环境白皮书》(下简称《白皮书》)和《2017华南地区经济情况特别报告》(下简称《特别报告》)。
The American Chamber of Commerce in South China (AmCham South China) today released its 2017 White Paper on the Business Environment in China and 2017 Special Report on the State of Business in South China.
总计425页的《白皮书》是美商会第九年的年度报告,它通过详尽的研究与引证,对中国真实的营商环境进行了一次全面的调查。《白皮书》得出,跨国企业的投资方式已开始转变,若要继续吸引外资,并保留已有中外投资,中国必须与其他海外投资地进行一番激烈的竞争,并开始提供真正有吸引力的激励措施,让中国最终能与全球竞争者站在同一起跑线上。
The 425-page White Paper, now in its ninth year, presents a highly-researched, exhaustively-cited account of the on-the-ground business environment in China. The Paper argues that a shift in the investment practices of multinationals has begun and China must realize that, in order to not just attract foreign investment but to retain foreign and Chinese investment in China, it will need to seriously compete with overseas destinations and begin to offer truly attractive incentives which would finally put China at par with other global players.
同时,《特别报告》整合并分析了超230家今年参加经济情况问卷调查的受访企业的反馈结果。今年,在受访企业中,77.2%把业务重点置于为中国市场提供产品或服务,只有22.8%以出口制造业为主。
The 2017 Special Report on the State of Business, meanwhile aggregates and analyzes the experiences of more than 230 of the companies who participated in the chamber's annual State of Business Study. This year, 77.2% of participants reported that their primary business focus was providing goods or services to the Chinese market, while only 22.8% reported a primary focus of manufacturing for export.
以广东为首的华南地区依然是外商在华的最佳投资地。调查发现,绝大部分企业认为华南地区目前营商环境为"好"或"非常好",也有不少企业对中国经济持"较乐观"或"乐观"态度。但调查显示,美商会会员企业2017年用于拓展在华现有业务的利润再投资预算为126亿美元,同比下降了4.12%。
South China, led by Guangdong Province, continues to be the best location for foreign investment in China. The Study shows that an overwhelming majority of companies consider the current business environment in South China to be "good" or "very good". At the same time, a similar majority proved to harbor positive sentiments towards the China market, replying that they feel "slightly optimistic" or "optimistic" about the economy. The Study shows that in 2017 AmCham South China members have budgeted to reinvest, from profits, US$12.6 billion to expand existing operations in China, a 4.12% decline from 2016.
根据今年的调查结果,我们有理由对中国当前的经济状况及运行轨迹深感忧虑。为此,我们可从今年调查问卷一个新增问题的统计结果中找到明显的支撑依据。这个问题是:"贵公司2016年是否有将再投资转移到其他市场?"调查结果显示,在2016年,虽然29.9%的受访企业表示他们并未转移再投资到其他市场,但是相当数量的受访企业表示他们已把部分再投资转移到中国之外的其他亚洲市场,其中包括13.3%的外商独资企业、11.4%的中外合资企业和26.67%的外资企业办事处。此外,有较大比例(17.6%)的中资企业表示他们亦已将再投资转移到其他亚洲市场。近三成的受访企业表示,在华经营成本上涨是他们在2016年转移再投资到其他市场的主要原因,其次是中国市场前景的不确定性、中国之外的其他市场吸引力更大以及市场环境不公平导致的本土竞争激烈等。
The results of this year's Study present a stark cause for grave concern about the state of the Chinese economy and its current trajectory. This is clearly evident when reviewing the result of one of the new questions included in this year's Study, which stated: "Did your company shift any planned reinvestments to other markets?" In 2016, although 29.9% of respondents reported no shift, 13.3% of wholly foreign-owned enterprises, 11.4% of joint ventures, and 26.67% of representative offices of foreign enterprises, representing a substantial number of respondents, replied that they had shifted some reinvestments to other Asian, ex-China destinations. Among the Chinese company respondents, a significant percentage (17.6%) said that they had moved some reinvestments overseas to other Asian destinations. Approximately 30% of respondents cited rising operational costs in China as a major driving factor for diverting reinvestment to other destinations. Other major factors named were the perceived uncertainty of market prospects in China, more attractive opportunities in competing destinations outside of China and the fierce local competition in China due to an uneven playing field.
调查发现,50%在华运营的跨国企业在2016年取消了超过2.5亿美元的再投资,但同时增加了低于2.5亿美元的再投资项目。同样值得关注的是,与去年相比,2017年对华再投资预算在2.5亿美元或以上的跨国企业减少了50%;与此同时,低于2.5亿美元预算的再投资却涨了一倍。这种趋势表明华南地区企业高管对中国未来的市场发展信心颇满,并将竭尽所能持续投资;相反,华西地区的企业高管则延后高额投资。我们预测,2016年高额再投资项目的取消及2017年再投资预算的裁减将令中国2018年及2019年的出口额走低。
The Study further reveals that in 2016, 50% of multinationals with existing operations in China cancelled their reinvestments of US$250 million or more, while at the same time, doubling their reinvestments in the lower categories of less than US$250 million. Also for 2017, 50% fewer multinationals have budgeted reinvestments in the US$250 million or more category than last ­year. However, they have at the same time, doubled their 2017 budgets in the reinvestment categories of less than US$250 million. This trend suggests that executives on the ground in South China have maintained a high level of confidence in the future of the China market and are investing amounts within their decision-making ability. Executives at corporate headquarters, however, appear to be deferring large investments which require their sign-off. We predict that the cancellation of larger reinvestments in 2016 and reduced reinvestment budgets for 2017 will translate into reductions in China's exports in 2018 and 2019.
调查也发现,中国目前正在为2014年"针对"外资企业的行动付出代价。根据我们2015年3月发布的《特别报告》,截止2014年底,25%在华运营的跨国企业推迟或取消了超过2.5亿美元的再投资。根据2015年的调查结果,美商会会员企业计划再投资的项目减少了9.3%;更糟糕的是,自2015年起,他们三年内计划再投资项目减少了16.9%。
The Study also shows China is currently paying the price for a situation which occurred in 2014, the perceived "targeting" of foreign-invested enterprises. At the end of 2014, our Special Report, released in March 2015, revealed that 25% of multinationals with existing operations in China postponed or cancelled their investments of US$250 million or more. The 2015 Study showed a 9.3% reduction in planned reinvestments by AmCham member companies; more devastatingly, the same Study revealed a 16.9% reduction in planned reinvestments for a three-year period from 2015.
从2016年的出口数字来看,虽然除中国外的亚洲出口额同比增长超7%,但中国出口持续疲软,增速为-7%左右。再投资扩建工厂往往需经过两至三年的建设之后才能正式投产。上文所提及的再投资若无延迟或减少,这部分再投资应能在2016年建成投产。同时我们应了解,中国有过半的出口商品是由外资企业生产的。由此可推断,上述延迟或减少的再投资已从中国转到其他亚洲国家,正在由其生产出口商品。
Looking at export numbers for 2016, while total Asian exports (ex-China) grew by above 7% year on year, China's exports remained sluggish at around -7%. Most reinvestments in factories require 2 to 3 years for construction before producing goods. Given that the above-mentioned postponed or reduced reinvestments would have produced goods for exports in 2016 – and keeping in mind that more than half of China's exports are produced by foreign invested enterprises, it can be deduced that those investments were shifted to other parts of Asia from China and are now producing exports for those countries.