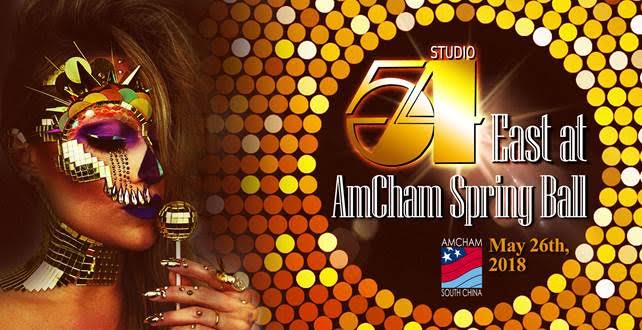 The most vintage party is going to fall on the evening of May 26 at LN Garden Hotel in Guangzhou! With the theme Studio 54, New York's most extravagant and luxury nightlife in 1970s, AmCham's Spring Ball 2018 isn't exactly the heady party Studio 54 once makes. But it leaves even more to be desired, wild night, high-profile guests, gorgeous dancing floors, and more importantly is a gala where everyone actually become the actor of a fairy tale and give you a peek at how it is made inside.
Getting into Studio 54 in the 1970s was a nearly impossible endeavor. This spring the chance provided by AmCham is readily available! Join us and Win from lucky draws worth more than US$200,000, including business round trip air tickets, Hotel Presidential Suites, luxury watches, fine wines, and many many more!
For more information about 2018 AmCham Spring Ball, please visit:
http://mp.weixin.qq.com/s/dkR7ZCLimk6S4WUYgMn96Q
Studio 54, Gone But Unforgotten
Seriously, where else could you party with Andy Warhol, Jackie Kennedy Onassis, and Michael Jackson all on the same night?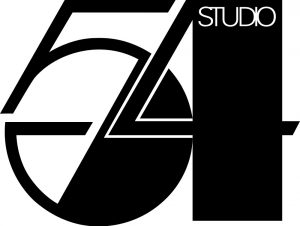 Studio 54 was a nightclub for the stars and those who wanted to party with them. Designed by famous architect Eugene De Rosa and located at 254 West 54th Street in Manhattan, the building was originally an opera house when it opened in 1927. The building was purchased by CBS television network in 1943 where it operated a studio until 1976 when the network moved most of its operation into the Ed Sullivan Theater and the CBS Broadcast Center. Many popular television programs were filmed there including Password, To Tell the Truth, and Captain Kangaroo.
Steve Rubell and Ian Schrager transformed the theater into a nightclub called Studio 54 by installing hundreds of thousands of dollar worth of professional lighting and keeping many of the former TV and theatrical sets. Word got out among the "in crowd". Celebrities turned out in droves when the doors opened on April 26, 1977.
Anyone who was anyone in the late 1970s had to be seen at Studio 54 or risk being left out and permanently excluded. The nightclub had its regulars—Truman Capote, Brooke Shields, Calvin Klein, Rudolf Nureyev, Debbie Harry—but a list of every celebrity who graced the dance floor would be impossibly large.
Where there are celebrities, the paparazzi will follow. The tabloids were quick to pick up any inside information they could get their hands on, and the stories seemed endless. Gatekeepers turned Henry Winkler (The Fonz) away at the door. Bianca Jagger rode a white horse into the club on her birthday. A non-celebrity tried to get into the exclusive club through an air vent and died. Every story stoked the public's fascination.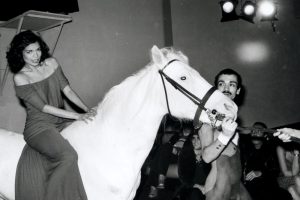 Event planner Robert Isabell trucked in four tons of glitter for guests to dance on for a New Year's Eve party. "You felt like you were standing on stardust," Schrager later said. "People got the glitter in their hair, in their socks. You would see it in people's homes six months later, and you knew they'd been at Studio 54 on New Year's."
The nightclub would only be open in its original form for 33 months, but it soon became known as one of the hottest and most exclusive club in town thanks in part to Rubell's motto: "The key to a good party is filling a room with guests more interesting than you." Studio 54 quickly developed a notoriously restrictive entry policy based on style and appearance. Crowds wearing disco era skimpy clothing and big hair would form outside the building every night, hoping that they would be among the chosen few who were allowed to enter and party with the stars.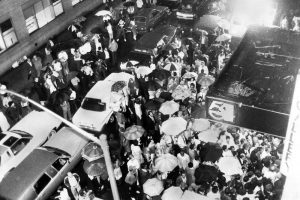 The dance floor was also consistently packed with people dancing to disco beats. Women in zoot suits and men in wide-legged, tight-cuffed, pegged trousers hustled on the dance floor. Waiters with six-pack abs bussed tables wearing only gym shorts and knee high socks. Fashion designers like Diane Von Furstenberg quickly became regulars. Furstenberg told Vanity Fair, "I had more fun at Studio 54 than in any other nightclub in the world,"
Studio 54 peaked just about a decade after the Summer of Love. The Baby Boomers' anti-materialist hedonism changed its tune 180 degrees from Woodstock. The same generation that flooded Max Yasgur's 600-acre dairy farm in 1969 now flooded a Manhattan disco steeped in elitism and shameless materialism. "All You Need Is Love" had somehow changed to "All You Need Is Fame and Lots of Money."
In December 1978, Rubell was quoted in the New York newspapers saying Studio 54 had made $7 million in its first year and that "only the Mafia made more money". This got the attention of the IRS. Shortly thereafter the nightclub was raided and Rubell and Schrager were arrested for skimming $2.5 million. The Feds found more than $600,000 crammed into Hefty garbage bags stashed in the ceiling. Rubell and Schrager had only paid $8,000 in taxes since they opened; yet the club was making more than $75,000 per night. The two nightclub owners were charged and sentenced to income tax evasion. Before the co-owners were hauled off to jail for 13 months, they had one last party in February 4, 1980—a party called, appropriately enough, "The End of Modern-day Gomorrah." Ryan O'Neal, Farrah Fawcett, Jack Nicholson, and Sylvester Stallone were among the guests that night. Diana Ross personally serenaded Rubell and Schrager from on top of the DJ booth, Liza Minnelli sung "New York, New York" at the farewell party, and then the doors were closed. "It was a long time before I could talk about it, because they are bittersweet memories for me and I was embarrassed by the way it turned out," Schrager said.
Studio 54 served as the perfect bookend to the 1970s, a decade that began with longhaired idealism and ended with the materialistic apocalypse of the Me Generation. When the smoke cleared, disco was dead, Reagan was president, and AIDS was epidemic. The world was a very different place.
This article is first published on the April Issue of South China Business Journal by the American Chamber of Commerce in South China.