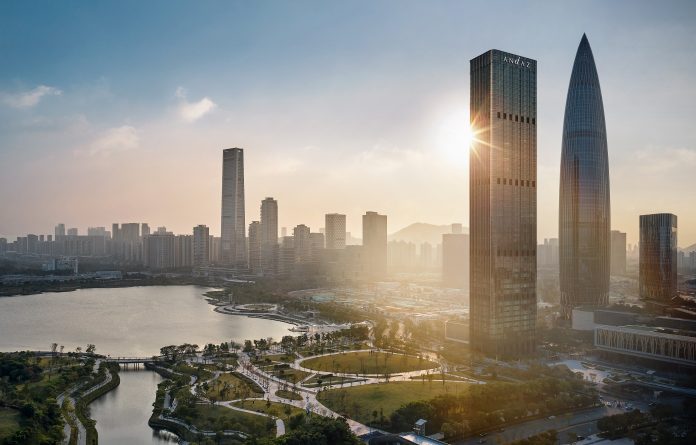 近日,凯悦酒店集团宣布,旗下安达仕品牌全新酒店——深圳湾安达仕酒店,现已进入试运营阶段,它是继上海新天地安达仕酒店及厦门安达仕酒店后大中华区的第三家安达仕酒店。
In a recent release, Hyatt Hotels Corporation announced the opening of Andaz Shenzhen Bay in Shenzhen, China. The hotel is a significant addition to Hyatt's growing portfolio, being the 3rd Andaz hotel in China, joining Andaz Shanghai and Andaz Xiamen.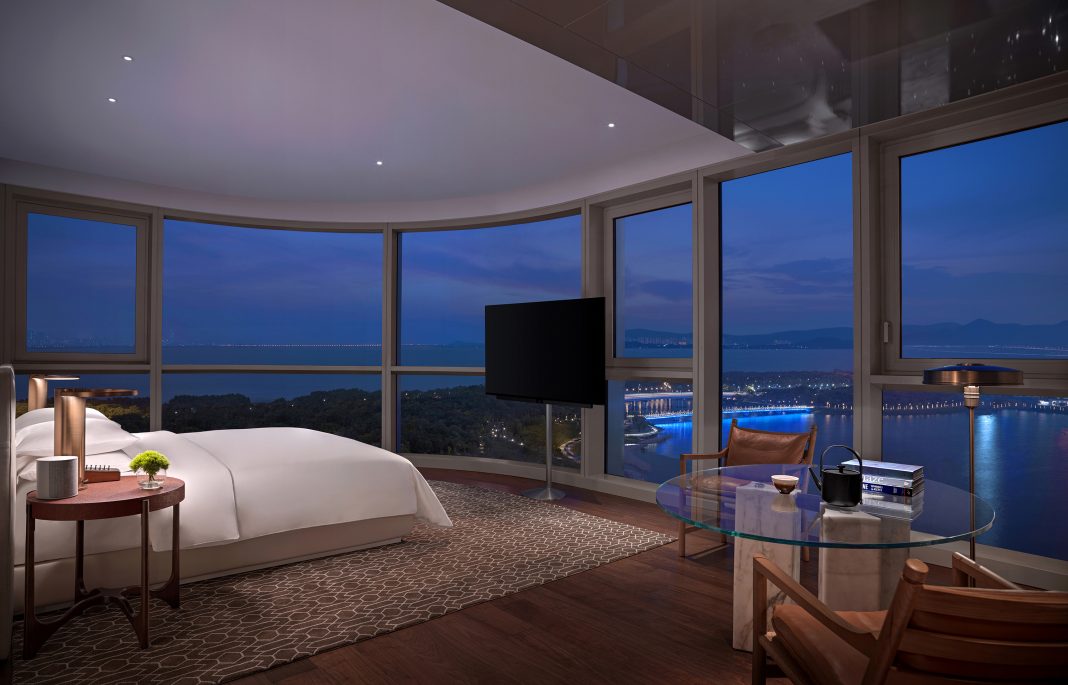 深圳湾安达仕酒店室内设计是由来自纽约的知名室内设计师季裕棠先生构思完成,作为季裕棠先生构想中的一座充满活力的精英社交会所,酒店室内利用复古的玻璃窗、典雅的百叶窗、手绘的中国风格墙纸、充满线条美感的大理石地砖及漆面家具等将空间有序分割,创造出精致的奢华专属空间,欢迎着志趣相投的行业精英和潮流引领者们欢聚于此。
Created by acclaimed New York designer Tony Chi, Andaz Shenzhen Bay has been concepted for like-minded people to meet and stimulate their senses with design elements inspired the distinct spirit of the locale. Plantation shutters, tactile leather, hand-painted chinoiserie wallpaper, gold-leaf paneling, graphically tiled marble and glossy lacquered finishes unite to create a series of distinctive, luxurious spaces with the occasional surprising twist.
当宾客穿过精心修剪的高耸树篱抵达酒店,便开启了一段专属的深圳湾体验。每年的四月至六月,酒店车道及四周的凤凰花绚丽盛开,扑面而来的艳红呈献满满的热情。驻足门廊,水鸭蓝的百叶窗搭配克里塔尔风格的玻璃窗,满含古典韵味的石膏柱体和精心修剪的树篱为入住宾客即营造出一种专属的居停之感。酒店的接待大使将在此处迎接宾客,引领他们进入专属于自己的精英会所。酒店雅堂在上午10点到晚间7点30分为宾客免费提供带有本地特色的饮品、小食以及创意鸡尾酒和精致手作点心。
As guests approach Andaz Shenzhen Bay, they are greeted by tall hedges, sculpted and manicured into unexpected organic forms, tucking away a covered entryway with duck-egg blue plantation shutters, Crittall-style glazing, glossy plaster columns and manicured boxwood topiary. Guests are greeted by an Andaz Host and ushered through an entry lined in eye-catching murals hand-painted in gold dust.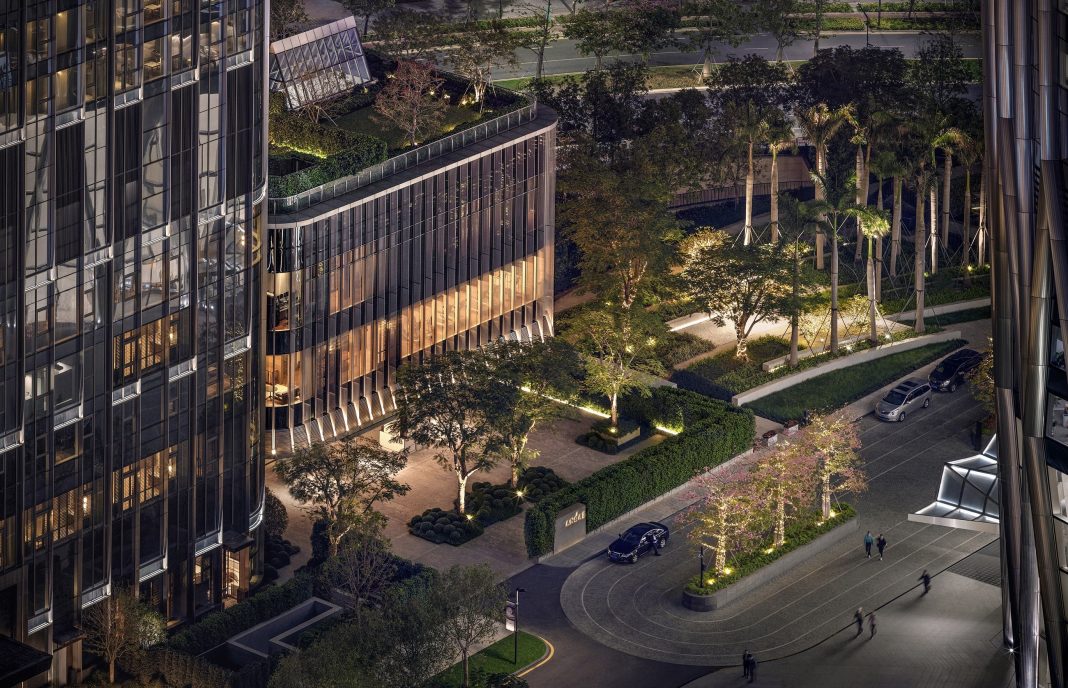 酒店共拥有220间客房,可俯瞰深圳湾畔无垠海景或繁华的深圳湾都市景观,面积为50至250平方米不等,以定制的水鸭蓝色融合落地玻璃窗营造出现代摩登的居停空间之感。房间内配备65英寸的网络电视,戴森吹风机和智能镜面操控系统,宾客可惬意享受由法国香氛大师克里斯多夫特别定制的洗浴备品,同时免费享用客房中配备的深圳湾安达仕定制款精酿啤酒和广东本地特色饮料及小食。位于酒店23层的总统套房则坐拥270度宽阔视野,可俯瞰整个深圳湾的迷人景致,缔造沉浸式的深圳湾居停体验。
Andaz Shenzhen Bay offers 220 spacious guestrooms overlooking the breathtaking Shenzhen Bay, the Shenzhen Sports Center or the China Resources Headquarters. Each room is between 50 to 250 square metres and decorated with a soothing mix of duck-egg blue plantation shutters and Calacatta Luccicoso-style marble. Rooms also feature modern comforts including 65-inch IPTVs, Dyson hairdryers and smart mirrors with internet access. Guests can enjoy exclusive bath amenities by well-known French master perfumer Christophe Laudamiel while the complimentary minibar is stocked with custom-made Andaz IPA beer, Voss water, local Sarsae soda and a variety of local snacks including baked-pork Phoenix cookies. For the ultimate indulgence, guests may opt for the Presidential Suite, located on the 23rd floor with panoramic views of stunning Shenzhen Bay.
深圳湾安达仕酒店的五间创意十足的餐厅及酒吧也同样展示出深圳湾独有的活力。曾经任职于东京柏悦酒店及首尔柏悦酒店的行政总厨 Federico Heinzmann 先生将带领他的厨师团队通过天然地道的风味呈献出经典与创新相交融的美馔。同时,宾客不仅可以品尝到以深圳湾活力创新的邻里文化为灵感而全新设计的鸡尾酒,调酒师还可根据宾客需求为其量身定制专属酒单。
Led by Argentinian Executive Chef Federico Heinzmann, Andaz Shenzhen Bay offers five innovative restaurants and bars. Chef Heinzmann, who has previously worked at Park Hyatt Tokyo and Park Hyatt Seoul, aims to create a culinary adventure through authentic native ingredients and flavors. The restaurants adhere to the brand's 'farm-to-table' philosophy of offering fresh, seasonal, local produce, while accompanying wine lists offer the best from boutique vintners. Each bar infuses freshly squeezed, seasonal fruit and herbs within their neighborhood-inspired cocktails, while guests are encouraged to 'make their own' if they wish.
五月花设于酒店的一层,是一处经摩登灵感演绎后的传统中国茶室,全天供应精致茶点。通过落地玻璃窗、日本诺尔织物和软皮沙发等舒适设计的巧妙结合,为宾客呈现惬意的休闲空间。而位于酒店一层的另一处餐饮场所是精英人士理想的社交聚集地——Bar 1919,以深棕色为主色调搭配实木结构的室内设计理念展现出沉稳格调,仿若一个经典的都市俱乐部,酒吧以提供各种珍稀的年份烈酒佳酿及经典的手调鸡尾酒为主,每晚现场的钢琴声伴随着歌者优美的声线亦将营造出奢华典雅的氛围。
On the ground floor, Mayflower is a modern interpretation of a traditional Chinese teahouse, furnished in a comforting blend of dark timber plantation shutters, Japanese noren fabric dividers and celadon velvet banquettes. Whether seated indoors or on the terrace, guests can enjoy refreshments throughout the day including freshly baked Chinese and Western pastries and house-made bubble tea, accompanied by a tea master to prepare the perfect tableside brew. On the same floor, Bar 1919 is adorned with bold interiors reflecting a members-only club. Beneath a 22-carat moon gold-leaf ceiling and walls wrapped in rosewood veneer paneling and russet leather upholstery, guests can savor a premium single-malt, fine wine or classic cocktail while enjoying live music. Complementing the drinks is a curated selection of bar snacks including pork croquettes, drunken shrimp and a daily chef specialty from the carving trolley.
酒店六层设有便是润公馆,包含三个风格迥异的餐厅为宾客提供专属的用餐体验。宾客可在东室享用地道的粤菜及江南菜系中的招牌美食,也可选择在西室享用由特别设计的皮拉木炭烤箱烹制的优质肉类和海鲜。西室的厨师会为宾客解释牛肉的部位及对应的烹调方法,协助宾客选择心仪的部位。如果客人想在用餐的同时饱览迷人的花园景致,便可选择位于东室和西室之间的谧园去享用东室及西室的佳肴美馔。在谧园宽敞的户外露台客人还可沐浴在深圳湾的阳光下,享用酒店特制的下午茶和精致轻食。
Spanning the entirety of Level 6 is The Club House, dedicated to a private dining experience comprised of three distinct dining venues, including East Room, West Room and Veranda. Within the East Room, guests can sample fresh seafood and refined signature cuisines from Canton and Eastern China while enjoying spectacular views of Shenzhen Bay. Design elements include eclectic chinoiserie-style hand-painted wallpaper, French ormolu frames, gold leaf walls and cane screens. West Room specializes in premium meat and seafood cooked in a Pira charcoal oven. Satisfy your craving for the perfectly prepared steak, as the restaurant allows guests to choose the cut, then suggests optimum methods of preparation. Also available are classic salads, grilled fish, seafood on ice and a show-stopping dessert trolley. Casual versions of dishes from the East Room and West Room are available at Veranda, overlooking expansive gardens. Whether seated in the indoor space with bookcase-lined walls and Crittall-style windows or on the vast terrace, guests can enjoy afternoon tea and light meals throughout the day.
位于酒店三层是24小时开放的健身中心,其包含了自由机械区、专属私人练习教室及室内恒温游泳池。在其更衣室内还配备了活力泡浴池、桑拿室及蒸汽房,为宾客带来全面的身心放松体验。
Guests have access to the 24-hour Fitness Center on Level 3, complete with Life Fitness cardio and strength equipment alongside an exercise studio and free-weights area. On the same floor is an indoor swimming pool, a warm vitality pool with water jets, as well as a sauna and steam room in the changing rooms.
深圳湾安达仕酒店提供约900平方米的宴会空间,布局自由灵动,功能实用完备,为宾客间的轻松互动和顺畅交流提供十足的便利。灵活变动的宴会场地可为15桌以内的私人晚宴及380人以内的公司会议提供活力无限的专属体验。酒店五层配有六间多功能厅,从20到500平方米不等,是宾客举办小型活动或商务会晤的不二之选。而位于地下一层的宴会厅面积近400平方米,利用特色的玻璃分割设计营造出经典摩登时尚的空间感,并提供专属LED屏幕服务。
Andaz Shenzhen Bay offers a total of 947 square metres of stylish, flexible event space suitable for events of all sizes, ranging from a private dinner for 15 to a corporate conference for 380 people. Level 5 features a 504 square metres Conservatory with an eye-catching, pitched-glass roof decorated in warm oak and gold leaf wall paneling. On the same floor, five stylish 22 to 30 square metres Studios are ideal for intimate dinners and meetings. Accessed by a private foyer, the 388 square metres Ballroom on Lower Ground floor features Crittall-style glazing, antiqued mirror and panel molding for a classical yet modern feel. The elegant function space features a built-in LED display and is supported by a pre-function area and 42 square metres Bridal/VIP Room.
深圳湾安达仕酒店总经理李俨女士表示"我们很高兴深圳湾安达仕酒店亮相于这座城市的黄金位置。我们希望以独特的社交空间,创新的酒吧及餐厅,灵活的宴会场地为到来的宾客带来一段专属于深圳这座创新之城的专属体验,并期待酒店将成为行业精英们和潮流引领者的欢聚之所,为他们的旅程激发灵感并带来启迪。"
"We are delighted to open Andaz Shenzhen Bay in such a dynamic location and city," said Betty Li, general manager of Andaz Shenzhen Bay. "With our new hotel, we hope to stimulate the senses with our unique social spaces, innovative bars and restaurants and elegant event venues. We aim to offer guests an upscale hotel experience infused with local Shenzhen culture that will fuel their creativity and inspire them to express their own personal style and passions."
深圳湾作为深圳西南部的新兴金融区,有80余家世界500强企业均坐落于此,重点产业主要包括先进的产业技术、金融、房地产和通讯。深圳湾安达仕酒店隶属于86万平方米的多功能综合项目群,毗邻深圳湾地标建筑中国华润中心大厦、万象城购物中心、深圳湾体育中心及华润金融中心。酒店地理位置优越,交通便利,步行8分钟即可至后海地铁站,出发至深圳宝安国际机场最快仅需30分钟的车程。
Located in the southwestern tip of the metropolis, Shenzhen Bay is the rapidly growing commercial district, home to offices for 80 Fortune 500 companies. Andaz Shenzhen Bay is part of a 860,000-square-metre mixed-use development that includes the striking bullet-shaped landmark of the China Resources Headquarters, the high-end Shenzhen Bay MixC mall, Shenzhen Bay Sports Center and China Resources Financial Building. Overlooking breathtaking Shenzhen Bay, the hotel is a 30-minute drive from Shenzhen Bao'an International Airport and a short walk to Houhai Metro station.
---
深圳湾安达仕酒店
Andaz Shenzhen Bay
深圳市南山区科苑南路2600号
2600, Keyuan South Road, Nanshan District, Shenzhen
Tel: +86 755 – 8626 1234
www.hyatt.com/zh-CN/hotel/china/andaz-shenzhen-bay/szxaz