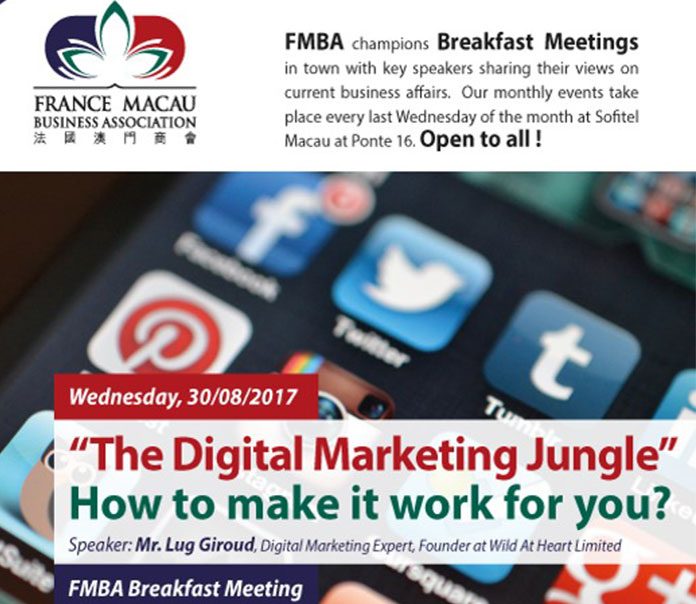 法国澳门商会的早餐会议会在每个月的最后一个星期三在澳门十六浦索菲特酒店举行。每次会议都会邀请演讲者分享现在商业发展的最新趋势。早餐会议对所有公众开放!
FMBA champions Breakfast Meetings in town with key speakers sharing their views on current business affairs. Our monthly events take place every last Wednesday of the month at Sofitel Macau at Ponte 16. Open to all!
本次主题:数字营销丛林——如何充分利用它为你带来效益?
演讲者:Mr. Lug Giroud, 数字营销专家,Wild At Heart Limited创始人
Topic: "The Digital Marketing Jungle" ——How to make it work for you?
Speaker: Mr. Lug Giroud, Digital Marketing Expert, Founder at Wild At Heart Limited
简介:数字营销已经成为许多组织机构必不可缺的战略。Mr. Lug Giroud将会带领我们探究搜索引擎营销和社会化媒体营销。他将分享自己的经验,告诉大家Facebook、Instagram和Twitter最新趋势。
Introduction: Digital Marketing has become a necessarily for many organizations. Mr. Lug Giroud will guide us through the world of Search Engine Marketing ad Social Media Marketing. He will share best practices and the latest trends in Facebook, Instagram, and Twitter.
日期:2017年8月30日,星期三
时间:9:00-10:30 am (8:45开始签到)
地点:澳门十六浦索菲特酒店会议室(6楼)
Date: Wednesday, 30th August 2017
Time: 9:00-10:30 am (Reception :8:45am)
Venue: Sofitel Macau at Ponte 16 Promenade Meeting Room (6th floor)
请于2017年8月28日2点前通过以下方式回复
Email: info@francemacau.com
Tel: 8798 9699
RSVP before 2pm on 28th August 2017
Through:
Email: info@francemacau.com
Tel: 8798 9699
请注意:
2017年法国澳门商会成员可以免费参加
嘉宾和非会员,每位178葡币
法国护照持有者,每位148葡币
(此价格含早餐)
Notice:
2017 FMBA members join free-of-charge*
Guests & non-members @ MOP 178*
Pass France holders @ MOP 148*
(*Breakfast included)