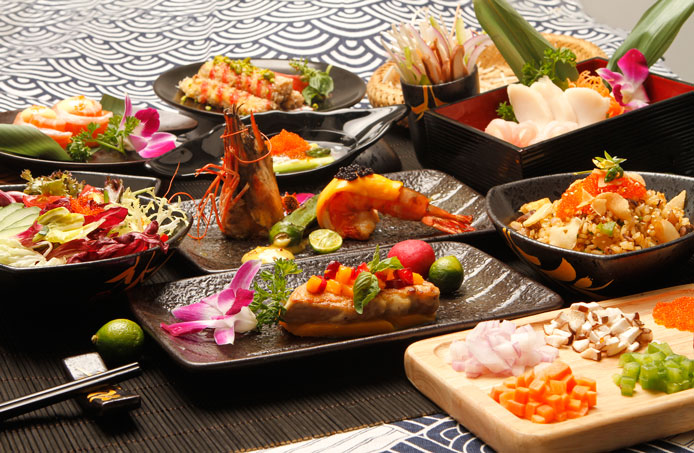 铁板烧 夏日冰爽套餐
Summer Cool Refreshing Set Menu
海芝士大虾、芒果鹅肝、刺身双拼、花之恋寿司、冰镇蟹肉芦笋、火焰冰琪琳……让味蕾活跃一夏!
开启夏日惊艳美食之旅,我们的厨师为您搜罗日本最地道的食材,在铁板之上烹制出最鲜美的菜色。厨师现场即兴表演互动, 三五好友聚餐还是独自前往都能感受到活跃气氛,让您的用餐经历体验味觉和视觉的双重享受。
RMB 499/ 位
地点:一楼, 麟铁板烧餐厅
营业时间:午餐11:30-14:30, 晚餐17:30-22:00
电话:8682
This summer at RIN TEPPANYAKI, our amazing chef is delighted to stun your taste buds with some authentic food from the land of Japan. You will enjoy live cooking from the theatrical open grill as chefs showcase live cooking from the teppanyaki counter.
Summer Cool Refreshing Set Menu contains an appetizing collection of cheese prawn, mango foie gras, sashimi, salmon sushi, iced crabmeat with asparagus, and flames ice-cream. We promise you a Japanese style experience.
RMB 499/ 位per person
Venue:1st Floor RIN Teppanyaki
Business Hours:Lunch 11:30-14:30,Dinner 17:30-22:00
Ext:8682
面食王国美食之旅
Xi'an Pasta & Pastry Specialty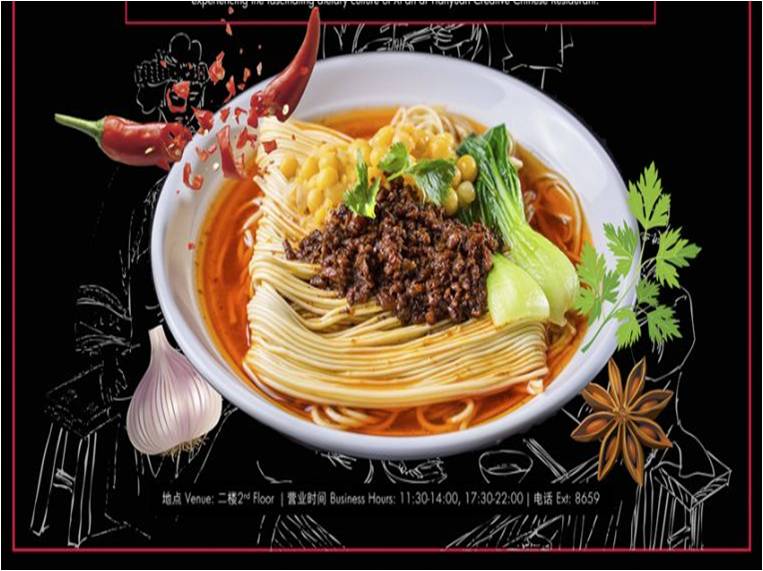 西安,古称长安。她是神秘莫测的十三朝古都。被赋予了深厚文化内涵的西安面点风味独特,久负盛名,就像陕西的历史一样。这个八月,恬园创意中餐厅为您奉上那让人念念不忘的西安特色面点,无论哪一款,都让人跃跃一试。
时间:11:30-14:00, 晚餐: 17:30-22:00
地点:二楼,恬园创意中餐厅
电话:+86 (0)20 36 06 88 66 转 8659
Xi'an, one of the oldest cities in China with more than 3100 years of history. It's noodles, breads and dumplings are the tastiest way to be transported back to ancient China. Let's amaze your taste buds while experience fascinating dietary culture of Xi'an at Tianyuan Creative Chinese Restaurant.
Time: Lunch: 11:30-14:00, Dinner: 17:30-22:00
Venue: Tian Yuan Creative Chinese Restaurant, 2F
Tel: +86 (0)20 36 06 88 66 Ext 8659
冰淇淋的"夏日圆舞曲"
Summer Waltz with Ice Cream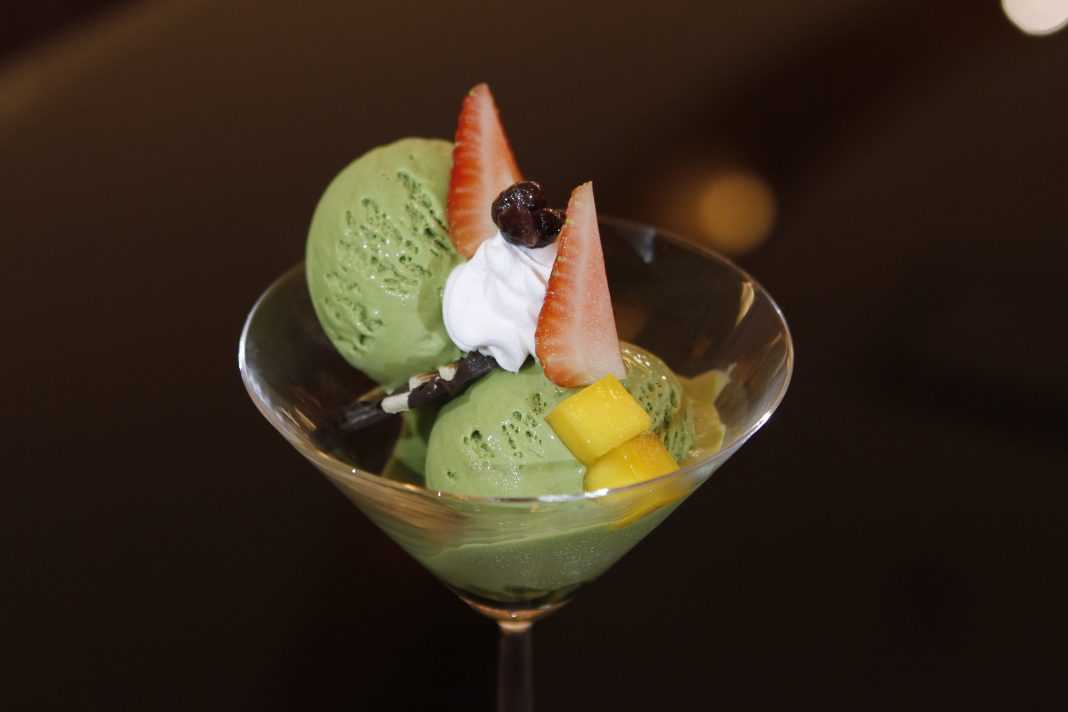 牛奶、奶油、酸奶、咖啡、白兰地、巧克力、可可、果仁、蓝莓、柠檬、芒果…各种美味低温碰撞,在嘴里热情融化,在心中绽开"分享"的快乐。
冰淇淋推广–八月
一廉太妃梦RMB 68/份
列日巧克力 RMB 68/份
绿野仙踪RMB 38/份
芒果梅尔巴RMB 98/份
紫色的梦68/份
诱惑RMB 98/份
时间:09:30-24:00
地点:一楼,相聚大堂吧
电话:+86 (0)20 36 06 88 66 转8690
This summer, our selected ice cream as the perfect accompaniment is blooming happiness of sharing in your mind.
Ice Cream Promotion – August
Caramelito Salty RMB 68/份
Chocolate Liegeois RMB 68/份
La Fee Verte RMB 38/份
Mango Melba RMB 98/份
Purple Dream RMB 68/份
Temptation RMB 98/份
Time: 09:30-24:00 (Buffet Lunch), 17:30-23:00 (Dinner Buffet)
Venue: Societe Lounge & Bar, 1F
Tel: +86 (0)20 36 06 88 66 Ext 8690

铂尔曼酒店及度假酒店,雅高酒店集团旗下新一代的时尚型高端酒店品牌,为寻求高度连接的旅行者提供高效和健康的完美平衡
铂尔曼酒店以其领先的商务、健身和餐饮设施及专注创新的设计,吸引着"环球游牧者"。铂尔曼在欧洲、非洲、中东、亚太和拉丁美洲33个国家拥有超过120家酒店和度假酒店。
雅高酒店集团(AccorHotels)是国际领先的旅游及时尚生活集团,并通过数字化创新在全球4,100多家酒店、度假酒店和住宅以及3,000余家优质私人住宅中提供独一无二的体验。
Pullman Hotels & Resorts, AccorHotels' new generation of upscale hotels, is a cosmopolitan brand that offers hyper-connected travelers an experience that combines both efficiency and wellness.
Global nomads are captivated by the brand and appreciate its business, fitness and restaurant facilities as well as its focus on innovative design. Pullman has over 117 hotels and resorts in 33 countries in Europe, Africa, the Middle-East, Asia Pacific and Latin America.
AccorHotels is a world-leading travel & lifestyle group and digital innovator offering unique experiences in more than 4,100 hotels, resorts and residences, as well as in over 3,000 of the finest private homes around the globe.
媒体联络:广州白云机场铂尔曼大酒店
姓名:何 钰
职务:市场传讯经理
电话:86(0)20 3606 8866 – 8724
Email: mcm@pullmanguangzhou.com
MediaContact: Pullman Guangzhou Baiyun Airport
Name: Jessica He
Position: Marketing Communications Manager
Phone: 86(0)20 3606 8866 – 8724
Email: mcm@pullmanguangzhou.com