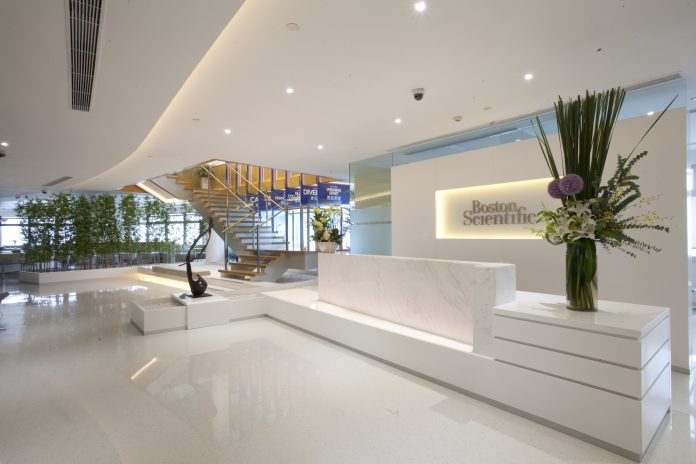 Boston Scientific
波士顿科学公司是全球领先的药学科技企业,在全球各地有超过110个办公地点。波士顿科学在1979年创立于美国,主要专注在产品和全球微创治疗的研究与开发上。自1997年进入中国市场,波士顿科学在中国已从10个人的办公室扩展成有几百个员工的公司。秉持着想要通过微创治疗改善世界各地病人的身体状况的使命,波士顿科学在逐步壮大着。
With a market presence in over 110 countries and offices around the world, Boston Scientific is a world leader in the medical technology industry. Boston Scientific was founded in the United States during 1979, and since then has focused on R&D, production and global marketing of minimal invasive therapies. Coming to China in 1997, Boston Scientific has expanded its presence from a 10-person office to hundreds more employees across China. As they continue to grow they have never lost sight of their mission, which is their dedication to transforming lives through innovative medical solutions that improve the health of patients around the world.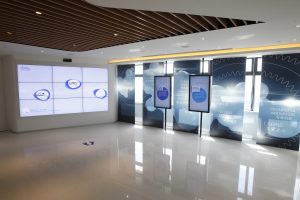 波士顿科学创新培训学院和创新中心设立在波士顿科学中国上海总部。来自亚洲各地的医生都会到那里学习使用波士顿科学最新的医疗设备。医生可以通过模型上练习、熟悉机器设备,比如说交互式成像软件。这一些都是经过精心安排,在波士顿科学总部的主要办公室学习使用他们最先进的教育设施。过去五年,在北亚区总经理王欣先生的带领下,波士顿科学获得卓越的成绩,现在正促进中国其他地区的发展,且发展非常迅速。
Boston Scientific China's Institute for Advancing Science is located in their Shanghai, China headquarters. Here, physicians from around Asia come to learn about and practice with Boston Scientific's newest devices. Physicians can practice on life-like models and familiarize themselves with new devices and technologies, such as new interactive imaging software. This is all during highly planned learning sessions inside of Boston Scientific's main office, using their state-of-the-art educational facilities. Guided by President of North Asia, Mr. Warren Wang for the past five years, Boston Scientific has performed incredibly well and now looks to the rest of China for future growth, and that growth is happening fast.
波士顿科学和清华大学将会在北京合作开展孵化项目,促进医疗科技的发展。除了广州办公室,波士顿科学计划在中国南部和西部2到3个城市建立办公室,扩大城市间的联系。随着中国经济的持续增长,城市不断扩张,对医生的需求只会越来越大。波士顿科学已准备好为此培养更多能熟悉操作新型医疗设备的医生。在王先生的带领下,以及波士顿科学其他团队的合作下,相信接下来波士顿科学会发展得越来越好。
In Beijing, Boston Scientific and Tsinghua University will soon be opening their collaborative incubator to help Medtech startups. With an office in already Guangzhou, Boston Scientific is looking to expand further in the south and west of China and begin integrating tier 2 and 3 cities into their networks. With China's economy continuing to grow and cities all over China expanding, the need for doctors will only continue to rise. Boston Scientific will be ready to supply these doctors with innovative medical devices, along with providing them opportunities to practice and master these new devices. It will certainly be an exciting time globally for Boston Scientific in the coming years, even more so for Mr. Wang and the rest of the Boston Scientific team in the ever-changing China.
Read more about Boston Scientific here:
官方网站: http://www.bostonscientific.cn/
Official Website: http://www.bostonscientific.com/en-US/Home.html