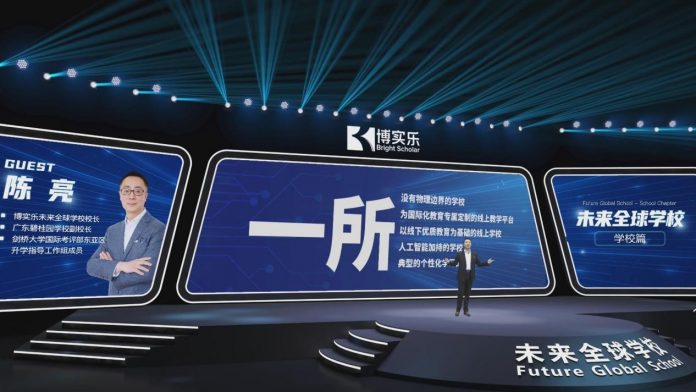 6月16日,博实乐教育集团在线召开"未来全球学校"战略发布会。北京师范大学未来教育高精尖创新中心执行主任、博士生导师余胜泉教授认为,依托26年实体办学的优秀经验和遍布全球优质教育资源,博实乐有望打造出一所代表全球未来教育方向的典范学校。
On 16th June, the Bright Scholar Education Group held an online conference centered around the "Future Global School" strategy. Professor Yu Shengquan, executive director and doctoral supervisor of the Advanced Innovation Center for Future Education at Beijing Normal University, believes that on the basis of 26 years of outstanding experience in running schools and high-quality education resources around the globe, Bright Scholar can build a model school that represents the future of global education.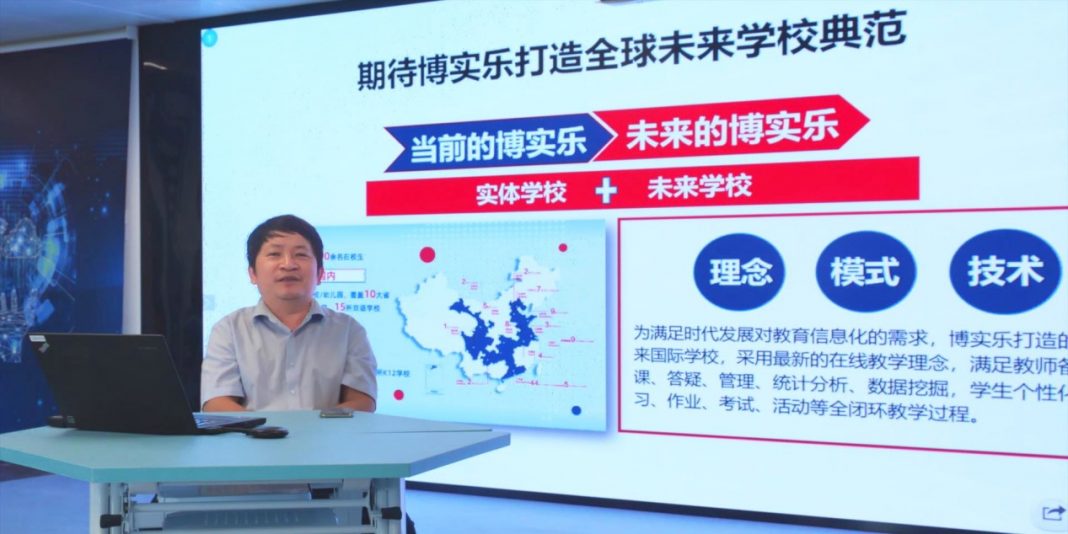 拆掉围墙的学校 | A school without enclosure
博实乐"未来全球学校"是一个为国际化教育专属定制的互动型线上教学平台。首任校长陈亮表示,"未来全球学校"是一所没有围墙的学校。它是一个基于互联网的全球学习中心,它将以更友好的姿态介入到学习者的生活中,只要有学习的愿望,任何人都可以加入,学习可以随时发生。
Bright Scholar "Future Global School" is an interactive online teaching platform that is customized for international education. Chen Liang, the first president of the School, said that the "'Future Global School' is a school without enclosure." It is an internet-based global learning center that will intervene in the life of learners in a friendly manner. Anyone can join, and learning may happen at any time as long as there is a desire to learn.
"未来全球学校"将实现线上与线下的融合(OMO),这样的教学方式将为学习者带来虚实融合的全新体验。博实乐"未来全球学校"将在三方面助力线上线下有机融合:首先是学习数据融合,教室里产生的数据与线上打通,集体学习与个性化学习并行不悖,通过线上学习也可以取得博实乐国内和海外线下学校认证的毕业证书;其次是双师智慧融合,全球名师在远端上课,本地优秀教师近身辅导,优质教育资源全球共享;第三是软件硬件融合,全面提升学习体验,如教室内的录播系统也可以在平台上直播,学习者可以利用光学点阵笔将线下的答题过程实时传递给老师,老师可以更准确地分析学习者的思维过程,为教师的个性化辅导和学生的个性化成长提供了第一手数据。
Adopting the Online-Merge-Offline (OMO) mode, the "Future Global School" will bring learners new experience combining virtuality and reality. The School will facilitate the OMO mode organically in three aspects: first, merging of learning data. The data generated in the classroom is linked with the online course to allow concurrence of collective and individual learning; learners can obtain a diploma certified by Bright Scholar's cooperative offline schools at home and abroad through online learning; second, merging of local and foreign teachers. By combining the distance teaching from international teachers with the close guidance of select local teachers, learners can obtain high-quality education resources globally; third, merging of software and hardware to comprehensively improve learning experience. For example, through the recording and broadcasting system live on the platform, learners can deliver the offline answering process to teachers in real time by utilizing the optical dot matrix pen, so that teachers can more accurately analyze the learner's thinking process, thus provide first-hand data for personalized tutoring of teachers and personalized development of students.
让主流国际课程适应学习者的节奏 | Mainstream international courses are designed at learners' pace
博实乐"未来全球学校"将于今年9月首期推出A Level课程、剑桥少儿英语课程和剑桥通用英语课程,未来还将陆续推出AP和IB课程。A Level课程将首先推出6门AS课程,包括数学、物理、化学、生物、计算机、经济,第二期将推出7门A2课程,在上述6门学科基础上,增加了高等数学。剑桥少儿英语将推出剑桥少儿英语一级、二级和三级课程,剑桥通用英语课程将推出KET、PET和FCE课程。所有线上课程设计实现了活动化、模块化设计,学习者可以按照自己的节奏自由组合学习内容。
The Bright Scholar "Future Global School" will first launch the A-Level Courses, Cambridge Young Learners English and Cambridge General English Courses in September this year, and launch AP and IB courses at a later time. For A-Level Courses, six AS courses, including mathematics, physics, chemistry, biology, computer science, and economics will be introduced first, while seven A2 courses will be introduced in the second phase adding advanced mathematics on the basis of the above six subjects. For students in the Cambridge Young Learners English, the courses at level 1, 2 and 3 will be introduced, and for students in Cambridge General English Courses, KET, PET and FCE courses will be introduced. All online courses are designed to be mobile and modular, allowing learners to freely combine their learning content at their own pace.
陈亮校长介绍,"未来全球学校"的A Level课程适合所有实体学校的11、12年级学生,博实乐旗下所有实体学校及其它公立或私立实体学校的11、12年级学生都可以报名学习,学完这些课程后,所有学生均可参加正式的A Level官方考试。学生凭借正式A Level考试成绩单、学校的成绩单以及语言考试成绩等,就可以申请到国外名校就读。
According to President Chen Liang, A-Level Courses provided by the "Future Global School" are suitable for students in grades 11 and 12 at all physical schools, so all students in grades 11 and 12 of Bright Scholar's physical schools and other public or private physical schools may register for learning. After completing these courses, all students may take the official A- Level Test, and apply to study in famous foreign universities with their A-Level Test transcripts, school transcripts, and language test results.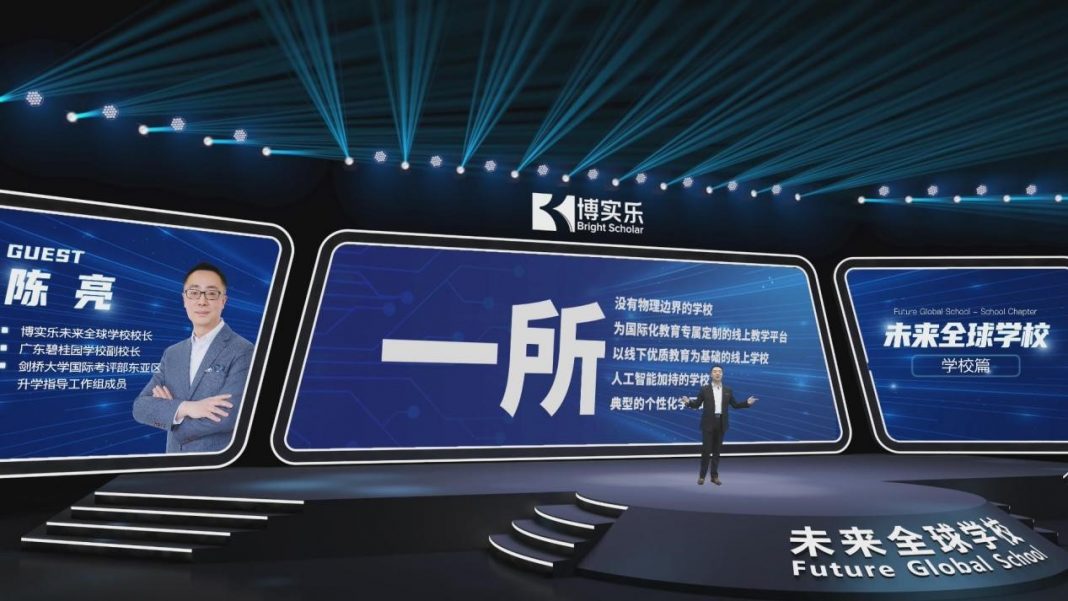 技术赋能 造就顶配教育 | Technology empowers the world's top education.
"未来全球学校"是由博实乐教育集团携手战略合作伙伴云蝶科技共同打造。云蝶科技副总裁陈天博士表示,我们已生活在AI的时代,AI加持的教学平台可以给孩子更精准、更适合的教育。未来全球学校在自适应学习、学生学习情绪识别、英语语音评价、作文智能批阅甚至数学、物理等主观题批阅技术也日趋成熟。它必将为广大师生提供更好的服务,提高教和学的效率。
The "Future Global School" was jointly built by the Bright Scholar Education Group and its strategic partner Cloud Butterfly. Dr. Chen Tian, vice president of Cloud Butterfly, said that we are already living in the age of AI, so the AI-assisted teaching platform may open up more accurate and suitable education to children. Meanwhile, the technologies employed by the "Future Global School" are increasingly mature for application in adaptive learning, recognition of students' learning emotion, evaluation of English pronunciation, intelligent grading of writing, and even grading subjective questions in mathematics and physics. By providing better services for teachers and students, the technology will surely improve the efficiency of teaching and learning.
基于先进的技术,博实乐"未来全球学校"将在教师、学生和学习内容三者之间建立起立体化的深度交互,学习过程中有情境、有探究、有讨论、有协作。学习者在自由探索中完成学习过程。
Based on advanced technology, the Bright Scholar "Future Global School" will establish a three-dimensional quality interaction among teachers, students and curriculum, enlivening the learning process with context, inquiries, discussions and collaboration, so that learners may finish their study during free exploration.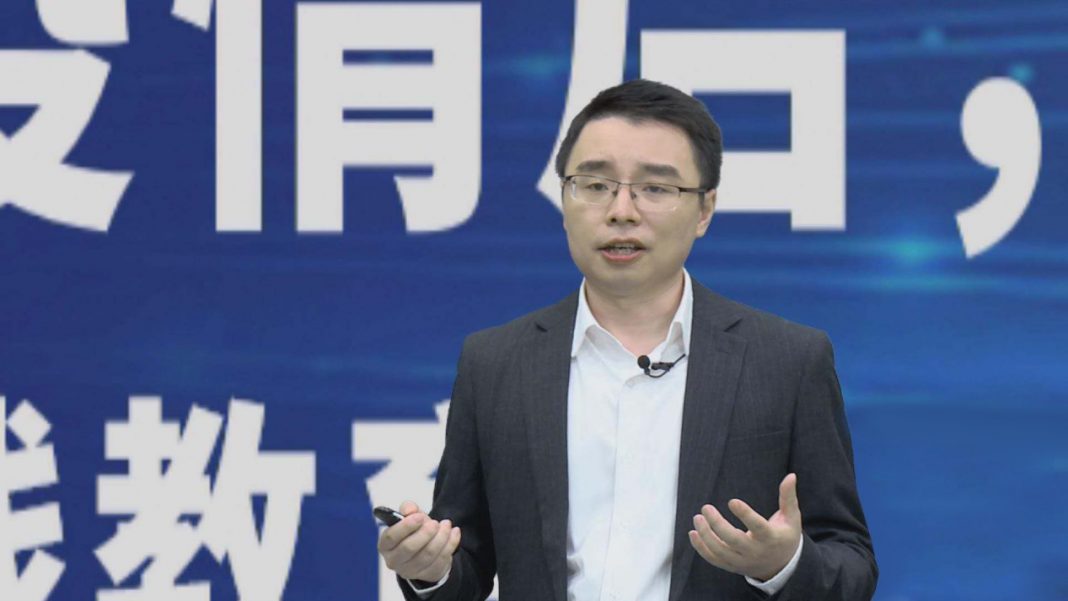 为保证课程观看质量和良好的互动效果,博实乐"未来全球学校"斥巨资打通了国内外网络,全球部署了多个节点,实现了网络资源的全球部署和就近访问。同时,平台使用全球领先的底层视音频技术,P2P云雾架构、自适应带宽、高丢包容忍,保证直播互动的流畅。
To ensure good viewing effects and interaction in the courses, the Bright Scholar "Future Global School" has invested vast sums to connect the network at home and abroad, and deployed several nodes globally to achieve reliable global coverage and nearby access of network resources. Meanwhile, using the world's leading video and audio technology, P2P cloud architecture, adaptive bandwidth, and high packet loss tolerance, the platform could ensure the smooth interaction of live broadcasting.
近年来,博实乐教育集团对时代变化保持着高度的敏感,对教育科技进行了前瞻性的战略布局。未来全球学校是博实乐OMO战略的起点。它的上线,意味着博实乐正在突破纯实体学校的格局,以科技改变教育,面向未来,面向全球, 引领新时代教育的发展。
In recent years, the Bright Scholar Education Group has been keeping highly sensitive to changing times, and from this perspective, we have made a forward-looking strategic layout of education technology. The "Future Global School" is the starting point of Bright Scholar's OMO strategy reflecting the newest developments in science and technology education. Its launch signifies that Bright Scholar can successfully expand beyond pure physical schools to help educate a new international population in need. By taking an innovative and adaptive approach at this important time, the Bright Scholar Group can become a leader in the development of education in the new era.
---
博实乐教育集团
Bright Scholar Group
www.brightscholar.com/en