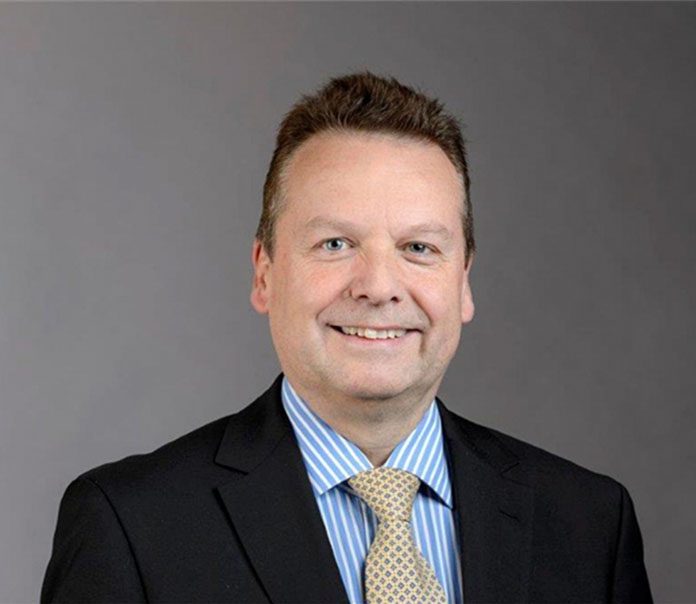 博智东先生,瑞士驻广州总领事馆总领事。
Mr. Didier Boschung, Consul General of Switzerland in Guangzhou
去年在瑞士驻广州总领事馆庆祝它成立十周年,瑞士驻广州总领事馆总领事博智东先生表示非常期待未来与中国关系的进展。当被问及广东省是否会在加强中瑞关系方面起到重要作用,总领事给出了非常肯定的回答。
As the Swiss Consulate based in Guangzhou celebrated its 10th anniversary last year, the Swiss Consul General looks forward to future expansion of his country's relationship with China. Asked if he believed that Guangdong plays an important role in building a stronger links between Switzerland and China, Mr Boschung agreed with confidence.
作为中国的最强省,拥有最多人口的省市之一的广东省经济非常发达。总领事相信,广东地理位置十分重要,不仅是对目前在中国的瑞士公司来说,对未来要进入中国的公司也同样重要。
As China's economic powerhouse by GDP, as well as its most populous province, the Consul General believes Guangdong to be a hotspot for Swiss business. He recognises the region's importance to Switzerland and as such is keen to promote present and future interests in the region.
在一带一路论坛上,瑞士和中国在多个方面都已有合作。博智东先生相信,这次论坛是促进中瑞关系进一步发展的好平台。
In the context of the One Belt One Road Initiative, Switzerland, is already cooperating with China on many fields. Mr. Didier Boschung believes that "this initiative is a good platform to promote our Switzerland relationship with China even more."
当被问及南中国在总领事眼中的发展趋势,他回答道,随着广东地区的劳工率和房价越来越高,一些外企已经开始迁离广东地区,然而很多瑞士企业仍然愿意留在广东。他继续说道,物价上涨固然会成为将来的一个挑战,但广东仍有许多优越之处吸引企业来这里发展。正因为该地区的这些驱动力,短时内瑞士的企业是不会离开这里的。
When asked about what trends the Consul General saw developing in Southern China, he remarked that as labor-rates and real estate prices are getting higher, some foreign companies have begun to move out of the Guangdong area while "Swiss companies are quite content to stay here Guangdong." He says while the rising prices will certainly be a challenge in the future, there are still many incentives for companies to come to the area and set up there. With these incentives in place, Swiss companies won't be leaving anytime soon.
随着2017年的到来,中瑞旅游年也开始了。总领事博智东先生和他的领事团队正在努力向中国群众推广瑞士。总领事曾与广东省旅游局局长多次会见过一些即将有旅游团队去瑞士观光的旅行社。博智东先生希望能够有更多的个人、情侣或家庭到瑞士旅游,因为小团队旅行能让中国游客更好地感受瑞士。
As 2017 continues on, so does the Chinese-Swiss Tourism Year. Mr. Didier Boschung and his Consulate General's teamhave been working hard at promoting Switzerland to the Chinese people. The Consulate General has set up some meetings with travel agencies for the Director General of the Tourism Bureau of Guangdong, who will soon be going to visit Switzerland. Mr. Didier Boschung hopes to begin bringing more "individual tourists and couples and families.",as smaller groups will help Chinese tourists to better experience Switzerland.
几个国家领导人都对瑞士进行过国事访问,但瑞士非常有幸能迎来中国领导人习近平时长最久的国事访问,中瑞关系也发展地非常好。正如总领事所说:"中瑞关系已经到达一个看似无法再好了的极致阶段,但是我们会尽我们所能做到最好。"中瑞关系的未来无限光明。
Several state visits have already been made by each country's president and with Chinese president Xi Jinping bestowing Switzerland the honor of China's longest single state visit, the Sino-Swiss relationship is well established. As the Swiss Consul General says, "We are reaching such a good relationship level with China that it is difficult to improve any more, but we are trying our best." The future certainly looks promising.