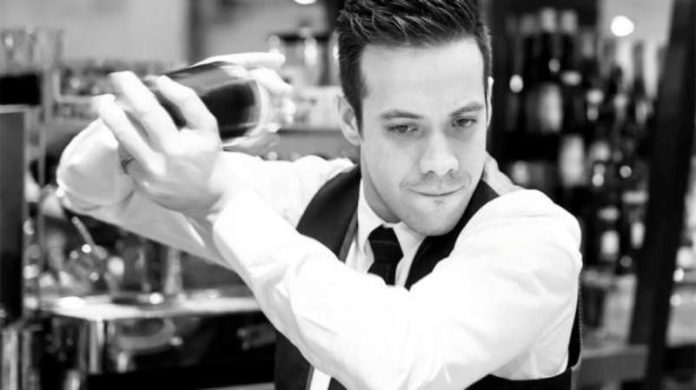 Bruno Santos- 鸡尾酒鉴赏家- Cocktails Connoisseur.
DB:You are very knowledgeable in cocktails and mixology. Were you formally trained or self-taught?
BRUNO SANTOS: I started looking to cocktails as an art and approaching it same as a chef does with his ingredients in a kitchen, over six years now. Along the way, I visited many bars, attended many industry shows, seminars and workshops a bit around the world. It motivated me to continue pushing for this craft here in Macau. Also, I enrolled myself in several courses like the Elite Bartenders Course from the International Bartenders Association in Singapore, Bols bartending and bar management in Amsterdam, WSET professional wines in London, and Oenology courses in Florence among others.
DB:What was your first job behind the bar?
BS: My first job behind the bar was during my university times in Portugal – Algarve where I was taking my Hotel Management Degree. I and two other friends gathered to develop a small campus bar for students. Back then cocktails were not a big thing and mainly we would just pour draught beers and spirits with soft drinks.
DB:What is your favorite cocktail to make?
BS: My current favorite cocktail to make is my Bacardi signature cocktail "Voyager" as it proudly represents the great achievements of my Portuguese ancestors and I really like to engage people and talk about that. It's a cocktail with history so it makes the drinking experience a whole [ the lot] more interesting.
DB:How did you become involved in the Bacardi Legacy Global Cocktail Competition?
BS: Bacardi Legacy is one of the most prestigious cocktail competitions in the world and as I had the time I decided to try my luck this year. Being one of the regions top-eight bartenders and finalists is already a great achievement for me and I'm really happy to be a part of this event. With my participation, I also expect to motivate Macau's bartenders and try to get them more involved with this kind of events as they can really learn and grow professionally with them.
DB:What is your favorite cocktail to drink? Which bar makes the best one?
BS: Lately I have been enjoying the Old Fashioned cocktail made with an aged Caribbean rum instead of the traditional bourbon whiskey, with a large orange zest that works very well for the aroma side. In the Macau Galaxy's Macallan Bar is where I have been having the best ones, apart from their exceptional whiskey menu they also have a great variety of bottles of my favorite spirit category (rum).
DB:What do you drink at home?
BS: I have been collecting spirits & liqueurs for more than 10 years now and I'm starting to say that it's becoming a little inconvenient to have so many bottles at home, nevertheless I maintain myself firm and keep on taking care of them as we would be talking about a museum. The truth is that I actually rarely drink at home. In the eventuality of doing so, I would have a refreshing Mojito on a hot lazy day, a good wine during a meal, or simply sip a good aged rum or whiskey while smoking a cigar.
DB:Where is your favorite spot in Macau?
BS: My favorite spot in Macau and where I necessarily bring any friend that visits me is Sky21 Restaurant & Bar, their outside terrace has an amazing view and it's the perfect place to introduce Macau to new-comers. The bar team there is also quite creative and knowledgeable, they make me feel at home every time I go there and I really appreciate that. Sky21 also has a good snacks menu if you feel like having a bite.
DB:Tell us something about you that not many people know.
BS: Even [though] I was not born in Macau and I don't speak fluent Cantonese, I consider myself Macanese and I have been working very hard to promote our efforts internationally as a region with self-identity. Locally I'm trying to dignify this profession and change how or what people think about bartenders. I like to hear critics [talk] about the drinks I make or the way I serve them, this will help me to improve myself.
DB:What inspires you to create new cocktails?
BS: Besides traveling and experiencing different cultures, the brotherhood between bartenders is among the most important inspirational factors for me to create new cocktails. It's also what drives me to do crazy experiments that might result in great liquid concoctions. It's fundamental to write down as well all your ideas, they might not be good for the present but maybe they can be used in the future.
DB:What cocktail trends do you see developing?
BS: I'm seeing Japanese and American bar-tending trends combining, and starting to have more and more professional bartenders focusing on technique but as well on speed and efficiency.
Regarding cocktails, I think that the European craze for new premium gin & tonics will hit Asia very soon and as well bartenders continuing seeking to refine their craft, or are we not living a new cocktail golden age?