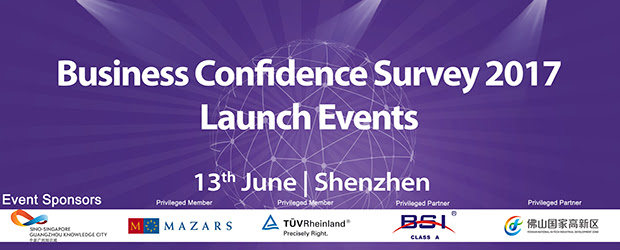 The European Union Chamber of Commerce in China and Roland Berger are delighted to invite you to the launch of the European Business in China – Business Confidence Survey 2017, on 13 June in Shenzhen.
中国欧盟商会以及罗兰贝格咨询公司诚邀您参加6月13日在深圳举行的《中国欧盟商会—商业信心调查2017》新闻发布会。
The Business Confidence Survey 2017 brings together the input of over 500 senior representatives of the European Chamber's member companies to provide an annual overview of their performance and outlook from within the Chinese market. Some of the key findings of the report include the following:
今年的《中国欧盟商会—商业信心调查2017》汇集了超过500位在华欧洲企业高层代表对于其过去一年在中国的运营情况回顾以及对于中国市场的展望,重点包括:
1.Revenues and earnings before interest and taxes improved, without any marked increase in optimism about the long-term business outlook.
公司收入和息税前利润有所增长,但从长期看来仍然存在挑战
2.The top regulatory barriers faced by European business remain the same, and there is a lack of confidence that this situation will improve over the next five years.
欧洲企业仍面对一些主要监管障碍,对于未来五年内形势能否改善也缺乏信心
3.European companies are very positive about President Xi's anti-corruption campaign and the incremental improvements to China's IPR protection regime.
欧洲企业高度评价习主席开展的反腐活动以及逐步健全的知识产权保护机制
4.There is a disproportionate enforcement of environmental legislation against foreign-invested enterprises, state-owned enterprises and Chinese privately-owned enterprises.
相较于中国国有企业和中国私营企业,中国环境法规针对外资企业的执行更为严格
5.European companies report increased competition from Chinese privately-owned companies as their capacity for innovation increases.
欧洲企业认为中国本土私营企业的创新能力加强使得它们更具有竞争力
6.The EU-China Comprehensive Agreement on Investment must be completed to give European business the confidence it needs to ramp up investment in China.
达成中欧全面投资协定将为在华欧洲企业增添信心并促进其在华投资
Agenda:
08:30 – 09:00  Networking and registration
注册和签到
09:00 – 09:05  Welcome remarks by Francine Hadjisotiriou, General Manager,
European Chamber, South China Chapter
中国欧盟商会华南分会总经理Francine致欢迎词
09:05 – 09:15  Introduction speech by Invest Shenzhen Director of Investment Promotion,
Rambo Lan
深圳市投资推广署招商二处处长兰召华发表讲话
09:15- 09:25   Business Confidence Survey methodology by Alain Le Couédic,
Partner, Roland Berger Strategy Consultants Greater China
罗兰贝格国际管理咨询公司合伙人Alain Le Couédic 先生将阐述商业信心调
查问卷的调查方法
09:25 – 09:50  Business Confidence Survey key findings presentation by George
Lau, Board Chair, South China Chapter and the European Chamber
Vice President.
中国欧盟商会副主席、华南分会董事会主席刘畅先生将公布此次商业信心调
查的结果
09:50 – 10:35  Panel discussion with member company representatives operating in
South China
欧洲在华南地区的会员企业代表座谈会
10:35 – 10:45  Closing remarks
闭幕词
Registration   注册
Registration is required to secure your seat. Please send the following information to Ping Rui Zhao,  przhao@europeanchamber.com.cn or you can register online if you are a member.  请务必提前注册来预订你的位置,请将下面的信息通过邮箱提供给赵平瑞 przhao@europeanchamber.com.cn 或者你也可以选择在中国欧盟商会官网的活动信息页面在线注册。
*Participant Name 参加人姓名
*Company Name 公司名称
*Title 职位
*Contact Email and Mobile phone 联系邮箱和移动电话
Terms & Conditions   注意
Events have limited seating so to ensure your attendance we encourage advance online registration for all events. We cannot guarantee entry to anyone not registered in advance. 由于活动的名额有限,我们鼓励你提前在线注册以保证你的席位。
Cancellation Policy   取消
If you cannot attend an event for which you have registered, please cancel your registration no later than one business day prior to the event.
如果你无法参加,请至少提前一个工作日以上通知欧盟商会取消。
We are looking forward to seeing you there.
期待您的到来!
---
Event Speakers
Mr. George Lau Chairman, South China Board, European Chamber; General Manager, TÜV Rheinland Greater China Products Accreditation and Certification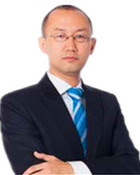 George Lau, General Manager of Products Accreditation and Certification Greater China, is responsible for Brand Protection at TÜV Rheinland, where he has worked for 10 years. Since 2011, Lau has held exchanges for authorities, e.g. AQSIQ, Shanghai Institute of Administrative Law, Hamburg Business Development Corporation, and manufacturers (e.g. Lenovo, Supor etc.) regarding EU certification regulations, risk management, receiving unanimous recognition. Previously, Lau worked as an analyst for ZTE Corporation. As a result of his performance regarding African market development – fulfilling Chinese central government's mission – he was promoted directly to Assistant to the CEO. Since 2004, Lau has been studying the Chinese Communist Party, Chinese-foreign cultural differences, socialism with Chinese characteristics etc., to explore strategies of foreign companies in China. He believes that such knowledge is indispensable for multinationals developing in China. Lau is a German Chinese who immigrated to Germany at the age of 5. He is fluent in German, English, Cantonese, Mandarin, French and graduated from Konstanz University with magister juris in 2003.
Mr. Alain Le Couédic Partner at Roland Berger Greater China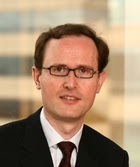 Alain Le Couédic is a Partner at Roland Berger Greater China. He leads Roland Berger's Greater China Financial Services practice, and co-leads its Asia FS practice. Alain has over 22 years of professional consulting experience. For the past 19 years, he has been based in Hong Kong. During this time, Alain has helped clients solve issues related to strategy, organization, operations, merger & acquisitions, and private equity investments. His track record includes successful assignments for both multinational and local clients in the retail banking, corporate & investment banking, private banking & wealth management, asset management, insurance and securities industries. He is also an expert on organization topics – organization design, organization effectiveness and efficiency. Prior to joining Roland Berger, Alain was a Partner and Managing Director of another leading international consulting firm in their Financial Institutions Practice, and also led that firm's organization practice in Greater China. Prior to this, Alain worked as a consultant at a global consulting firm in its New York and Hong Kong offices. Alain holds an MBA from Columbia Business School (New York) and an MS (Ingénieur degree) from AgroParisTech (Paris).
Mr. David Collins Chief Operating Officer, China Manufacturing Consultants, the European Chamber Manufacturing Forum chair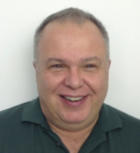 David Collins is the Consulting Director at China Manufacturing Consultants. David has more than 30 years of manufacturing experience in the automobile, electronics, aerospace, furniture, and chemical industries. David has held increasingly responsible positions with international assignments for General Motors, Chrysler, as well as Foxconn (in the United States, Mexico, Canada, Germany, and China). Before devoting his time to consulting, David returned Foxconn's Mexico factory to profitability, improved morale greatly and achieved best quality in the division. Other notable assignments included managing a $4.1 billion car plant, building and launching 3 manufacturing facilities in different countries, and applying the world's first waterborne paint process in a car plant.
Mr. Benoit Stos Chair, Finance & Taxation Working Group; Managing Partner at Mazars

Benoit has eighteen years of experience with Mazars including fourteen in China. He set up Mazars Guangzhou office in September 2006. This office counts now 50 people. As managing partner of the office, Benoit supervises Audit, Outsourcing and Tax activities. He notably works on projects in the main cities of Southern China. He is also working on the development of the Shenzhen office (currently 100 people) following the merger between Mazars and Zhongshen Zhonghuan in January 2016. Following this merger, Mazars counts now more than 2000 professionals in China (out of 18,000 worldwide).
Mr. Stephen O'Regan Chair, SME Forum; Senior Associate in the International Business Advisory department at Dezan Shira & Associates

Stephen comes from Cork, Ireland. He received his Law Degree from University College Cork before moving to China to pursue his Postgraduate in Chinese Business & Language. He has lived in China since 2011. Stephen currently oversees Dezan Shira operations in Guangzhou and the Pearl River Delta. His main responsibilities involve client advisory, partner maintenance and business development. His editorial resonsibilities ranges from writing the monthly South China Briefing, which talks about recent business related news in the PRD and article writing for Dezan Shira & Associates. He has first hand experience with the Chinese legal system having worked in a local Guangzhou law firm for 2 years. During this time he gained valuable knowledge on Chinese legal procedures and issues. His main areas of focus during this time was contract law, corporate establishment and foreign direct investment.
Mr. Pekka Laiho Country Manager at OptoFidelity; Board member, Finnish Business Council Guangdong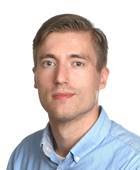 Pekka is the Country Manager of OptoFidelity, a Finnish high-tech SME focused on test automation, robotics and machine vision systems. Pekka is responsible of OptoFidelity's daily business and operations in Mainland China where he has lived for five years. He has Master of Science degree in Automation Engineering from Tampere University of Technology and has also conducted business administration and economic studies in Renmin University of China. As a board member of Finnish Business Council Guangdong, Pekka represents and promotes Finnish enterprises and business community in South China region. Pekka speaks fluent Chinese, English and Finnish, and is obsessed with local start-up culture, ice hockey and golf.