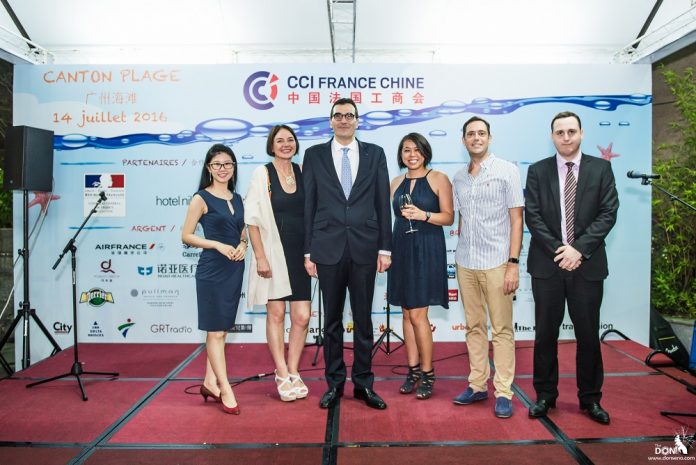 2017年度的广东海滩-法国国庆节庆祝活动,在中国法国工商会和广州日航酒店的紧密合作下,以及由法国总领事的大力支持下,将于7月14日周五晚上7点正式举办。
The 2017 edition of Canton Plage – the French National Day, organized thanks to the intense cooperation between the French Chamber of Commerce and Industry in China (CCIFC) and the Nikko Guangzhou hotel, with the support of the General Consulate of France in Canton, is going to be held on Friday, July 14th 2017, from 7:00pm till late.
届时,来自法国和中国的各界团体将聚集在五星级酒店的后花园和泳池旁欢聚,共同探讨法国文化和庆祝法国国庆这一个具有历史性的节日。
French and Chinese communities will gather around the splendid pool and garden of the five-star hotel to celebrate this historical day while discovering the French culture.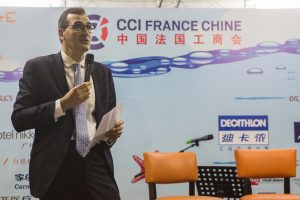 在这次充满热带风情夜晚,法商会将安排许多有趣的活动来娱乐超过800名来宾,同时来宾们将得到由迪卡龙提供的泳衣和由FFG提供的礼品包。
Many activities are programmed during this tropical night to entertain and divert over 800 guests, who will get offered swimsuits from DECATHLON in the gift-bags made by FFG.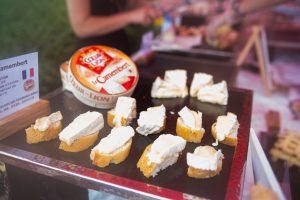 一个非常完整的开放性酒吧为一个具有动力和令人兴奋的聚会准备了小红马法国红酒和生力。啤酒BBQ、法国的、西方的以及亚洲的美食将会被奉上,以及由Sinodis提供的芝士和由Maison Delice带来的冰淇淋,以满足各位来宾的口味。
A very complete open-bar with RED PONY French wines, SAN MIGUEL beers will be ensured for this dynamic and exciting party. The BBQ, French/Western and Asian food are about to be savored, such as cheese by SINODIS and ice cream served by MAISON DELICE, to satisfy everyone's taste!
在品尝过美食之后,如往年一样,个别幸运儿将在幸运抽奖环节得到由法国航空、法语联盟、皇冠假日酒店、GL watch,广州伊丽莎白妇产医院,Nespresso以及广州圣丰索菲特大酒店提供的丰厚奖品。
Then, as previous years, some lucky ones will get numerous and amazing gifts offered by the generous partners of Canton Plage during the lucky draw such as Air France, Alliance Française, Crowne Plaza, Elisabeth Hospital, GL watches, Nespresso and Sofitel Guangzhou.
2017广东海滩活动也是一次许多公司拓展业务的好时机。在酒店的后花园里,许多国际公司以及中小型企业将得到展示业务和高效交流的机会。超过30张企业桌已被预订,以便企业邀请其客户或合伙人来度过一个充满商务交流氛围的夜晚。
Canton Plage 2017 is also the place for many companies willing to expand their activities. By the garden of the hotel, many enterprises, international firms and SMEs, can have the opportunity to represent their industry and exchange efficiently. Thirty corporate tables are reserved to enable invitees to spend the evening in a perfect atmosphere for business interactions and connections.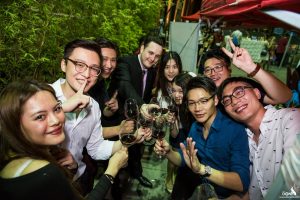 这次特别的年度活动的举行归功于中国法国工商会的各个忠实合作伙伴,其中包括:ABACARE,Amorosa,Carrefour, La Creperie Maggy,Danone Water,Galactica,La Medina,Maison Delice,New Row,Pernod Ricard China,Pussy Drink以及Schiel。
This exceptional annual event is made possible thanks to all the CCI France Chine very loyal and supportive partners like ABACARE, Amorosa, Carrefour, La Creperie Maggy, Danone Water, Galactica, La Medina, Maison Delice, New Row, Pernod Ricard China, Pussy Drink and Schiel.
今年,广州将再一次听到法国国歌"马赛曲,也将看到红白蓝三色法国旗飘扬在天空。
This year again, Canton is going to hear the French national anthem, "La Marseillaise", and will see the blue, white and red French flag fluttering in the air.
法国万岁!
Vive la France!