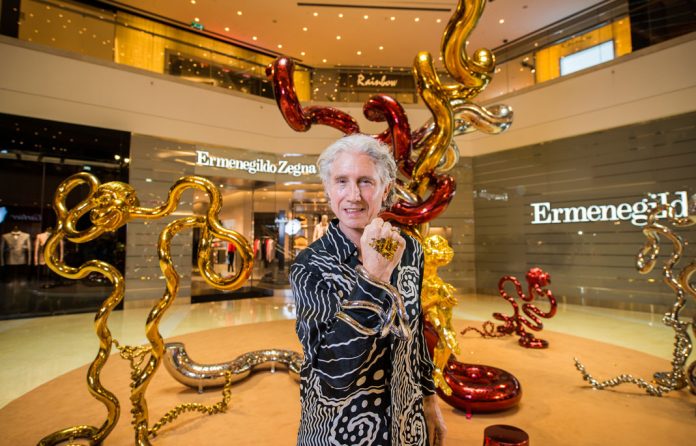 Richard X Zawitz – 国际著名雕塑家 – Internationally renowned American Sculptor.
Internationally renowned sculptor Richard X Zawitz is holding his own installation exhibition at One Central Macau from the 1st–22nd February, which features ten auspicious Monkeys and the Tree of Infinity for the celebration of the Chinese New Year. The vibrant installation (created in Zawitz's curving signature style) is also the artist's first exhibition in Macau that infuses concepts of art and fortune into the city's flagship-shopping destination.
Richard X Zawitz's sculptures embrace numerous aesthetic and philosophical ideals that are rooted in Asian cultures. Curvism (the form that the sculptor hopes will bring positive energy to the world) is a metaphor for the infinite growth of the universe. He likes to create his artworks with mixed materials through his depiction of the Chinese Taoist philosophy.
DB: What is your background in art?
Richard Zawitz: I was born in 1946 in Pittsburgh, a city of steel in the USA–I have been surrounded by steel ever since I was very young. I studied art at the University of Pittsburgh between 1967 and then in 1968, studied at the University of Hawaii, It was in Hawaii that I began to "embrace Asia" and found motivation from the beautiful Hawaiian atmosphere. Here I majored in Sculpture and minored in Asian Art History and Asian Philosophy, which took place between 1969 and 1973. I was fortunate enough to be personally mentored by Professor Prithwish Neogy who was the student of the Ananda Coomaraswamy, the Sri Lankan scholar of Indian art.
My travels in Asia began in the 1970s, which was the inspiration for my artistic thinking. The iconography of Buddhism, Taoism, Hinduism and Zen soon became living things to me. The vibrant worlds of Southeast and Southern Asia, China and Japan astounded me. The multitude of forms, shapes, and symbols of these cultures continued to have a profound effect on my art, my life and possibly even my success. So without this thought process, I probably wouldn't have my studios in San Francisco and Hong Kong.
DB: What are the main features of your artworks?
RZ: Tao and Infinity. In 1975, I invented a product called Tangle. The essential manifestation of the Tangle Particle is a spiral, wave, curve, circle or arc. In relation to nature and science, it is the growth patterns of all manner of flora and fauna. It's also present in every cultural art and design or textile design through the usage of knots, curves, spirals, waves or circle. There is no straight-like particle in nature. All these are fundamental characteristics of the essential energy of my sculptural forms.
My previous works also notify about the close connection with East Asian culture through Calligraphy; one of the most important aspects of Asia's daily visual aesthetics. I like using metal, steel, wood, stone, and love to mix these materials. They are permanent materials that signify infinity. I practice truth to materials, which is allowing the materials to be flawed if that is their case. I may not curve a wooden sculpture base just to keep the natural essence of 'uncarved block' material. I like to bend or curve the rules, which I personally believe helps to foster innovation.
DB: What is the inspiration for the exhibition?
RZ: This exhibition is to celebrate the Chinese Year of Monkey. I have created the large-scale sculpture of eight monkeys and a tree in the atrium, and two further playfully designed features that consist of monkeys, to inspire happiness and bring luck to all customers of One Central Macau. Of the twelve animals of the Chinese Zodiac, the monkey is believed to be the most spirited and intelligent creature, as reflected by the exuberant artwork. With a resplendent veneer of 'lai see' (lucky money) vermillion, reflective gold, and silver, the Ten Auspicious Monkeys and the Tree of Infinity connotes the traditional Chinese New Year blessings of abundance and prosperity.
Infinity is important to mankind as it is the reason why we are on the planet. I always receive a higher appreciation in Asia than by Western opinion. I sculpture the abstract infinite series in the exhibition but this is arguable because my art is perhaps better understood in Asia. I create a sense of understanding in One Central Macau by giving my monkeys' bodies an array of flowing, cursive lines. One is instantly aware of the animal's image.
DB: What elements of Macau have you brought into your artworks?
RZ: Macau is significant for its lucky elements, as you could find a number of luck and wealth symbols in Casinos! I would like to introduce this positive energy to the environment through my work. Monkeys are also considered to be a symbol of great luck and abound with positive energy. Concurrently the Tree of Infinity symbolizes growth and a source of life that connects all the forms of creation. So I created a gold-leafed sculpture Lucky Golden Monkey under the Tree of Infinity with copper coins on its right hand, so as for visitors to touch its outreached hand and receive good fortune, and sense the harmonious blessings for the New Year.