近日,广州四季酒店位于100楼的佰鲜汇餐厅2020焕新归来,由曾在米其林星级西餐厅任职的新任主厨曾志仁掌勺,全新推出环球海鲜盛会全新菜单,以色、香、味俱全的佳肴缔造耳目一新的餐飨体验,全新诠释由鲜美海鲜以及轻法式西餐的所带来的巧妙融合和滋味碰撞。
This June, Four Seasons Hotel Guangzhou relaunches the western speciality restaurant Catch – featuring a new Chef de Cuisine, Jeffrey Zeng, and his all-new spectacular seafood-themed menu.
曾志仁主厨Jeffrey曾在中山、广州、澳门等多地的高级西餐厅工作过,多地不同的饮食文化荟萃为他的作品注入了很多灵感,并结合现代人注重营养健康的观念,打造相对轻盈的口感。柚子蟹沙拉是"小清新"代表,主厨创意结合了日式的做法,将蟹壳打碎制作成为凝胶,充满鲜蟹的海洋味道,搭配上爽脆清新的柚子汁,口感清爽适合夏日食用。另外清酒鸭胸更是运用充满了和风味道的日式烹调手法,香烤用清酒和日式酱油腌制过的鸭胸,再配上带有略甜焦糖的味噌汁,让人胃口大开。48℃智利三文鱼,精选肥美的智利产三文鱼,采用恒温48℃慢煮的手法烹调15分钟。轻量使用黄油之余,更创意地结合百香果和中式生抽混合调配酱汁,中和三文鱼丰美脂肪带来的油腻口感,让菜式更独具风味。
Chef Zeng specializes in French and Italian cuisine with deep experience in China and Macao, most recently at the Robuchon au Dome restaurant. The Chef's most notable dishes include his signature 48℃ Chilean Salmon, slow cooked for 15 minutes at a constant temperature of 48℃, then drizzled with Passion fruit juices and Chinese soy sauce, to heighten the flavor. Other highlights include Crab and Yuzu Salad with Seafood Jelly, stuffed with Caviar and Seaweed Crisp and Grand Kaluga Sturgeon Caviar served with blinis, sour cream, chives, and shallots. The menu is underpinned by prime cuts of meat and poultry combined with the very best seasonal produce available.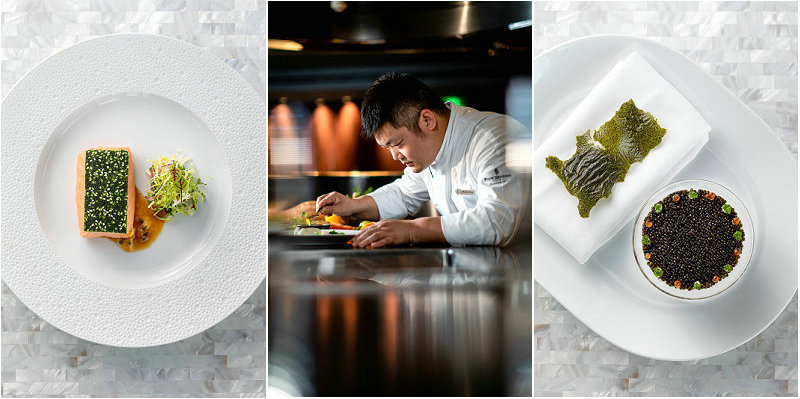 ---
广州四季酒店
Four Seasons Hotel Guangzhou
广州市天河区珠江新城珠江西路5号
5 Zhujiang West Rd., Zhujiang New Town, Tianhe District, Guangzhou
Tel:+8620-8883-3888
www.fourseasons.com/guangzhou