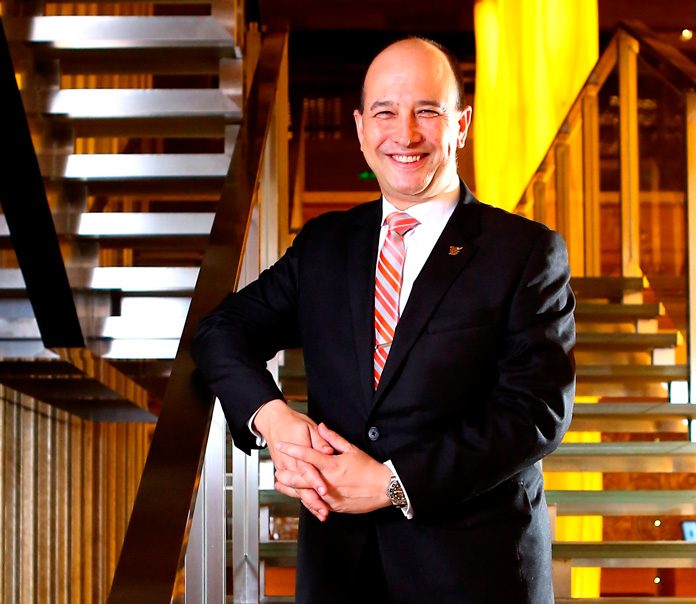 Colin Young-深圳 J.W. 万豪酒店的总经理-GM, J.W. Marriott Hotel Shenzhen.
"Image when you walk into a Chinese restaurant, you experience the attractive smell of the room, that is like the first appetizing starter. Then you get to enjoy the inviting music playing in front of you, that's another course. Then it comes to the beautiful table setting, the flower decoration, all these are just the starters – food for your senses. Following this is the choosing of food, which has been picked to represent the 5 traditional Chinese philosophy elements–metal, wood, water, fire, and earth, served in beautiful fine porcelain Chinaware. That's not yet the complete experience though, you have got to have the carefully selected teas from different regions of China to pair with your dishes". Speaking passionately about the latest culinary hit in Shenzhen, which has been launched and named "Ru Yi Banquet", the General Manager of J.W. Marriott Hotel Shenzhen Mr. Colin Young sat down and shared with DB about this new menu. He spoke about this extraordinary dining experience with which J.W. Marriott Hotel Shenzhen aims to take Chinese fine dining to new heights.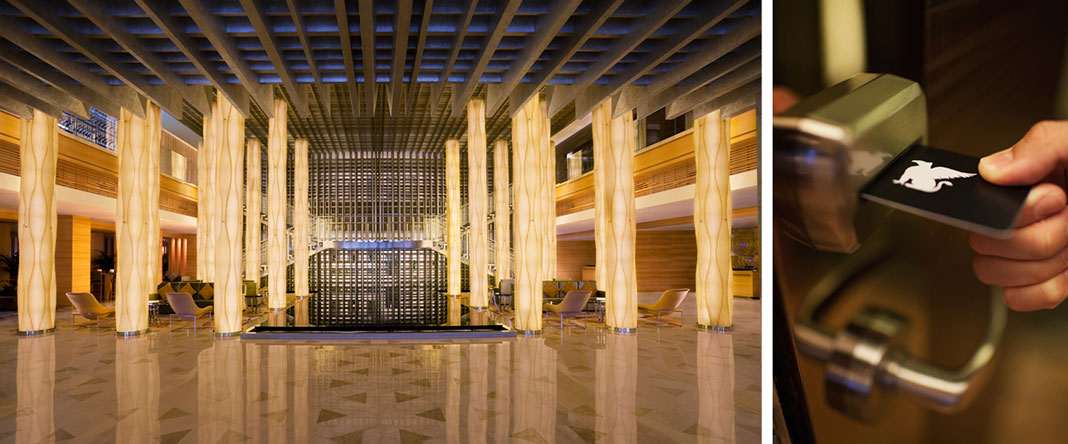 J.W. Marriott Hotel Shenzhen is going to celebrate its 7th anniversary in the coming year of 2016. Guests can sit in the Executive Lounge on the 27rd floor and take in the amazing view overseeing its surroundings, whether it's the high-end golf course, the busy Tian'An digital market and the fast developing neighborhood of Futian District, guests can get a great view and feel the vibrancy of the city of Shenzhen. J.W. Marriott Hotel Shenzhen keeps delivering fantastic surprises to its guests, such as the recent "Ru Yi Banquet", one cannot help to ask if there is a secretive Charlie's Chocolate Factory inside the hotel, which is full of magic and wonders.
"We have a very motivated and innovative team here at J.W. Marriott Hotel Shenzhen" said Colin Young. He further explained, "The city of Shenzhen has changed completely to what it was like almost 8 years ago. Many international chain hotels have entered this market. So, in order for J.W. Marriott Hotel Shenzhen to keep up with the competition, we have got to have new ideas. 'Ru Yi Banquet' is one of our most recent and exciting products that is specially designed to bring back the traditional Chinese dining experience to our guests".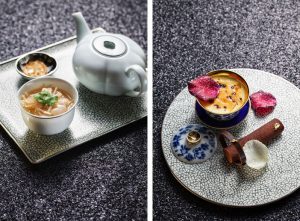 Colin comes from Australia where there is a diverse dining culture and with the influence of his father who is originally from Hong Kong, as well as the strong catering background in his career, he is well-acknowledged of the long history of Chinese dining. When Colin was asked how he came up with the idea of "Ru Yi Banquet", he replied, "For many guests who come from another country, the best way to get close to another culture is through food. Dining culture is like artwork, chefs spend years to learn how to cook and so guests can appreciate the beauty. But today, most guests who come to hotel restaurants are simply there to enjoy good food. I observe and realize that the art of fine dining from the guest perspective – how to really enjoy the dining experience with all your senses has arguably been lost". The idea of "Culture Banquet" has again, started to grow with J.W. Marriott hotel's design team working together with the porcelain design and manufacturing company Legle France who also holds the same believe to bring back the appreciation and complete dining experience with all senses involved.
"What would most likely excite guests today apart from the fine food are stories behind the food". With this understanding, Colin and his catering team was then inspired by the 5 traditional Chinese philosophy elements. "When designing the J.W. Marriott Hotel Shenzhen, these elements are also utilised in a discreet and subtle way. For instance, when guest walks into the hotel, there is a water fountain that represents water, the 18 golden pillars that represent metal (jin) as well as elements in the decoration features around the hotel. Chinese guests are familiar with these elements. It is part of the culture. We then decided to put these elements into our menu". However, to pair tea with every dish was the final touch to add up to this extraordinary "Culture Banquet".
A successful hotel should never cease to excite guests with new ideas, products, and service. Thanks to Colin and his catering team, J.W. Marriott Hotel Shenzhen has showcased its creativity and continues to provide quality products and service to its guests at the same time. Its brand's promise is once again well delivered: quiet luxury with crafted experience and intuitive service.