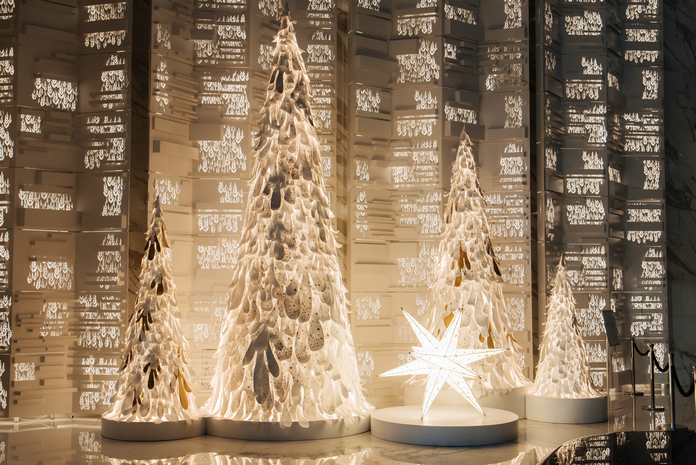 为迎接年度普天同庆的佳节,广州四季酒店精心准备了一系列"元冬艺境"庆祝活动,将"愿望森林"艺术装置矗立在以冬日雪白为设计理念的大堂之中,打造与别不同的圣诞节。酒店即日起至跨年期间将换上梦幻的节日布置,令宾客恍如置身于冬季雪国空间。酒店首度与当地知名逵园艺术馆以及纸雕艺术家温秋雯合作,将树状纸雕艺术装置"愿望森林"搬到70层大堂,打造冬日艺术之境,增添圣诞气氛。艺术家透过纸雕树枝桠和金银色的树叶点缀、创造出光线透过缝隙,在树木伫立的森林中散发光芒的观看感受,表达对冬日中光明温暖的美好向往。卓越餐饮团队为迎合圣诞主题,打造了法式海鲜大餐、意国丰盛美食、粤式风味佳肴以及和风东瀛美馔等寰球佳味,缔造年末欢庆聚会的美食盛宴。同时屡获国内外殊荣的花水疗中心推出的精美节日产品礼盒和云端欢悦居停的奢华住宿礼遇,为佳节倍添欢庆气氛:
Four Seasons Hotel Guangzhou is getting ready for the most magical time of the year. The festive celebrations will be featured from today until New Year's day. Begin your festive journey by visiting The Wishing Forest in the hotel lobby, where several illuminated white trees, made of recycled fireproof materials, take centre stage. Artist Wen Qiuwen (Small D) has designed and handcrafted these unique and beautiful simulated Christmas trees that illuminate the lobby and create a very special atmosphere. The trees appear to stand tall after a heavy snowfall, and the shapes of the leaves and trees blend together to create a dazzling forest landscape.
---
 丰美意式节庆盛宴 Sumptuous Festive Feasts at Caffe Mondo 
72/F | 意珍 Caffe Mondo
与家人好友共享丰盛美馔,开启年末欢乐季。在意珍品尝一系列意式精选美食:鲜美海鲜、每日手工制作比萨和意面、地道开胃菜和甜品等。除此之外,更可畅饮气泡酒、店选葡萄酒、本地啤酒、软饮及果汁,将欢乐气氛推向高潮!
On Christmas Eve, Christmas Day, New Year's Eve and New Year's Day, enjoy the merriest moments with your family and friends over a sumptuous lunch and dinner buffet created with all the favourite holiday treats. Guests can ring in the New Year at Caffe Mondo with a signature blend of local and international cuisine featuring Italian specialities such as fresh seafood, handcrafted pizza and pasta, authentic antipasto, Italian desserts and much more. Guests can also enjoy free-flow sparkling wine, house wine, local beer, soft drinks and chilled juices.
---
 浪漫星空烛光晚餐 Festive Delights at Catch 
100/F | 佰鲜汇 Catch
与爱人沉醉在星空烂漫的旖旎夜景中,一尝曾在米其林三星法式餐厅任职的Chef Jeffrey以优质食材入料,匠心打造的五道式精致美馔,感受浓厚节日气氛,享受澳洲M9+和牛西冷、波士顿龙虾、奢华鱼子酱等优质精选食材共同缔造的节日盛宴,搭配馥郁香醇的葡萄酒,为晚宴增色不少。价格两位2588*元起。
On Christmas and New Year's Eve, the set menus at Catch will feature the freshest and highest quality Seafood and Steaks. Savour the mouth-watering cuisine while taking in sweeping views of the Pearl River and Guangzhou skyline. Catch offers couples exclusive, private seating with an intimate atmosphere for holiday gatherings. Festive five-course set dinner menus feature exquisite dishes made with premium ingredients and are paired with an exquisite wine selection, ideal for family get-togethers or an intimate romantic couples evening.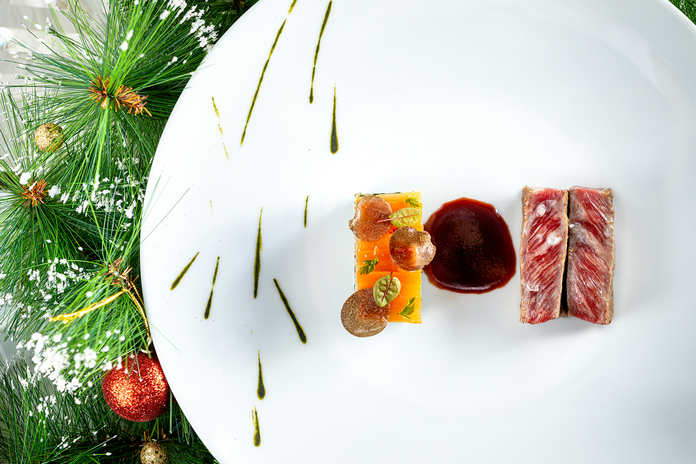 ---
 喜迎2021狂欢派对 Holiday Cocktails and Nibbles at Tian Bar 
99/F | 天吧 Tian Bar
以美酒衬托节庆夜,让城中潮流人士,交映在烈酒的辛辣刺激与香槟的醇厚蕴味之中,相约而至于高空撩人夜色中晃动酒杯,随音乐摇曳舞动,迎接2021年的华丽登场。价格988元起,含一瓶巴黎之花香槟。
Celebrate the end of the year by moving your body to the beat, topping up your wine glass and enjoying a starry view. An enviable selection of fine spirits and delicious nibbles awaits you at Tian Bar this festive season. On New Year's Eve guests can select the Perrier Jouët package which includes a bottle of Grand Brut champagne or Rosé champagne. Book a table and enjoy live entertainment from 7:00 p.m. until 1:00 a.m.
---
 圣诞绚彩下午茶 Christmas Afternoon Tea at the Atrium 
70/F | 中庭酒吧 Atrium
即日起至2021年1月6日,西点行政总厨麦建城奉上高级香槟白以及经典红绿配色的圣诞主题咸甜美点。主厨采用法国殿堂级巧克力品牌法芙娜,打造馥郁浓厚的巧克力甜点,可爱度满分且状如"小圣诞树"巧克力花生三明治和"小麋鹿"草莓白乳酪挞更是十分吸睛,搭配冬日限定热巧克力暖饮,营造冬日暖意洋洋午后。精致美点与香槟尤为合拍,在全景落地窗旁,享受城市天际线及珠江两岸美景,度过一个幸福满载的冬日午后。价格两位528*元起。
The Atrium offers a breath-taking retreat where you can enjoy a special festive afternoon tea from 26 November to 6 January. Visitors can celebrate the holidays with a spectacular view of the skyline and a festive procession of refined savoury treats. The seasonal favourites include warm scones followed by classic pastries and decadent confections, including Black & White Sesame Profiteroles, 64% Dark Chocolate & Cassis Slices, Chocolate Forest Cubes, and Strawberry Fromage Blanc Cheese tarts. For a rich and creamy pairing, a bottle of champagne can accompany the festive afternoon teas.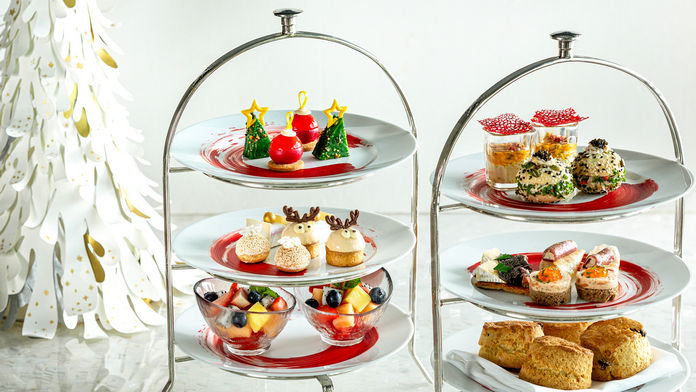 ---
 云端欢悦节日居停 A Jubilant Stay in the Clouds 
在伸手摘星辰的舒适客房中同享曼妙梦幻一夜,在99层云端之上的行政酒廊感受城市霓虹的臻致浪漫。入住礼遇包含:
Guests will forge unforgettable memories this holiday season at Four Seasons Hotel Guangzhou with its indulgent Festive Escape Room package, which includes:
一晚入住奢华景观客房
双人行政酒廊礼遇(精致早餐、下午茶、小食和饮料)
酒店餐厅食品消费尊享八五折优惠(仅适用于云居、佰鲜汇、意珍、愉粤轩)
精美欢迎水果盘
Spacious guestrooms featuring panoramic views of the city's skyline
Access to the 99th floor Executive Club Lounge for two with exquisite afternoon tea, evening drinks, hot snacks and much more
Enjoy an exclusive 15% discount on food only at the hotel's restaurants
In-room welcome fruits.
---
 臻致宠爱时光 Enjoy the Treats at Hua Spa 
69/F | 花水疗 Hua Spa
花水疗中心精选三份圣诞宠爱礼遇,让您从内到外散发精致迷人魅力,在年末聚会中绽放闪耀光彩。
Hua Spa presents three wonderful festive offers to pamper yourself inside and out. Our Spa guests will be the shining stars at year-end parties and gatherings.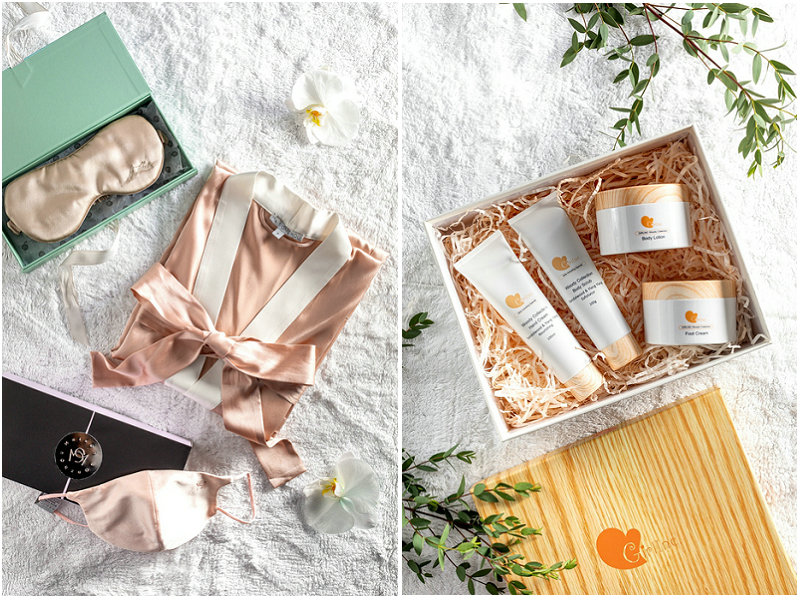 年末给爱的人送上节日祝福,精致的礼物寄托了无穷心意。融汇中西设计理念的法国丝绸品牌MAISON SONZHOU「颂周」产品,含丝绸睡裙、眼罩、口罩各一个;采用了英国小众有机身体护理品牌GIRLINC产品的有机田园护肤礼盒,除了护手霜、身体磨砂膏、足部滋养霜和檀香身体乳之外,还附赠荣获SpaChina年度环保绿色疗程大奖的宠爱至极身体护理90分钟礼券一张,给身体全方位的宠爱。
Two gift sets are good choices to deliver festive wishes to your loved ones. The gift of Luxury Silk Lingerie includes MAISON SONZHOU lingerie, a French luxury silk brand that combines Chinese and Western design elements. The set includes a silk dress, silk eye cover and silk face mask (one of each). The Organic Garden gift set includes Girlinc hand cream, body scrub, foot cream, body lotion and one spa voucher for a 90-minute ultimate care body treatment. Girlinc is an organic British body care brand that uses premium ingredients including sandalwood and ylang ylang.
与另一半一同享受私密放松时光,于花水疗中心体验双人舒缓按摩、蒸汽浴及浪漫花瓣泡泡浴。更尊享法国奢华肌肤护理品牌GEMOLOGY产品,含洁面乳、眼部精华、身体乳及钻石凝时面霜各一件。
Couples can get ready for party season with a 90-minute massage, a private steam and a romantic bubble bath with champagne for two! French luxury skincare brand GEMOLOGY products including face cleanser, eye serum, Blue Amber body milk and Youth Diamond cream will be included in this package.
---
 应节丰聚礼篮 Festive Gifting at Dolcetto Patisserie 
首层 Ground Floor | 意溢 Dolcetto Patisserie
意溢更准备了应节丰聚礼篮,满载一系列意式圣诞美食佳酿:经典香醋、气泡酒、姜饼人和圣诞面包等,传递节日美好祝福。还有可爱度满分的圣诞老人、棒棒糖及雪花层层叠等节日限定巧克力甜品,尽在意溢。
Wonderful as a gift for others or for yourself, Dolcetto Patisserie's desserts are an iconic representation of our Executive Pastry Chef Mak's iconic talents. To honour the holidays, he has crafted an array of limited-edition creations, ranging from Christmas themed chocolates, mouth-watering desserts, Italian traditional Stollen and stunning festive hampers.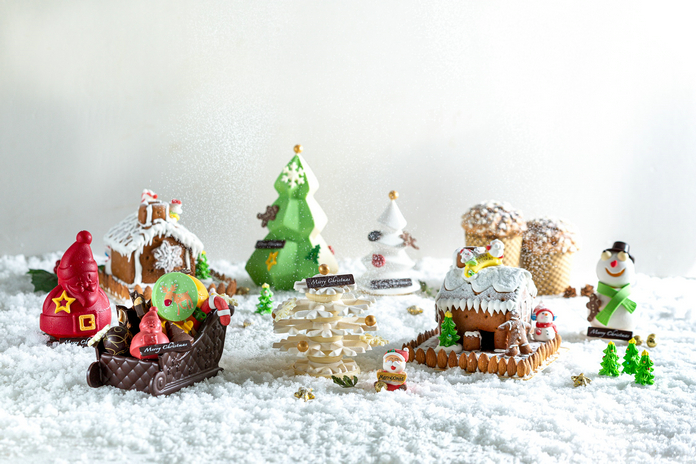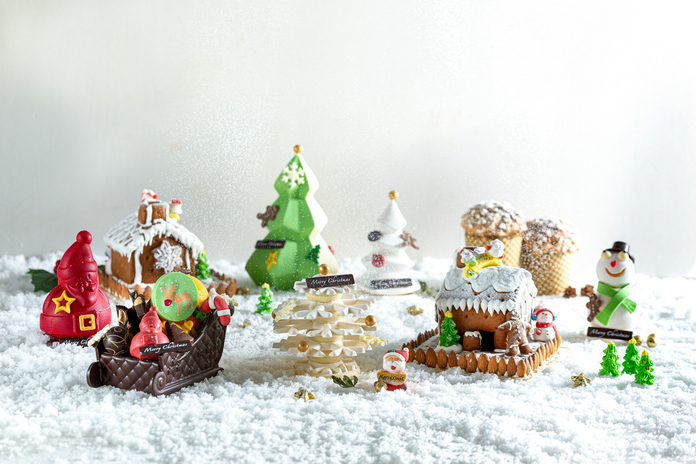 ---
 欢聚晚宴 An Elevated Celebration at Kumoi and Yu Yue Heen 
71/F | 愉粤轩 Kumoi
72/F | 云居 Yu Yue Heen
亲临米其林一星粤菜食府愉粤轩,麦师傅将呈献鲜人参炖竹丝鸡,油焖大虾皇,脆皮乳猪夹等经典粤式佳肴,与亲友欢聚一堂,乐享天伦之乐。
或在可远眺城市景观的日本餐厅云居,一边细看云卷云舒,一边尝味东瀛和风滋味。
Enjoy an authentic Japanese festive set dinner while taking in the breath-taking views of the Guangzhou skyline, or gather your family for an authentic Cantonese dinner presented by Chef Mai at Michelin One-Star Cantonese restaurant Yu Yue Heen!
---
广州四季酒店
Four Seasons Hotel Guangzhou
广州市天河区珠江新城珠江西路5号
5 Zhujiang West Rd., Zhujiang New Town, Tianhe District, Guangzhou
Tel:+8620-8883-3888
www.fourseasons.com/guangzhou