广州珠江新城CBD商务午晚就餐好去处!位于广州卓美亚酒店的斯塞尔西餐厅近日推出了全新的意大利美食餐单,足不出户,唤醒你的美食"意"识。
Chinserie Restaurant at Jumeirah Guangzhou presents Italian Gastronomia set menu which will not only provide the fuel that you need to get you through the day, but it will also take you to a culinary journey to Italy while you just sit back, relax and enjoy at the heart of Guangzhou CBD.
低温煎卡帕奇欧小牛里脊肉,经过烹饪冷处理过的牛肉与传统刺身做法截然不同,换来之的是甘香,更加迎合本地食客的口味;红皮土豆奶油汤,来自南美洲秘鲁的惊艳食材,香气丰富,棉纱口感与奶油完美融合;还有墨鱼汁意大利烩饭,红酒慢煮牛脸肉,意式菠菜饺子等经典菜式。
Highlights in the menu: Sous Vide Seared Veal Carpaccio, different to the traditional cold cut, this is served seared to satisfy local CBD dinners; Creamy Red Potato Soup, with special red potato from Peru, rich in flavour and gives a grain-like touch to the palate; Classic dishes, including Italian Spinach Ravioli, Sous Vide Red Wine Braised Beef Cheek with Potato Gnocchi, and Risotto Nero.
主厨推荐 | Chef's Recommendation
低温煎卡帕奇欧小牛里脊肉
SOUS VIDE SEARED VEAL CARPACCIO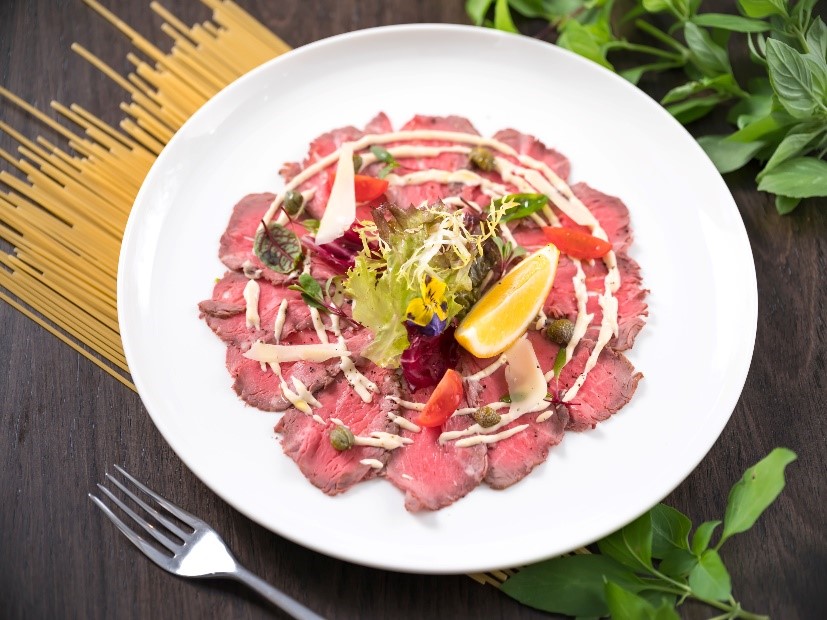 与以往刺身的传统做法不一样,主厨为了迎合本地食客的口味,将肉质鲜嫩的里脊肉低温烹饪后迅速冷藏,冷热交替后的肉质更加甘香可口。在食用时,主厨将里脊肉再进行切片,配以传统意大利式制作的金枪鱼酱、柠檬汁和辣椒汁作为蘸酱,最后搭配水瓜柳平衡整道菜的酸甜度,作为传统意大利前菜的新做法,带出了新的意式滋味。
Unlike the traditional cooking method, the chef cooks the tenderloin at low temperature and quickly refrigerates it after that which make it more succulent, sweet and delicious. When serving the dishes, the chef slices the tenderloin and uses traditional Italian-style tuna fish sauce, lemon juice and tabasco as condiment. Also it is paired with capers to balance the sweetness and sourness of the whole dish as a traditional Italian appetizer. The new approach brought out a new Italian taste.
红皮土豆奶油汤
CREAMY RED POTATO SOUP
红皮土豆源自"土豆之乡"-南美洲秘鲁,比起黄皮土豆营养更丰富,香味更加浓烈。用意大利橄榄油下锅,将意大利香肠,洋葱,蒜头和卓美亚自家香草园种稙的新鲜罗勒叶再加上去皮后的土豆炒香后,加上鱼汤和法国奶油,小火煮开再用搅拌机打成糊状后调味,将炒至香脆的三文鱼、卓美亚罗勒叶点缀,土豆奶油的浓郁、意大利香肠的独特咸香风味、还有三文鱼的鱼香醇厚口感,看似简单的红皮土豆奶油汤实则真材实料,绵密甘香可口。
Stir-fry with Italian olive oil, salami, onions, garlic, Jumeirah garden basil leaves, peeled potatoes and then add fish soup and French cream to boil up. Blend it until smooth and season it. Served with crispy salmon and the unique flavor of Italian sausage, the soup contains abundant ingredients which brings your taste buds creamy and smooth experience.
墨鱼汁意大利烩饭
RISOTTO NERO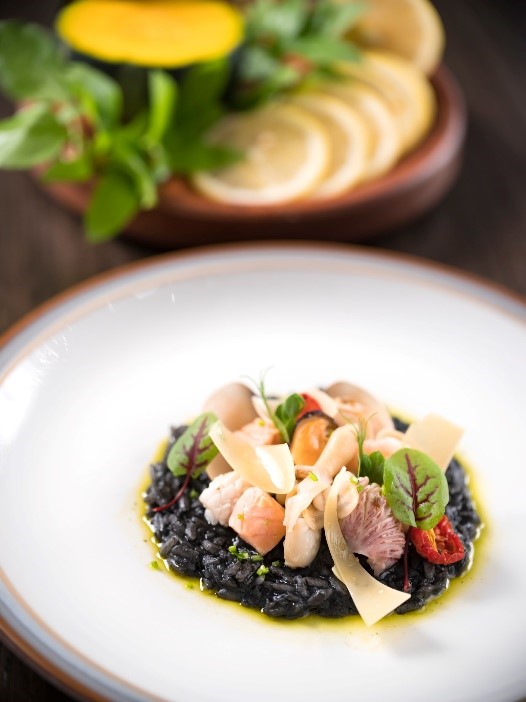 RISOTTO意大利烩饭是意大利菜系其中一种极具代表性的意大利国菜,主厨用橄榄油起锅,将干葱,蒜头加入墨鱼汁,白葡萄酒,再下意大利米炒香后加入鱼汤煮至八成熟左右后拿起备用;另外用黄油,蒜将带子、虾仁、蛤蜊等海鲜大火炒熟,加入白葡萄酒增加海鲜风味,放入已备好的意大利烩饭,加上帕马森芝士,黄油和意大利香菜碎调味,煮至浓稠即可。意大利烩饭原有的嚼劲、黄油与芝士的醇厚香浓以及丰富的海鲜三重口感同时在口腔中相互交融,迸发出难以忘怀的味蕾体验。
As one of the most representative dishes in Italian cuisine, the chef uses olive oil to stir-fry the dried shallots and garlic with cuttlefish ink, white wine, and Italian rice. Pour the fish broth into the rice, boil up and put aside. On the other side, use butter, garlic and white wine to stir-fry the mixed seafood. Then put the prepared risotto together and add the parmesan cheese, parsley and butter to season it. The original chewiness of risotto, the mellow aroma of butter and cheese, and the mixed seafood bursting out multiple and magnificent dining experience.
提拉米苏
TIRAMISU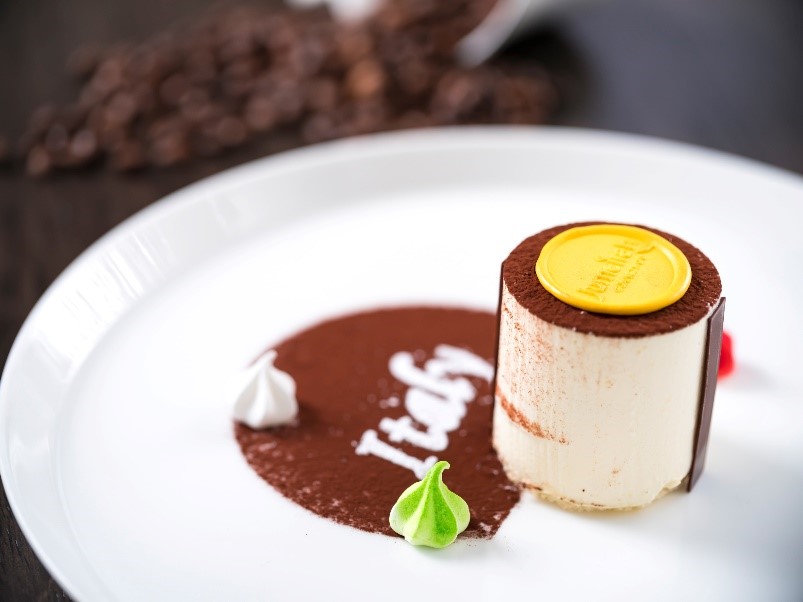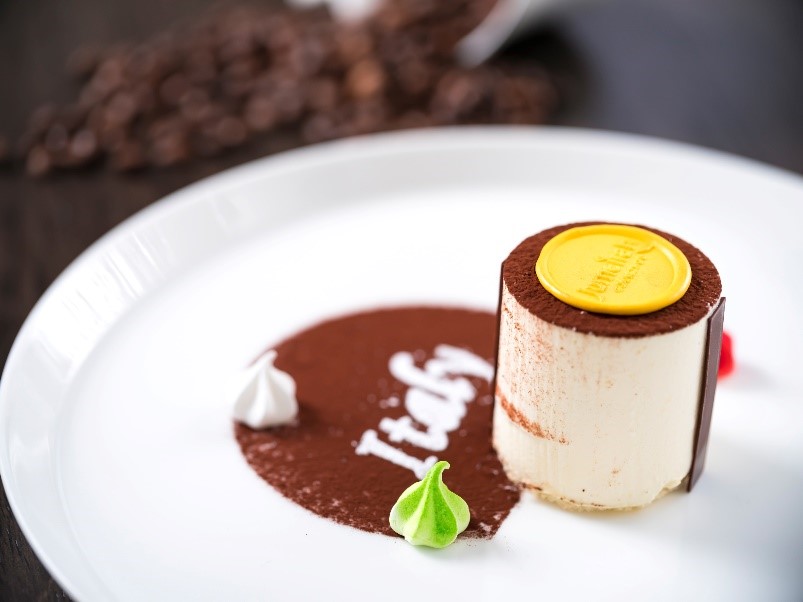 作为意大利甜品的灵魂之作,提拉米苏的基调便是使用意大利马斯卡彭芝士,再加入鸡蛋黄和打发奶油,将夹心手指饼干蘸上意大利特浓咖啡后与芝士的层层相遇,芝士的香甜被咖啡的微苦平衡得恰到好处,与其他只有甜味的甜品相比更有个性。
As the soul of Italian desserts, the essential element of tiramisu is the Italian mascarpone cheese, along with egg yolk, whipped cream, finger biscuits and espresso coffee. The unique combination of the sweetness of cheese and the bitterness of coffee, which make it distinguish from any other desserts.
除了以上菜式,还有多款主题菜肴可供散点或套餐让您选择,散点菜品仅需68元起。In addition to the chef's recommend, there are also a variety of selections are available for a la carte or set menu, starting from RMB 68.
---
"意"恋情迷意大利主题美食
Italian Gastronomia Set Menu
2021-01-01 to 2021-02-28
广州卓美亚酒店六层斯塞尔餐厅
Chinserie Restaurant, 6F, Hotel
广州市天河区珠江东路12号
No.12 Zhujiang East Road, Tianhe, Guangzhou, China
Tel: +86 20 – 8883 8888