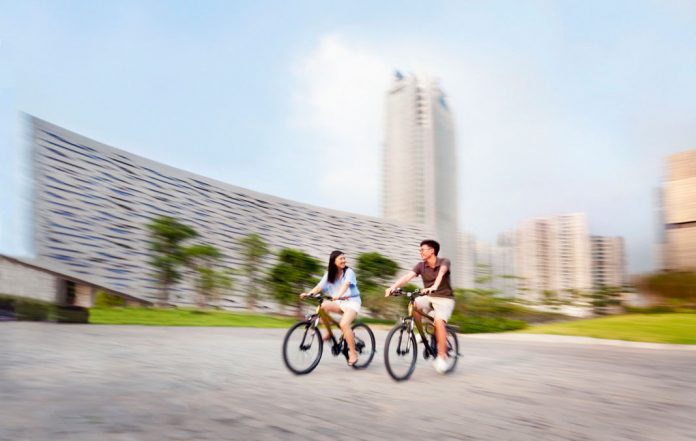 广州富力丽思卡尔顿酒店为方便客人探索这座千年文化底蕴与时尚气息兼备的大都市,礼宾部可根据要求提供精彩羊城探索之旅,无论是骑行或慢跑,还是珠江游船,让客人选择不同方式感受目的地文化、丰满旅行的意义。
For guests to explore this South China metropolis with a thousand-year-old culture and traditions, the Concierge of The Ritz-Carlton, Guangzhou offers a customized Guangzhou Discovery Tour itinerary and reservation service tailor made to guests' liking. Guests can choose cycling, jogging or Pearl River night cruise, experience the city in different ways and enrich their travel adventure.
"骑"士精神探索艺术之旅
著名作家海明威喜欢骑单车,他觉得"只有骑车才能充分领略一个国家的精髓",酒店近日与Cycle Canton 骑行组织合作,帮住骑行爱好者预订单车租赁服务,以及精心设计的自行车骑行路线。对于艺术爱好者来说,可骑车沿着珠江河岸,从西至东探索广州横向文化轴线。从充满精致的艺术画廊与咖啡馆的东山出发,沿路二沙岛,星海音乐厅、广州美术馆掩映在广阔的绿地中,各种艺术雕塑散布周围。10分钟车程骑回珠江新城,必经璀璨的文化地标广州大剧院,由著名设计师扎哈•哈迪德设计,奇特的外形充满奇思妙想。跨过中轴线往东,到达充满新鲜创意活力的红专厂,这里是集设计、艺术、文化及生活的创意文化产业区,可以让人体验到别具特色的现代艺术文化。
价格:300人民币/人,骑行线路由具有多年骑行经验的专业自行车领队带领,还可提供各种不同的骑行路线。在骑车探索之旅中,骑行组织者Cycle Canton还会与您分享街头巷尾有趣的民间故事。
Contemporary Art Cycling Tour
Hemingway, a renowned writer, was very fond of cycling. He said, "It is by riding a bicycle that you learn the contours of a country best". The Ritz-Carlton, Guangzhou partners with Cycle Canton to offer bicycle-hiring services with well-designed routes for cycling enthusiasts. Art buffs can ride along the Pearl River and explore Guangzhou's inner art hotspots. Starting from Fei Gallery in historic Dong Shan Kou, where a host of art institutions and cafes are located, cycle through Xinghai Concert Hall and Guangdong Museum of Art on Ersha Island. Bask in capacious green landscapes and various sculptures interspersed around. The tour will make a stop at Guangzhou Opera House in Zhujiang New Town. Designed by Zaha Hadid, it is a treasure house of art that regularly features world-famous operas. Head east and arrive at the creative Redtory, which has nurtured a vibrant cultural industry and made herself the central art district in Guangzhou.
Price: For RMB 300 per person, the tour is led by an expert bike explorer with years of experience cycling across the city. Other signature routes highlighting cultural or culinary trails tours are also available. During the tour, the guide will share many interesting local tales.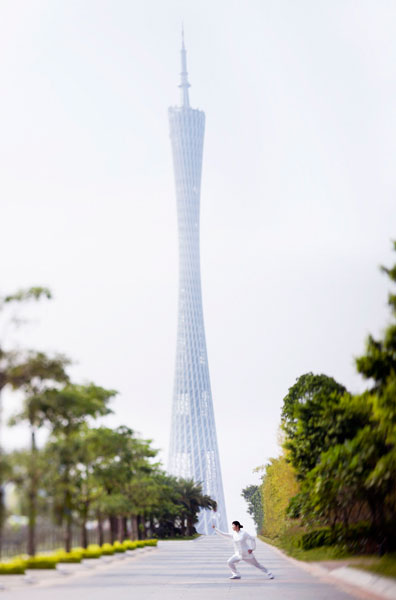 各种时尚出行体验羊城
此外,乘船游览珠江是不可错过的观赏秀丽景色、解读广州羊城文化史迹的必选行程。由西向东,可沿着珠江两岸一路去追寻广州悠久的历史。游弋在珠江对面沿岸、起始于广州塔的有轨电车,不仅有着超萌玩偶的儿童专列,以及包含了设计、艺术及时尚等精彩内容,带领乘客游览风景如画的7.7公里!而近日刚开通的红色双层观光巴士,身着靓丽的广府文化图案,提供城市新中轴线、千年古城线、西关风情线三条线路,也是感受羊城的另一种特别体验。步行爱好者还可以,漫步于毗邻酒店的、被誉为"城市会客厅"的花城广场,看高楼林立的摩登现代都市、多个文化地标建筑;新城市中轴线从中划过,感受花城的独特之美。
A Variety of Options to Travel in Style
Pearl River Cruise is a must-do for guests who want to learn more about Guangzhou's history. From west to east, passengers not only get to appreciate beautiful scenery and the riverside night view, but also disembark on the middle berth and explore the time-honored history and culture of the city. In addition, guests can take the Young Tram, which starts at Canton Tower and travels along the other side of the Pearl River. Apart from adorable cartoon series designs, it also features art and fashion elements. Along the 7.7-kilometer tourist route, passengers can enjoy the sights and the picturesque scenery. The first batch of double-decker buses with eye-catching traditional Cantonese patterns were just been launched recently. It is also another great way to experience Guangzhou. Guests get to experience the unique charm of the "Urban Lounge," Huacheng Square, on foot in Zhujiang New Town, where Fortune 500 enterprises, Citizens Plaza and many more cultural landmarks are located.
即日起12月31日期间,预订入住广州富力丽思卡尔顿酒店客房两晚或以上,即享当日前台价八折礼遇。咨询或预订,请电(86 20)3813 6898 或电邮 rc.canrz.reservation@ritzcarlton.com。
Plan your stay in one of our luxurious rooms and enjoy Guangzhou with Great Savings. From now until December 31, 2016, extend your vacation in Guangzhou and stay for two consecutive nights to enjoy 20% savings on our Best Available Rate.
For more information or reservations, please call Reservations at +86 20-3813-6898 or email rc.canrz.reservations@ritzcarlton.com.