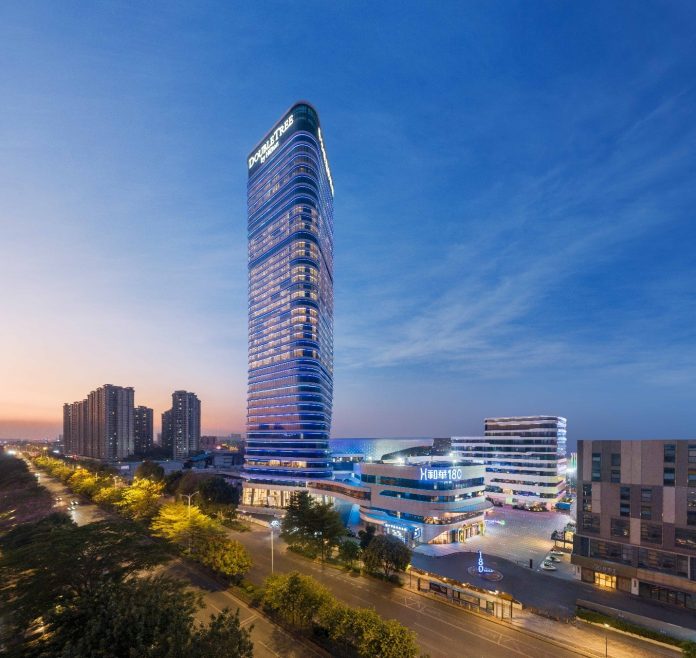 希尔顿近日宣布,佛山南海和华希尔顿逸林酒店在广东省佛山市正式开业,是佛山南海区大沥镇全新商务中心新地标酒店,也是当地首家国际五星品牌酒店。酒店由世界知名的香港郑中设计事务所设计,极具现代感的流线运用为宾客带来时尚前卫的独特体验。置身于52层的天厨全日餐厅,享受美味同时可欣赏佛山城市魅力景观,开启云端之旅。
Hilton recently announced the opening of Double Tree By Hilton Foshan-Nanhai, which is a new landmark hotel in the new business center of Dali Town, Nanhai District, Foshan. Designed by the world-renowned Hong Kong Cheng Chung Design, guests are welcomed into a refined sanctuary where a journey of rare and intimate experiences unfolds in exquisite style. Air Chef all-day dining restaurant is located on Level 52, where guests enjoy cuisines crafted by master chefs up in the air filled with eye-catching city views.
佛山是中国重要的商贸中心、国家历史文化名城。佛山同时是中国龙舟龙狮文化名城,武术之乡,也是粤剧等广府文化的发源地以及传承地,并以出产精美陶瓷闻名。腾飞的岭南古镇,已成为国际大都市,如疾驰的跑车在寻找新的灵感,佛山南海和华希尔顿逸林酒店如太阳般闪耀亮相,为高速发展的大都市带来热情的温暖 。
Foshan is an important commercial center, as well as a national historical cultural city in China. Foshan is a famous for the cultural heritage of dragon boat and lion dance. It is also the hometown of martial arts and the birthplace of Cantonese opera. Moreover, excellent production technique makes it a reknowned ceramics production town. This soaring ancient town of Lingnan has become an international metropolis and is continuously looking for new inspirations. The newly opened DoubleTree by Hilton Foshan Nanhai Hehua is here to bring warmth and hospitality to the fast-growing metropolis.
希尔顿大中华区及蒙古总裁钱进表示:"我们很高兴将希尔顿逸林酒店引入佛山,这是希尔顿在这个城市的第四个品牌,也意味着希尔顿为前来佛山的宾客提供更为多元化的选择;同时,我们相信佛山南海和华希尔顿逸林酒店未来将为潜力无限的南海区旅游业的发展带来不一样的惊喜,为旅客提供温暖亲切的暖心之旅,从这里打开世界,腾飞梦想。"
Mr. Qian Jin, the President of Hilton Greater China and Mongolia, said: "We are pleased to open the first DoubleTree by Hilton in Foshan. This is Hilton's fourth brand opened in this city, it will be together with other Hilton hotels here to provide more diversified choices for guests who come to Foshan. At the same time, we believe that DoubleTree by Hilton Foshan Nanhai will bring different surprises to the development of Foshan's tourism industry with unlimited potential in the future. We are delight to offer all guests a warm and memorable journey, from here to open the world and take off their dreams."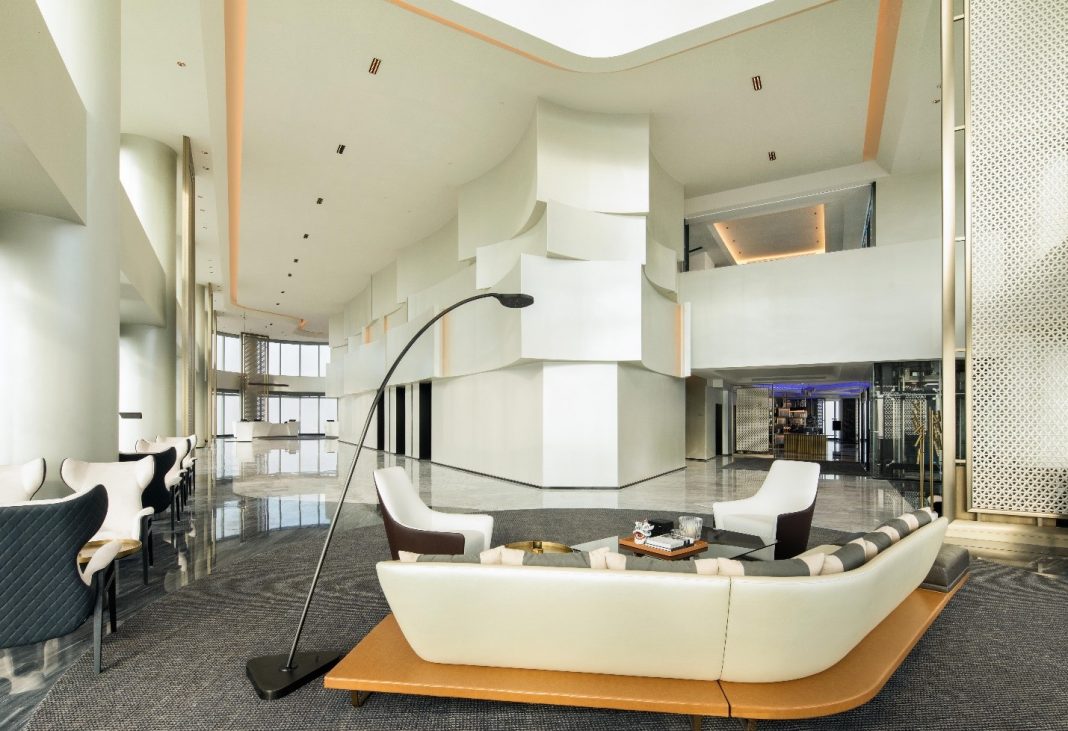 酒店设计极具现代感,通过流线型的室内设计,以疾驰的跑车为设计灵感,巧妙地融合具有现代风尚的赛车竞技等元素,如客房的设计融入了星空灯、赛车跑道等元素,宾客可以充分体验在赛道驰骋后安枕星河入梦的感觉;宴会厅内海浪型LED灯搭配赛车竞技元素的LED灯带,灯光可根据宴会不同的主题色调随之调整变化,带给宾客视觉与感官的愉悦享受。酒店以细致入微、体贴入心的希尔顿逸林的待客之道,为宾客呈现舒适雅致的非凡体验,这一切都从一块暖暖的希尔顿逸林欢迎曲奇开始。
The hotel features contemporary design. The streamlined interior design is inspired by the galloping sports car and cleverly integrates modern racing elements. For example, the design of the guest rooms incorporates elements such as starry sky lights and racing tracks, guests embark on an enchanting journey of discovery through sophisticated contemporary chambers. The wave-shaped LED lights in the banquet hall are matched with the LED light strips with racing competition elements. The lights can be adjusted and changed according to the different themes of banquet as per request, bringing guests visual and sensory enjoyment. The meticulous and considerate hospitality of DoubleTree by Hilton reflects the home of a Foshan connoisseur who loves traveling, art, culture, and most of all, hosting friends from around the world. It all starts with a warm DoubleTree by Hilton welcome cookie.
酒店位置得天独厚,交通便利快捷,坐落于广州与佛山交界处的广佛新干线。举步可达和华180购物中心,在此可获得集时尚购物、休闲美食、娱乐聚会的一站式体验,让酒店成为往返佛山商务出行或休闲旅行者的首选之地。
The hotel is located in the prime location of Guangfo highway at the junction of Guangzhou and Foshan with convenient transportation. In adjacency to Hehua 180 Mall, it provides a one-stop experience of fashion shopping, casual food and entertainment, an ideal place for business and leisure travelers to and from Foshan.
酒店共设有275间设施齐全的客房。所有客房均享有完备的现代化设施,为宾客提供一个静谧、便利的空间放松安眠、恢复活力、焕发灵感。在房间内透过全景落地玻璃,饱览佛山美景,感受空中宁静致远。同时,希尔顿集团启动Hilton CleanStay 希尔顿清洁无忧住,在后疫情时代新常态下,进一步守护宾客入住体验。从预订入住,到退房离店,酒店在前台、电梯间、客房、餐厅和健身中心、酒店车辆等全程深度清洁,每一步无忧住。
The hotel features 275 guest rooms. All rooms are equipped with modern facilities, providing guests a tranquil heaven and convenient space to relax, rejuvenate and inspired. Through the panoramic floor-to-ceiling window in the room, guest can enjoy the beautiful scenery of Foshan and feel the tranquility sky. DoubleTree By Hilton Foshan Nanhai has implemented Hilton CleanStay Program, to help deliver an even safer stay for guests. Building on the already high standards of housekeeping and hygiene at Hilton properties, Hilton CleanStay focuses on an enhanced level of cleanliness visible to guests throughout their entire stays.
酒店特色和服务设施包括:
Hotel features and service facilities include:
餐饮 Food and Beverage
俗语有云"食在广东",佛山更享有"美食之都"之美誉。位于酒店50层和52层两间各具特色的餐厅和酒吧,为居停佛山的宾客带来从味觉到视觉的双重体验。
Since ancient times, Guangdong has the reputation of "Great Food in Guangdong", Foshan fabled as "Gourmet City". DoubleTree by Hilton Foshan Nanhai's showpiece restaurants and bars offer the city's ultimate dining and drinking experiences at Foshan Nanhai 's most elevated entertainment venues. There are two distinctive restaurants and bars on the 50th and 52nd floor of the hotel, bringing guests a dual sensory experience from taste to vision.
•天厨-全日制餐厅 Air Chef All-day dining restaurant :
52层的天厨餐厅,融合中西菜式,从美味营养早餐开始,让客人开启美好的一天。厨艺精巧的厨师在开放式厨房现场烹制各式美味菜肴,从国际美食和零点西餐到粤菜商务套餐,为宾客提供丰富美食选择,全落地玻璃设计,享用美味同时可尽览城市美景。
The Air Chef located on the 52nd floor offers guests inspired dining experiences with Chinese tastes and international treats. Guest starts their beautiful day here with a delicious nutritious breakfast. Professional chefs cook variety of delicious dishes in the open kitchen, from international buffet to a la carte Western food and Cantonese business set menus, providing guests with a sumptuous food enjoyment. Overlooking the skyline of the city, it is a great place for you to indulge in the world of gourmet.
•天吧-大堂吧 Air Pit :
酒店 50层的天吧,提供全天香浓咖啡,精致下午茶点,各国葡萄酒,是良朋好友以及商务伙伴享受时光的理想场所。大堂吧还设有独立包间,提供热情周到的服务和私密的聚会场地。360°全落地玻璃的设计,可俯瞰佛山城市景观,远眺"小蛮腰"广州塔,广佛美景尽收眼底。
The Air Pit on the 50th floor provides all-day aromatic coffee, exquisite afternoon tea, and wines from various countries. It is an ideal place for casual meetings and friends' gatherings. The lobby bar also has private rooms, providing warm and thoughtful services in a private place. 360° floor-to-ceiling window designed offers a panoramic view of the city landscape of Foshan and Guangzhou Tower.
服务设施 Service Facilities
•健身中心 Fitness Center:
所有住店宾客均可享受酒店的健身中心,为宾客提供在旅途中保持活力生活的理想健康配套。配备国际品牌Precor®健身器材的24小时健身中心,将健康靓丽的运动体验及天际云端美景共享,帮助客人身心在入住期间保持良好状态。
All in-house guests can enjoy the fitness center during their stay, which provides guests with state-of-the-art health facilities to maintain an active life during the journey. A 24-hour fitness center equipped with international brand Precor® fitness equipment, supporting guests at their best during stays with an enjoyable "work out in the air" experience.
•室内游泳池 Indoor swimming pool:
恒温无边天际游泳池,畅游城市之上的空中独特体验,并配备按摩池及桑拿,为客人舒缓疲劳。
The heated infinity sky pool provides guests with a unique experience of swimming above the city. There is also options of Jacuzzi and sauna for guests to relieve fatigue.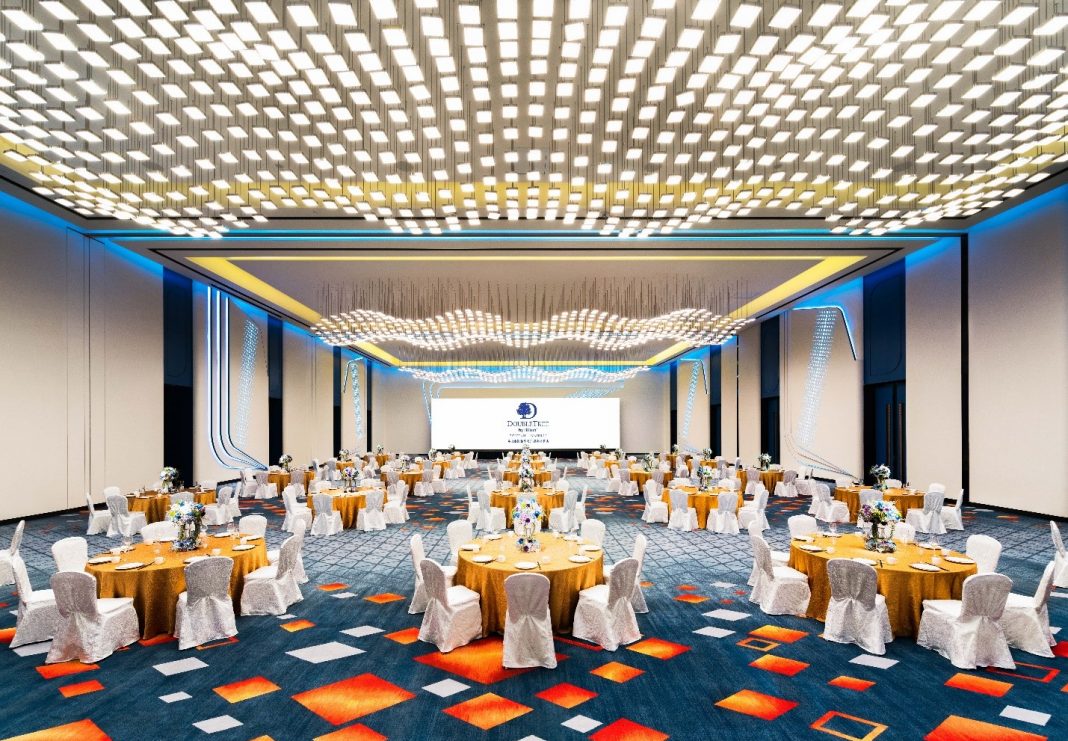 •会议与活动 Meetings and Events:
酒店拥有9间各具特色,总面积达2250平方米的会议活动场地,1200平方米的无柱式宴会厅可拆分3个分厅使用,8间配备先进视听通讯设施和落地玻璃自然采光的多功能厅,无论是婚礼酒会、产品发布、时尚社交活动、还是商务宴会,专业的销售团队及高效优质的服务均可满足不同的活动需求。与此同时,佛山南海和华希尔顿逸林酒店还引入了Hilton Event Ready with CleanStay"希尔顿清洁无忧·安心会",这是一个行业领先的专门针对会议及活动方面升级需求而开发的清洁和服务项目,将会提高会议及活动的安全性, 并进一步提升活动体验。希尔顿将指定专门的团队成员践行热情好客之道,全面支持宾客的会议及活动体验,力求为活动组织者和参会方全程提供超越期待的服务。
Meetings, celebrations and special events are elevated to a new level of exclusivity and style at DoubleTree by Hilton Foshan Nanhai by Hilton brand service and creativity. The hotel features 9 different conference venues, with more than 2250 square meters' function space, 1200 spacious venues are pillar-less, among those the banquet hall can be divided into 3 sub-halls. There are 8 multi-function rooms equipped with advanced audio-visual communication facilities with natural lighting from the floor-to-ceiling windows. Meanwhile, DoubleTree by Hilton Foshan Nanhai also implemented Hilton EventReady with CleanStay, an industry-leading cleanliness and customer service program specific to meetings and events which expands on the elevated sanitation standards of the Hilton CleanStay program. Hilton EventReady with CleanStay addresses every touch point of the meeting experience which will further enhance guests' safety, hygiene needs and event experiences. Hilton will designate dedicated team members to presents a world-class standard of luxury hospitality service, fully support guests' meeting and event experience, strive to provide event organizers and participants with services that exceed expectations throughout the entire process.
正如希尔顿旗下十七个备受赞誉的酒店品牌一样,佛山南海和华希尔顿逸林酒店加入屡获殊荣的宾客忠诚度计划"希尔顿荣誉客会"(Hilton Honors)。希尔顿荣誉客会为全球超过9500万名会员提供非凡礼遇,使他们能够在118个国家和地区超过6, 200家酒店尊享礼遇。希尔顿荣誉客会会员通过希尔顿官方渠道直接预订可享受即时礼遇,包括可让会员灵活选择积分与现金组合预定入住的付款选项、会员专属折扣和免费无线网络。会员还可享受时下最流行的数字技术,通过行业领先的希尔顿荣誉客会专属 APP 登记入住、选择房间,使用电子门卡自如出入酒店并享受最大优惠力度。
DoubleTree by Hilton Foshan-Nanhai is also a part of Hilton Honors, the award-winning guest-loyalty program for Hilton's 17 world-class brands. Hilton Honors provides extraordinary privileges to more than 95 million members worldwide, enabling them to enjoy privileges in more than 6,200 hotels in 118 countries and regions. Members who book directly through the preferred Hilton channels get access to instant benefits, including a flexible payment slider that allows members to choose nearly any combination of Hilton Honors Points and cash to book a stay, free standard Wi-Fi and an exclusive member discount that can't be found anywhere else. Members also enjoy popular digital tools available exclusively through the industry-leading Hilton Honors mobile app where Hilton Honors members can check-in, choose their room, and access their room using a Digital Key.
---
佛山南海和华希尔顿逸林酒店
DoubleTree by Hilton Foshan-Nanhai
佛山市南海区大沥镇广佛路盐步段和华盛世发展有限公司和华商贸广场1座
He Hua Shengshi Development Plaza, Foshan
Doubletree.hilton.com.cn/foshan
Tel: +86 757 – 8667 7777