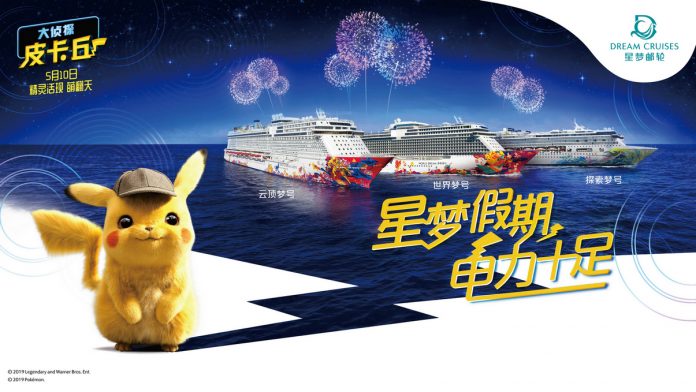 全球首部真人宝可梦电影《大侦探皮卡丘》正在热映,星梦邮轮邀请特别嘉宾"大侦探皮卡丘"登船,为旅客带来电力十足的海上假期。即日起至2019年8月31日,宝可梦迷们可以登上品牌旗下"云顶梦号"、"世界梦号"以及"探索梦号"三艘邮轮,畅玩众多"萌到犯规"的主题活动,开启十万伏特的心动旅程。
Dream Cruises recently announced its collaboration with the new Pokémon Detective Pikachu movie. Through 31st August, Detective Pikachu will make guest appearances aboard the three cruise ships of the Dream fleet, including the Genting Dream, World Dream and Explorer Dream. The cruises will give Pokémon fanatics an immersive and thematic vacation at sea.
由传奇影业、华纳兄弟联合出品的好莱坞真人电影《大侦探皮卡丘》讲述了大侦探皮卡丘(瑞安·雷诺兹 配音、雷佳音担任中文配音)与唯一能听懂自己说话的人类少年蒂姆(贾斯提斯·史密斯 饰)组队在莱姆市寻找蒂姆神秘失踪的父亲的故事,通过一段揭开真相的冒险旅程展现了一个超乎想象的宝可梦世界。
Produced by Legendary Pictures and Warner Bros. Pictures, Pokémon Detective Pikachu tells the story of Detective Pikachu (starring Ryan Reynolds) and Tim Goodman (starring Justice Smith), who are uniquely equipped to communicate with one another and decide join forces on a thrilling adventure in Ryme City, where they uncover mysteries in the Pokémon universe as they search for Tim's missing father.
以电影为灵感,星梦邮轮特别在船上呈献一系列电力十足的主题互动活动,包括欢迎舞会、萌语学院、创意绘画及手工课程等,势要萌翻大小旅客。
During the promotion period, guests aboard Genting Dream, World Dream and Explorer Dream will have the chance to take part in the action with a series of interactive programs at sea, such as Detective Pikachu meet-and-greet, "Power On" language academy and costume party, thematic specialty drinks and afternoon tea sets, arts and crafts workshops and more.
"世界梦号"正以香港及广州(南沙)为双母港,逢周五、周日出发,呈献"一日梦享·大湾邮",2晚周末漫游,5晚冲绳发现之旅、寻味越南之旅以及菲律宾探索之旅等独家行程。
Guests who wish to depart from Hong Kong or Guangzhou, China may embark on World Dream for a variety of short and long-haul cruise holidays, including the 1-day Greater Bay Cruise, 2-night weekend escape, as well as the 5-night itineraries to Okinawa, Vietnam or the Philippines.