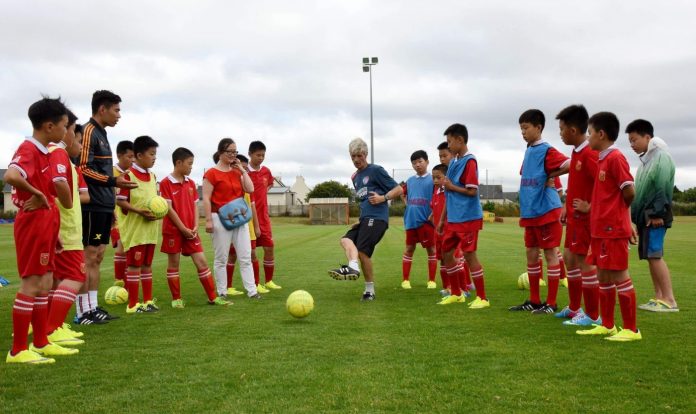 GENE KEMBLE said the number of trainees at his soccer club in Shenzhen has decreased over the past few years as local schools started to respond actively to the national avocation – cultivating more early-age soccer players.
Kemble, a Dutch soccer coach and shareholder of a local soccer club, attributed his club's enrollment decline mainly to the educational strategy changes. He said a number of students now choose to receive free-of-charge soccer training offered by their schools instead of joining private clubs.
"As far as I know not all local schools can provide professional soccer training to their students, but for the sake of saving money, many parents prefer to send their children to those classes," he said.
In addition to competing with the education institutions, Kemble said local soccer clubs also face the challenge of a lack of quality fields. "Many clubs do not have fixed pitches for their members. They have to change fields constantly. Some nice soccer pitches such as the one that was opposite to Futian's Lianhua Hill Park, were transformed into commercial areas all of a sudden. Thus, soccer players have to spend time finding an alternative," Kemble said.
For Kemble, who grew up in a pro-soccer environment, the biggest obstacle to continuing his soccer career in the city are the cultural differences. To be more specific, the city needs more soccer culture, he said.
"In the Netherlands, about 80 or 90 percent of children dream of becoming soccer players. Whenever they can, they grab a ball and play with it all day long. Soccer is a part of their life and once they sign to a club they will stick to the club," he said.
"But in China children are forced to have a lot of goals. Their parents want them to be good at almost everything. They have to attend other training classes, making it impossible for them to fully focus on practicing soccer. Children need healthy, fun and stimulating competition every week. Also, few people think of soccer as a career option."
Regardless of the challenges, Kemble insists on working in Shenzhen and hopes to bring up promising young soccer players.
He was thrilled about the cooperation between Chinese companies and famous overseas soccer clubs.
For instance, he mentioned the agreement signing event between Mission Hills Resort and Barcelona Football club in Haikou, Hainan Province, on Saturday. He said in the future some soccer schools, fields and clubs will be built in Haikou, which will boost the development of Chinese soccer and he hopes to send the best players from his club to the future soccer schools there.
"We will have a youth league and youth tournament soon and the best players will be ensured the best soccer education."