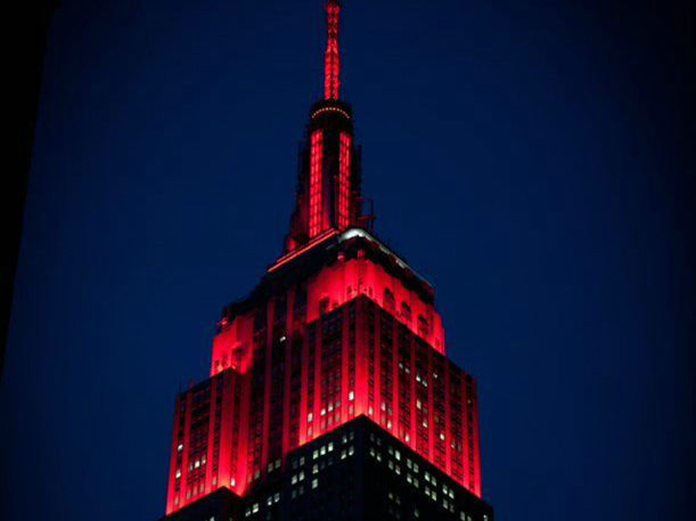 从4月2日开始,在疫情持续期间的每个晚上,帝国大厦都将闪烁动态"心跳"灯光,以便展示团结,为180个国家中受到COVID-19影响的超过100万人提供支持。此时,自新型冠状病毒出现以来的三个月里,超过208,000人已经完全从病毒感染中恢复。
As of 2nd April, and every night throughout the ongoing pandemic, the Empire State Building will shine in a dynamic heartbeat to show solidarity and support to the over 1 million people in 180 countries affected by COVID-19. At this time, over 208,000 people have fully recovered in the three months since the virus appeared.
除了每小时闪亮灯光以外,帝国大厦另外还将闪亮第一响应者的颜色的灯光,向身处抗疫一线的英雄般的应急工作人员表示敬意。
Additionally, at the top of every hour, the Building will sparkle in the colors of First Responders to pay respect to the heroic emergency workers on the front line of the fight.
帝国大厦举世闻名的大厦灯光与 iHeartMedia 的 Z100电台 合作,将会继续于每晚9点,在播送艾丽西亚·凯斯的《Empire State of Mind》时同步闪亮。同时邀请公众参加对话,他们可以在他们的社交媒体网页上面,上传他们自己的视频,并以 "#EmpireStateBuilding" 和 "#iHeartNewYork" 为主题标签,与帝国大厦和iHeartRadio 一起分享我们如何依然能够彼此联系。
The Empire State Building's world-famous tower lights, in partnership with iHeartMedia's Z100, will continue to sync to a broadcast of Alicia Keys' Empire State of Mind every night at 9:00 pm. The public is invited to join the conversation by posting a video to their social media pages with the hashtag #EmpireStateBuilding and #iHeartNewYork and tagging both the Empire State Building and iHeartRadio to share how we are all still able to connect with each other.
在每晚9点的亮灯结束时,帝国大厦将会灭灯五分钟,缅怀全球疫情中的逝者,安慰那些为逝者而悲伤的人们。
At the close of the 9:00 p.m. light show, the Empire State Building will go dark for five minutes to honor the memory of those who have lost their lives in the global pandemic and those who grieve for them.