踏入11月,位于荔枝角时尚餐饮地标D2 Place One的西班牙小酒馆Rustico由即日起以来自意大利阿尔巴镇的矜贵白松露入馔,呈献期间限定的非凡欧陆美食体验。
Spanish taverna Rustico is celebrating gastronomic highlights of the season at the raved Lai Chi Kok dining destination D2 Place from November, paying homage to traditional Spanish recipes complemented with prized white truffle from Alba.
在这白松露季节,总厨Carlos Salvador Asensio以"随心所欲"的概念,让宾客随意自选白松露的份量(以每克起计,每克为港币45元),享受独一无二的白松露美馔。
This white truffle season, Head Chef Carlos Salvador Asensio brings the culinary glamour of white truffle delicacies on an "all white truffles you want" approach, where diners can choose precisely how much truffles they want on their plate – as the prized ingredient is priced HK$45 per gram.
一系列可配以白松露的单点菜式包括"手制茅屋芝士意大利云吞配忌廉汁"、"慢煮走地鸡鸡蛋配忌廉薯蓉、香炒蘑菇及Marsalla甜酒汁"、"生牛肉薄片配蘑菇油,火箭菜及曼切格芝士"及"香烤原条鲜白露荀伴蘑菇汁"。
The prized delicacy can be shaved on a la carte dishes like Homemade Ricotta Ravioli with Fresh Cream Sauce, Creamy Mashed Potato, Roast Wild Mushrooms, Slow Cook Free Range Egg and Marsalla Wine Sauce, Beef Carpaccio with Mushroom oil, Rocket leaves and Manchego Cheese and Fresh White Asparagus with Warm Forest Mushroom Emulsion Sauce.
其他令人眼前一亮的菜式则包括"西班牙传统奄列配油浸干葱及烤西班牙猪面颊肉"、"忌廉蘑菇烩西班牙Bomba饭"及"牛面颊卷配牛油忌廉汁",力求为完美的盛宴带来别致的西班牙美食体验。
It also graces less familiar gastronomic companions, such as Open Tortilla with Confit Shallots, Green Asparagus and Roast Spanish Pancetta and its Jus, Creamy Forest Mushroom Spanish Bomba Rice, and Roast Wagyu Beef Cheek Canneloni with its natural Jus and White Bechamel Sauce.
Rustico以典型加泰罗尼亚餐厅的室内装潢作为室内设计蓝本,充满乡土风味的西班牙小酒馆特色—以木材作梁,开放式厨房挂满原只火腿、各式锅具等,配以红砖又或是彩色瓷砖地板。而原装正版的小酒馆更会将半露天茶座设于葡萄园内,令用餐环境更为舒适。
Rustico is named after its traditional rustic Spanish taverna décor – complete with wooden beams, an open kitchen with hanging jambon, pots and pans, and red brick/tile mosaic flooring. In true 'taverna' style, the intimate venue even incorporates semi-outdoor al fresco seating under grapevines.
占地2,000呎的Rustico内设有80个座位,供应正宗西班牙小酒馆菜式。餐厅环境轻松而不失优雅,在时尚的现代设计中散发西班牙独特风情,食客既可以选择露天茶座,仿效真正西班牙人一边用餐一边欣赏街景的文化,亦可以在饰以红砖拱顶的室内用餐区中,感受经典的加泰罗尼亚餐厅风情;加上开放式厨房,总厨Carlos烹调时的一举手一投足,是食客用餐时最佳的风景。
Occupying 2,000 sq ft, Rustico serves authentic Spanish tapas in a relaxed and elegant setting that is distinctly modern with covert Spanish accents. Seating 80, it features an al fresco terrace where diners can enjoy the art of people watching, like a true Spaniard; or enjoy the rustic brick arch interiors modelled after typical Catalan restaurants. An open kitchen allows diners to interact with the kitchen and observe Chef Carlos Salvador Asensio's crafting skills.
---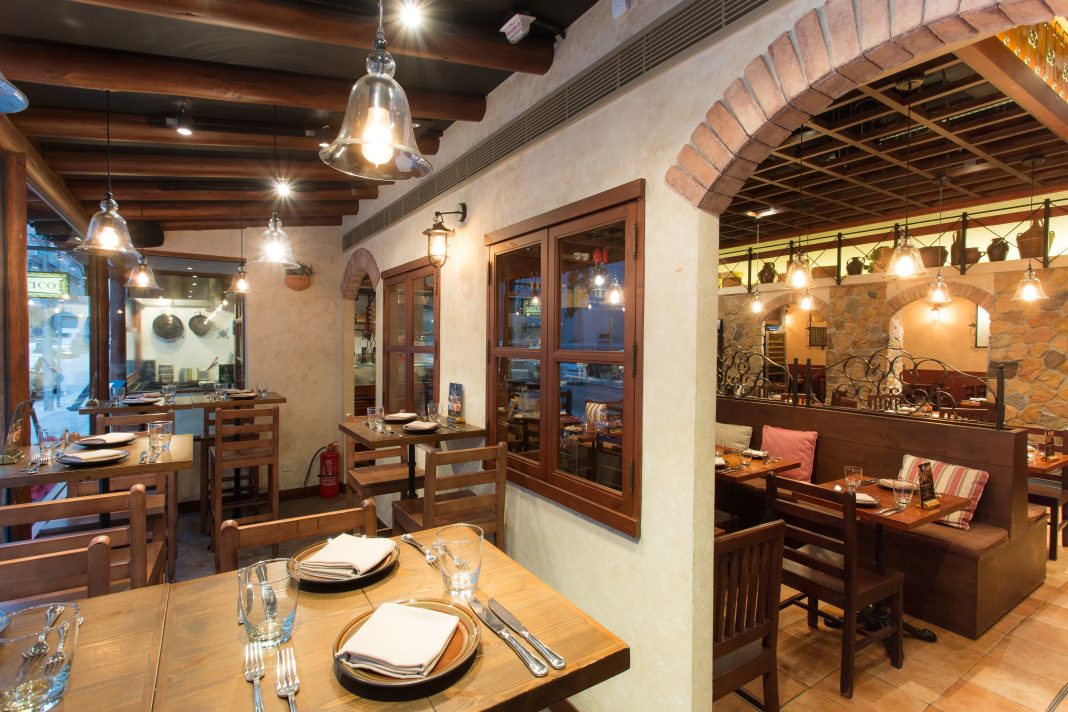 Rustico
营业时间:每日中午12时至晚上10时30分
Opens daily from 12:00 noon to 10:30 pm
九龙荔枝角长义街9号D2 Place One地下G01铺(荔枝角港铁站D2出口附近)
G01, D2 Place One, 9 Cheung Yee Street, Lai Chi Kok, Kowloon, Hong Kong.
Tel: +852-2743 4511
www.rustico.com.hk
www.facebook.com/Rustico.hk