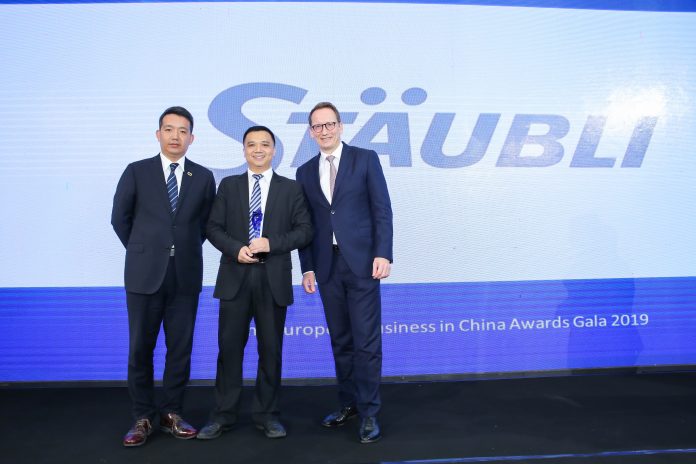 DB: 请问您认为这次能成功获奖的最重要的原因是什么?What do you think is the key element that makes you win this award?
首先得感谢中欧商会还有星河给我们公司这个机会。 Staubli是一个百年企业,专注在纺织机械、工业连接器和机器人这几个领域,有120多年的历史了;到中国也有22年的历史了。所以我们在中国97年就开始发展和耕耘。Staubli的产品质量,我们认为是全世界最高端的。怎么个高端法呢?我可以打个简单比方,就说我们的纺织机械,它是做一个我们制造的开口机械,其中有个产品,它在全球的市场份额高达90%。竞争对手的产品呢,比如它一分钟可以做300-400次,我们可以高达1300-1400(次),基本上可以理解为没有竞争对手。
First of all, we should thank EU Chamber and Galaxy Industry Group for giving us this opportunity. Staubli is a company with more than 120-year of history, dedicated on Textile, Connectors and Robotics. It has 22-year of history in China as well. Since 1997, we started developing our company in China. The quality of the products of Staubli is regarded as the most superior over the world. Why is it? For example, among our Textile products, there is a product as our shedding machinery, taking up to 90% of market shares. The product from our competitors can run 300-400 times for a minute, but ours can run 1300-1400 times per minute. Based on this situation, we can say that we do not have competitors.
为什么呢?我们这100多年不停地在做技术研究、材料工艺及加热处理的一些技术。 Staubli在中国这边开始之后,我们努力地把我们这几个出名的产品,在中国这个市场去发展。我们在整个中国这边,参与到我们高端领域里面,为我们中国本地的企业的发展提供(支持)。我们认为,一些超前的理念,特别是我们对中国市场的客户培养,工程师的培养,还有,甚至是本土的一些竞争对手,我们也在提供一些帮助。
How can we achieve this accomplishment? We have been keeping doing research in technology like material techniques and hear treatment for over 100 years. After Staubli came to China, we have been making efforts to promote our famous products to Chinese market. The products developed in China belong to the high-end field, which can help provide technological support for Chinese local companies. In our opinion, some advanced thoughts can help to support the industry's development, especially for the cultivation of Chinese customers, engineers and even some local competitors.
所以我认为就是,从刚才您的问题来讲,今天我们能获得这个奖,一方面是我们提供了一些独特的产品和技术给中国;另一方面,我们一直在为中国市场培育我们的合作伙伴、竞争商业、客户,使他们在一开始就能够提了一个最高标准、最高境界的一种产品。那么相信这种产品的话,就相当于我们说,能够给大家看到说:最好的东西是这样,那么我们还有一些差距,同时我们努力帮助本土的一些企业,缩短这种差距。我认为这也使我们能够获得这个奖的原因之一。
Therefore, to ask your question, the reasons why we can win this award today are: on one hand, we provide some unique products and technology for China. On the other hand, we keep training our partnership, competitive business and customers for Chinese market. This allows them to have the highest standard and the most advanced product at the very beginning. For us, it means that the public will know the gap when they see what the best looks like. At the same time, we try to help some local companies to shorten this gap. I think those are the reasons why we can win this award.
DB: 请问贵公司可以分享一下今后想要着重发展的方向吗? In which area your company would like to enhance in the recent future?
在未来,由于我们中国人口的结构,还有我们中国现在产业结构的发展,使得我们的制造业,产业机构在升级,往高端发展,同时在往智能化方向发展。所以我们在这一阶段会着重在智能化、信息化(发展),包括我们现在在推的工业4.0,之类的一些独立发展。我们所提供的产品是将最复杂的工艺用最简单的方式呈现出来,使得我们中国的用户,在进行推动改革或者改变的时候,以最高、最快效率的方式,而能获得这种提升。而不仅仅是说今天买个产品来解决现有的问题。所以,智能化、信息化,这是我们未来发展的方向。
In the future, due to Chinese population structure and the development of Chinese industrial structure, our manufacturing industry and the industrial structure are upgrading and developing to be high-end and intelligentialize. Therefore, we will focus on intelligentialize and informatization in this stage, including some independent development like the Indsutry4.0. The products we offer will use the simplest way to present the most complicated technology. Hopefully this can help our Chinese users to improve themselves in a most efficient way when they want to make some changes or even revolution, rather than just to buy a product and solve a current issue. In all, intelligentialize and informatization are our future direction.
更多关于2019欧洲在华企业杰出贡献奖颁奖典礼资讯请戳:More information about the European Business in China Awards Gala 2019 please click: