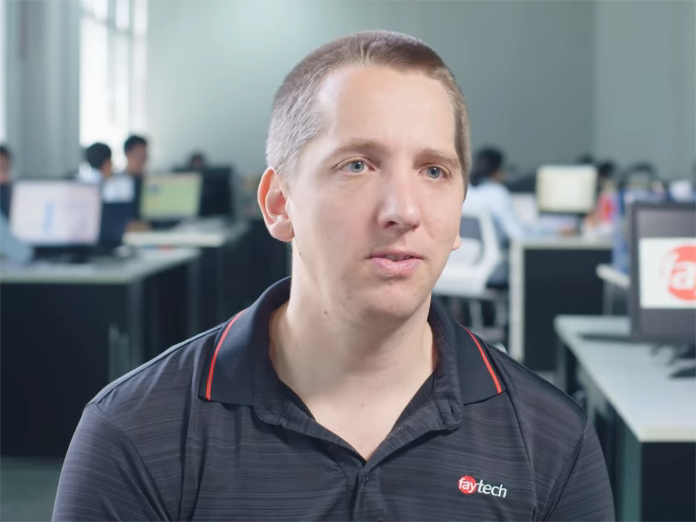 Interviewee's name: Arne Weber
Interviewee's position: Managing Founder / Chief Business Development Officer
DB: 请问可以分享一下贵公司的经营战略以及您对中国市场的看法吗? Would you like to share your strategies about developing your business in China and how do you feel about the Chinese market?
作为一家起源于欧洲的公司,我们的市场定位非常明确-专注于提供高端,优质的解决方案和服务。这是欧洲客户的期望,也是我们所擅长的。基于这一点,我们的目标是寻找那些愿意为高品质买单的客户,以及那些在中国找到同质优价供应商的客户。
Especially for a company with European roots, the market placement is quite clear – we should focus on premium and quality solutions and service. This is also what our European customers expect, and this is what we are good at. With that in mind, you should look for customers who are willing to pay a premium price or those who compare your products in China to foreign products, and here we are suddenly not seen as premium but as a bargain instead.
此外,国际客户重视的软件、服务和资质证明我们做得非常完善。因此,我们典型的客户群体是国际机械制造商,他们是机械方面的专家,但他们同时也需要可信赖的人机交互方案(HMI设备)合作伙伴。在当今世界,触摸设备仍然是实现人机交互的最佳方案,而飞帆泰是这方面的专家。
Additionally, we have a strong support on software, service and documentation, which is especially valued by international companies. So, our typical Chinese customer target group are international machine manufacturers who are an expert in their machineries – but who also needs a reliable and trustful partner for the Human-Machine-Interfaces (HMI-devices), which in todays' world is still touch devices most of the time, and faytech is the expert in this area.
DB:请问贵公司在全球化以及大数据快速发展的环境下有什么未来的规划吗? What will be your next step in terms of the globalized world and rapid development of big data?
首先,我想从目前的总体形势说起。我对国家之间的紧张局势既恼火又担心,尤其是美国和中国之间的关系。关于欧盟商会谈到的"脱钩趋势"。我认为,世界发展的最佳途径是加强与世界各国的交流互鉴和沟通合作。我们都是人类;我们都一样。我们只是拥有不同的经历,不同的成长文化,不同的教育。
I want to start with a general statement first. I am both annoyed and worried looking at the tension which is raising between countries, for sure, especially the US and China. The European Chamber talks about decoupling tendencies. I believe that the best way the world can develop is a world of cooperation and communication. We are all humans; we are all the same. We are just different from the experience we make, the culture we grow up in and the education we receive.
最终,我们都只想拥有一个安全、幸福的生活和一个美好的未来,我觉得每个人在谈论其它国家之前都应该首先考虑这一点……政府应该在全球范围内宣扬这一点,而不是试图最大化自己的利益。目前的脱钩趋势给许多国家和人民带来了巨大的压力。我相信很多国家在不久后都会面临困境 — 我们不需要国家间的全球斗争带来更多的问题。
In the end, we all just want to have a safe, happy life with a fair future, and I feel that everyone should think first about this before talking about other countries again… Governments should support that on a global basis, not on a local basis trying to maximize their own influence. I expect the pandemic is already putting a lot of stress on a lot of countries and people, and I am sure a lot of countries will struggle in the near future – we do not need further issues from global fights between countries.
在另一方面,不论我们愿不愿意,作为一个希望长期发展的企业,我们必须适应世界的发展趋势。到今年年底,继"中国制造"和"印度制造"之外,我们将提供"德国制造"作为解决方案,明年计划实现"美国制造"。虽然我个人更愿意专注于一个生产地,这样才能带来更高的效率,但越来越多的客户对本地生产需求有明显的倾向。所以,全球化世界至少在市场营销层面来说必须再次本土化。
This said, on the other side, we must align with this, the tendencies to survive in the long-term as a company – if we want or not. By the end of the year, we will be able to offer 'Made in Germany' solutions in addition to what we can offer today – 'Made in China' and 'Made in India' – and we have plans for next year to be able to offer the same for the US – 'Made in USA'. I would personally prefer to focus on one production site and work most efficient there, but there is a clear trend from our customers for local production demand. So, the globalized world becomes at least from marketing aspects localized again.
针对"大数据",我们专注收集工厂制造工序和作业流程中的所有信息—从来料检验、生产、测试、一直到客户意见、返修案例和产品缺陷等。目标很明确—通过完整的数据收集和分析,从客户角度做到产品零缺陷。
For "big data", we are focusing on collecting more information in all steps and processes of our factory – from incoming material inspection, production, testing, all the way to customer issues, service cases and defect. Our goal is clear – zero defects at the customer site and that only works with a full cycle of data collection and analysis.
DB:请问可以分享一下贵公司在研究开发新技术上做了怎样的努力吗?以及2021年有什么新的发展目标? Would you like to share what kind of efforts have you put in R&D for innovating new technologies and what are the new goals for 2021?
在飞帆泰,中国和德国的研发团队通力合作,一直为提升现有产品组合和技术而不断努力,同时也在探索新的解决方案,以满足客户的需求。我们一直专注于OLED和电子墨水屏解决方案,同时也致力于三防平板电脑。在未来的一年里,我们将发布大量新产品,包括新的PC和嵌入式处理器。这些处理器专为户外使用量身定制,即使在阳光直射下也能使用。
With both R&D teams in China and Germany, we are continuously working on further enhancing our existing portfolio and technologies, but also exploring new solutions to meet the customers' demand. We have been focusing on both OLED and E-Ink solutions, but also a ruggedized handheld tablet. In the coming year, we are working towards releasing a lot of new products with new PC- and embedded processors, which are specifically tailored for outdoor usage, even under direct sunlight.
除此之外,我们一直保持技术处于市场的前沿。重点优化我们的全贴合技术、外壳制造、触控面板生产,还有全部由内部完成的抗菌涂层方案。
On top of this, we also continuously ensure our current technologies are at the forefront in the market, with our focus on optimizing our optical bonding technology, case manufacturing, touch panel production, but also by offering antimicrobial coating solutions, which is all done in-house.
此外,在内部软件解决方案方面也投入了大量的精力。同时,我们能够提供与FOSS兼容的Linux和Android软件,为产品编写固件和硬件驱动程序,以确保按客户要求做到一站式解决方案。
Besides that, we put more and more efforts on in-house Software solutions. Meanwhile, we are able to provide FOSS-compatible Linux and Android software, write Firmware and Hardware-drivers for our products and ensure our customers receive a one-stop-solution from faytech for their service demands.
DB: 请问您认为中国欧盟商会在哪些方面提供了多大程度上的帮助? To what extent and which areas do you think that the European Chamber has helped your company's development in China?
欧盟商会在组织活动和向成员分享重要信息方面非常积极。作为欧盟商会的成员有机会进行定期的沟通,互通有无,支持大家在中国和世界范围内更好的发展。
The European Chamber is very active in the organization of events and distributing important information to its members. By that, there is a regular communication within the European business community and that leads to companies supporting each other to grow both in China and worldwide.
For more information about the Award Gala event, please kindly check this link:
https://www.europeanchamber.com.cn/en/upcoming-events/19408/_Award_Nomination_Registrations_European_Chamber_South_China_2021_Award_Gala_2021_