2019年12月4日,由法国商务投资署发起并主办的"法式生活艺术巡展"于深圳拉开帷幕。20多个时尚家居领域拥有历史积淀和文化传承的法国顶级品牌齐聚深圳蛇口G&G创意社区向珠三角专业人士呈现法式生活艺术的精髓和优雅魅力。
On 4th December, exhibition "Art de Vivre" kicked off in G&G Creative Community Shenzhen. Organized by Business France, the exhibition showcased more than 20 top French brands who have rich history and culture heritage to audiences in Shenzhen and Guangdong-Hong Kong-Macao Greater Bay Area, aiming to present the essential and elegant charm of French lifestyle.
巡展期间,同时举办的还有一系列的主题活动,包括论坛、工作坊等,法国参展商与中国的专业观众共同探讨如何将法式生活艺术融入当地人的生活、法式的餐桌艺术、如何以法式品味和品质打造空间等。
During the exhibition, Business France also organized a series of themed activities, including forums and workshops. Through these activities, French exhibitors and professional audiences have opportunities to discuss on various topics, such as "How to integrate French lifestyle with the lives of the locals", "The Art of French Dining Table", "How to create your space with French art and taste".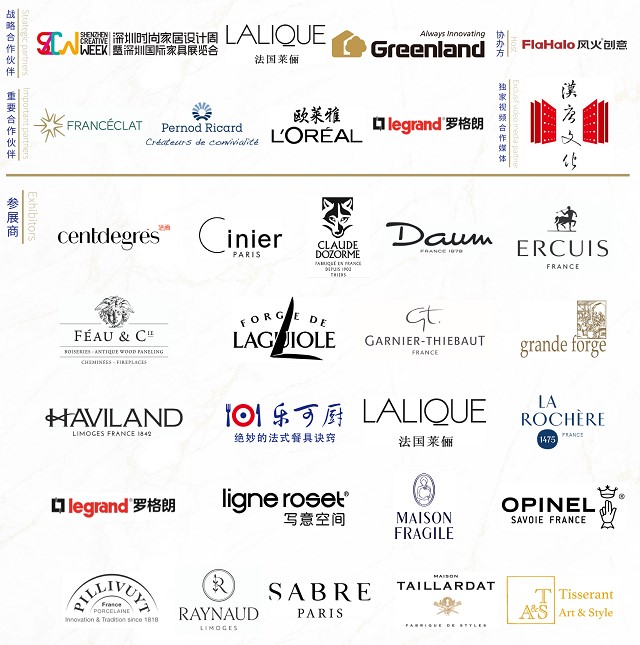 本届巡展于位于蛇口的G&G创意社区举办,该空间前身为玻璃厂,如今转身成为推广生活方式和举办高端活动的独具特别韵味之地。法国商务投资署特别邀请了展陈设计专业公司法尚为各参展品牌量身定做,打造出一个高端和谐的创意空间。使各品牌不同展品在同一空间呈现,表现出各自的艺术性和设计感,但又不失和谐。
The exhibition took place at G&G Creative Community which is formerly a glass factory and now turned into a unique space to promote creative lifestyle and artistic living. Business France specially invited the exhibition design professional company Centdegres to tailor-made for each participating brand to create a high-end and harmonious exhibition space. The different exhibits of each brand are presented in the same space, showing their own artistry and design sense in harmony.
在室内装饰领域法国一向以其精湛的技术和专业知识而闻名,是设计领域尤其是高端奢华设计领域的世界领导者之一,其独特的生活方式和发现未来趋势的能力持续吸引人们的关注。在中国市场,法国最广为人知的产品主要为高端和豪华产品,北京、上海和深圳是中国房地产市场最繁荣的三大城市,大湾区居民具有强大的购买力。随着消费者对室内设计品味的提升,他们对高端产品的需求也不断扩大。法式生活艺术巡展自进入中国以来参加活动的品牌既有已极具知名度的品牌,也有众多未为中国消费者所知的传承百年的品牌。
In the field of interior decoration, France has always been known for its advanced technology and expertise. It is one of the world leaders in the field of design, especially high-end luxury design. Its unique lifestyle and ability to discover future trends continue to attract attention. In the Chinese market, France's most widely known products are mainly high-end and luxury products. Beijing, Shanghai and Shenzhen are the three most prosperous cities in China's real estate market, and residents of the Greater Bay Area have strong purchasing power. As consumers' taste for interior design improves, their demand for high-end products continues to expand. The participated French brands are are already well-known in France and many of them have not yet been known to Chinese consumers.
从另一个角度来讲,对于法国参展商而言,在深圳举办的"法式生活艺术巡展"是一个绝佳的机会,可以让钟情法国设计的专业人士和大众更加了解他们的品牌,同时提高他们在极具发展潜力的城市中的品牌活跃度。
From another perspective, for French exhibitors, the exhibition is an excellent opportunity for professionals and the public who love French design to better understand their brands and improve their brand awareness in China.
本届巡展包含了数件出自法国工匠之手的珍稀展品,其中不乏限量版,甚至是独一无二的艺术作品。金银器皿、瓷器、水晶制品、餐桌艺术、青铜和铁艺艺术品、灯具、家具、古董木制品、室内装饰用品、家用布艺产品等都将在展览中一一呈现。参展品牌的大部分获法国"EPV活文化遗产企业"标签认证,该认证由法国政府在2006年发起设立,旨在表彰那些拥有卓越和专业技艺的"法国制造"。这些融合传统连接未来的"法国制造"正是法式生活艺术的品质保证。
This exhibiton includes several rare exhibits by French artisans, including limited editions and even unique works of art. Gold and silver utensils, porcelain, crystal artwork, table art, bronze and iron art, lamps, furniture, antique wood products, interior decoration supplies, household fabric products, etc. Most of the participating brands are certified by the EPV (Entreprise du Patrimoine Vivant), which was initiated by the French state government in 2006 to recognize those "Made in France" with outstanding and professional skills. These "Made in France", which fuse traditions and connect the future, are the quality guarantee of French living art.