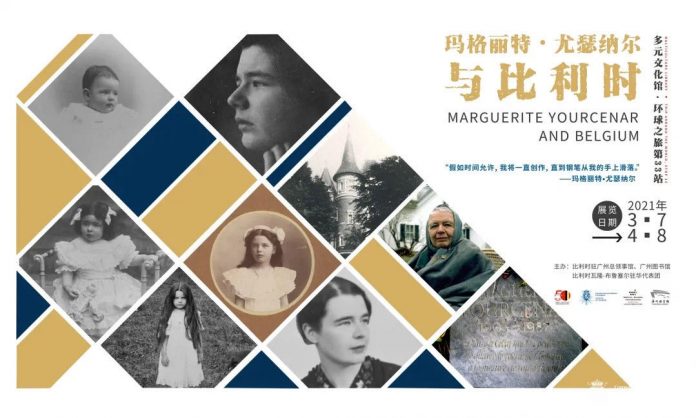 近日,"玛格丽特·尤瑟纳尔与比利时"主题展览在广州图书馆举办。据了解,该展览由比利时驻广州总领事馆,广州图书馆和比利时瓦隆-布鲁塞尔驻华代表团共同主办,通过文字和图片的形式展现玛格丽特·尤瑟纳尔的生平和主要作品。展览将持续开放至4月8日。
Theme exhibition "Marguerite Yourcenar and Belgium" is now open for public viewing at Guangzhou Library. Jointly hosted by the Consulate General of Belgium in Guangzhou, Guangzhou Library and Belgian Wallon-Brussels Delegation, the exhibition displays the life of Marguerite Yourcenar and her works through words and pictures. The exhibition will continue to be open until 8th April.
玛格丽特·尤瑟纳尔凭借大量的散文和小说而闻名。她是比利时最多产、最著名的作家之一。1971年加入比利时法语语言和文学学院,比她加入法兰西学院要早近十年。她的作品被比利时和世界其他地方视为经典之作,她的头像也因此被印在邮票上发行。
With her numerous essays and novels, Marguerite Yourcenar is one of Belgium's most prolific and well known writers. Elected to the Academie Belge de Langue et litteratures Francais in 1971, almost a decade before joining the Academie Francais, her works are recognised as tremendous successes in Belgium, and the rest of the world. Her legacy is such that in 2003, Belgium dedicated a postal stamp to her.
---
"玛格丽特·尤瑟纳尔与比利时"主题展览
Exhibition "Marguerite Yourcenar and Belgium"
广州图书馆8楼
8/F, Guangzhou Library
即日起至4月8日
7th March to 8th April