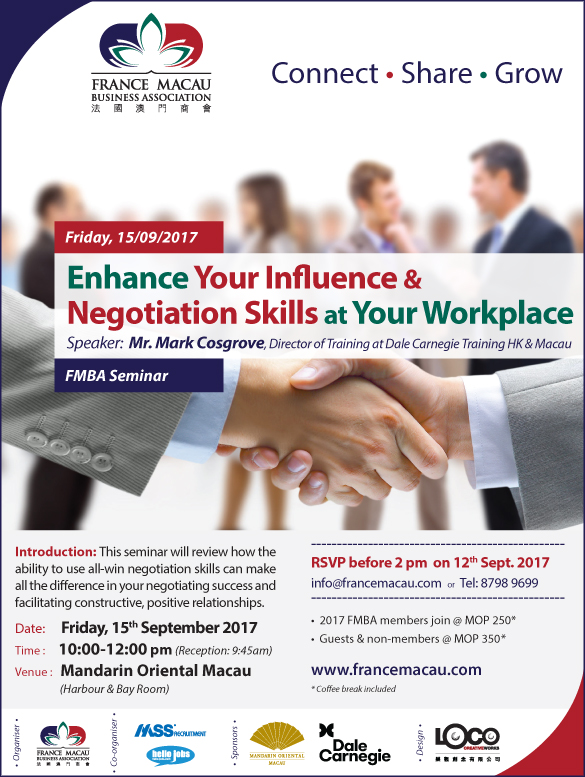 日期:2017年9月15日,星期五
时间:早上10点至中午12点(中间有10分钟休息时间)
地点:澳门文华东方酒店
演讲者:Mr. Mark Cosgrove, 卡内基训练香港澳门区训练主任
Date: Sept 15, 2017 (Fri)
Time: 10a.m. – 12p.m. (1 break in between, 10 mins)
Location: Mandarin Oriental Hotel (Macau)
Speaker: Mr. Mark Cosgrove, Director of Training at Dale Carnegie Training H.K. & Macau.
Enhance your Influence & Negotiation skills at your workplace
Regardless of the position you hold in your organization, your work day is a series of negotiations. The ability to use all-win negotiation skills can make all the difference in your negotiating success and is essential to influencing people and facilitating constructive, positive relationships.
The dynamic nature of professional relationships today requires you to be at your best in assuring you give, and receive, value in every interaction. Such ability is not left to chance. Rather, it is critical that you professionally approach your responsibilities in such a way as to achieve a mutually beneficial outcome that can prepare everyone for long-term success.
This workshop reviews the all-win negotiation model and looks at how you fare as a negotiator. Using qualities of a successful negotiator, four stages of negotiation, and specific negotiation approaches, you will plan for an upcoming negotiation situation.