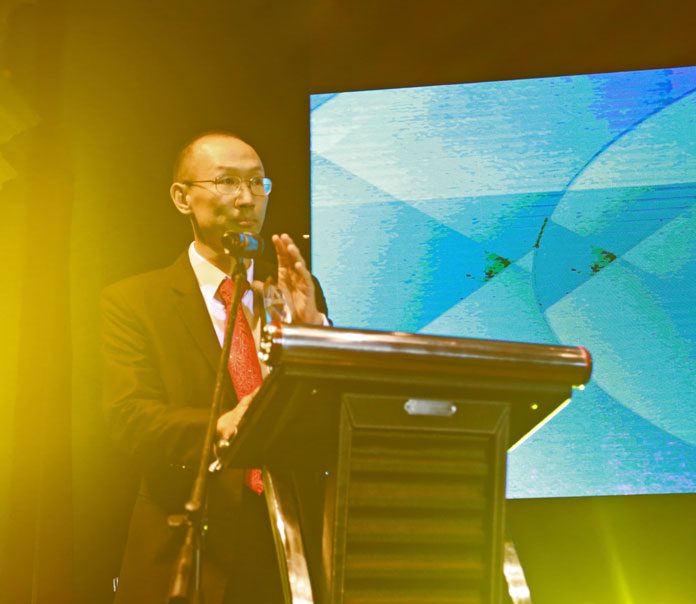 George Lau – TÜV莱茵大中华区证书及市场准入服务部副总经理 – Vice GM, TÜV Rheinland Greater China Mark Surveillance.
德国莱茵TÜV是一家国际领先的技术服务供应商。自1872年成立以来,一直为解决人类、环境和科技互动过程中出现的挑战,提供安全的、可持续的解决方案。
DB: The company started out in 1872 in Germany specializing in product testing, it has now turned into a global success meeting the needs of several markets, how do you see the growth of the company and its future advancement?
Digitalization, IT security, Industry 4.0, and intelligent transport systems are changing many areas of the economy and people's lives. TÜV Rheinland focuses on helping companies with digital transformation, safeguarding the reliability and functionality of systems as well as providing data security for businesses and public authorities, institutions, and consumers.
Additionally, we provide e-learning solutions for vocational education and training, the TÜV Rheinland Academy is a German vocational education and training organization accredited by the German Ministry of Labor and corporate sector.
DB: The company seems to be doing exceedingly well year after year providing an array of technical services, what area do you think is the most successful in China and appeals to the needs of the people the most?
TÜV Rheinland has been in Guangdong since 1994. Back then our focus was mainly to help manufacturers of exported products meet the standard requirements of receiving countries as well as support retailers in ensuring that the products they sourced locally met their requirements. By playing this bridging role we forged a strong partnership with clients on both ends and we continue to enjoy great business together.
We have benefitted greatly from being here that early and feel we have actively contributed in helping many manufacturers in China evolve from simple products to more complex ones, even through new product R&D, safety lab and production line audit.
As the technological development on renewable energy and internet+, we expand our services to cover new technology areas like photovoltaic, wind power, electric vehicles, e-commerce and smart manufacturing.
The testing, inspection and certification (TIC) industry is fully capable of innovation. It must also be very sensitive to trends in industry development and must adjust its business based on changes in the market. Sometimes, it may even be necessary to prepare for market changes in advance in order to steer the entire industry to a new direction when the time is ripe. The changes in the Chinese market proved this point.
DB: It must be exciting working in a country with an ever expanding economy with endless opportunity, what is your favorite aspect of working for TÜV Rheinland in China?
TÜV Rheinland's logo is a blue triangle. The three apexes symbolize the interaction between people, technology, and the environment. When TÜV Rheinland was founded, its mission was to protect people from the negative influences of technology.
As far as George Lau is concerned, technology is a double-edged sword that can create happiness for people yet, if used inappropriately, also brings disaster. TÜV Rheinland is to make sure people utilize technology safely in order to make life safer and more convenient, mankind and the environment can thrive harmoniously in a sustainable future.
TÜV Rheinland has always been committed to improving the safety and performance of products, systems and processes. We reduce risk by providing enterprises safety assurance that they can depend on while insisting on maintaining our independence, neutrality and professionalism.
What is so fantastic about my industry is that we are not only working for money, we can also make our world a better place and make other people's lives safer. This is what really inspires me.
DB: Winning the DCIC Award must have been a great feeling, how did you feel the event went, and the idea of bringing these innovative companies together not just for one night but as a collaborative movement?
DCIC is an award that appreciates the market players who are really creative and innovative. It spent more than 8 months for expert screening, public voting and the professional jury rating before the results were finally announced and without any cost to the contestants. It's a real fair and open competition. The contestants have sufficient time to learn from the others about their innovation achievements, through the panel discussion and networking before the awards ceremony, which gathered the most active innovative minds to share their ideas and thoughts on how to invest in innovation in the PRD region.
The promotion of creativity and innovation has gained greater importance in China in recent years. The PRD has always been in the lead in this area, with its commitment to "innovation-driven development" and an emphasis on raising the standard of independent innovation in the region. The award is not the end of innovation, it is time to move from innovation as an ideology to innovation as a process.